For years, I have put off travelling to Japan because I just didn't believe I could afford it. Japan suffers from an unfortunate misconception of being highly expensive to visit. Most Travel Fanatics have Japan on their Bucketlist. But it often remains there. Most people decide to wait until they have more money.
Last year rumors were flying around that Japan was in an economic downturn and that prices had dropped. My boyfriend was super keen, although we were originally planning to go to Portugal. I promised him to look into, find out how much it would cost. Turns out Japan doesn't have to be expensive, if you travel there the right way.
While Japan isn't cheap per say – especially if you compare it to countries such as Cambodia and Vietnam – it certainly can be done on a tight budget. We found Japan to be quite affordable and cheaper than London or even England.
Here is a summary of what we spent and some advice on how to save money when travelling to Japan.
> Read more Read more about everything you need to know to plan your trip to Japan 
> Read my Itinerary for a Round-trip around Japan by Rail 
> Read my Itinerary detailed itinerary for our 7 days in Tokyo
HOW TO SAVE MONEY IN JAPAN
1# TRAVEL TO JAPAN IN 2016
While Japan's economy is shrinking, the number of foreign visitors to Japan hit a record in 2015. This is partly due to the weaker yen, which encourages tourists to visit Japan and spend more money when in the country. Japan's government is current actively encouraging tourism, with a number of initiatives and advertising campaigns. If you live in Asia, you are in luck. Japan has relaxed it's visa requirements for tourists from other Asian countries and expanded the types of items available in duty-free.
If you have always dreamed of visiting Japan, this is your year. Exchange rates for the yen are at an ultimate low. When we traveled to Japan in September 2015, the exchange rate for 1 £ was 180 yen (1 $ = 127 yen). We were pleasantly surprised. The exchange rate has risen a little since then but not by all too much.
2# GIVE ALTERNATIVE ACCOMMODATION A GO
Japan offers a wide range of accommodation types in both Japanese and Western styles. Rates per night range from less than 2,000 yen per person (currently 10£) in a dormitory to over 50,000 yen per person (currently 270£) in a first class Hotel or Ryokan. Some of the more unusual types of Hotels include capsule hotels and temple lodgings. Although our budget stretched far enough and we were able to afford hotels in every city we visited, you might want to consider cheaper alternatives. Here are a few options:
COUCHSURFING
One of the best ways to get free accommodation is by staying with someone who lives in the city you are visiting. Stay with a local who will give you a free place to rest your head, local information, and someone to hang out with! You could of course stay with some friends. If this however isn't an option for you there are a few websites that will help you to find a spare couch. The most renowned site has to be Couchsurfing. Their goal isn't only to help you save money on accommodation but also to allow you to learn about the local culture through the eyes of a local.
HOSTELS
Hostels are accommodations with the bare essentials for the budget traveler. They usually feature shared bedrooms and facilities in return for low rates. Hostels typically charge between 2000 and 4500 yen per person and night. Room layouts differ from place to place, but dormitory rooms with double-storied bunk beds are most common. Some hostels also offer Japanese style rooms with futons laid on the tatami floor. Rooms are typically shared by four to eight people and are often gender segregated. Some hostels also offer private rooms, but this tends to bring the cost up by a few thousand yen. Expect to have to make your own bed and to share amenities such as toilets and bathrooms. Hostels can be found all across Japan. The network of Hostelling International Youth Hostels covers both cities and the countryside, while many independent hostel operators are found in the big cities and can be booked online through sites such as Hostelworld. .
CAPSULE HOTEL
Capsule hotels are one of Japan's best known and unique types of lodging. They are usually found around major train stations in large cities and target individuals looking for a low budget, single night's stay. Capsule Hotels are a slight step up from Hostels. They provide their guests with a private, enclosed bed (in a stacked capsule) and basic amenities for less money than regular or business hotels. They usually charge between 3000 and 4000 yen per night. Each capsule is typically 2 meter long and 1 meter high. Sheets, blankets and pillows are generally provided, and each capsule is usually fitted out with a light, alarm clock, TV , power outlets, free wifi and a radio. A curtain or door can be closed in front of the entrance for privacy. While capsule hotels traditionally cater mostly to business men, these days many places also accept female guests and offer gender segregated sleeping floors or separate buildings for men and women.
24 HOUR MANGA CAFE
Manga cafes (まんが喫茶) are pretty unique to japan but can be found in most Japanese cities. Many are located in side streets close to train stations. Manga Kissas are establishments where visitors can read from an extensive library of manga. They also usually provide computers with internet access, making them synonymous with western internet cafes. Recently, manga kissa have become a popular low budget accommodation option. You can rent a private cubicle for up to 8 hours and most manga cafes are open 24/7.  You will genErally the choice of a variety of different cubicles. If you intend to sleep in the internet cafe, you will want to pick a cubicle with reclining seat, sofa or a cushioned floor. Each cubicle usually contains a desk and a computer. Furthermore most manga cafes offer amenities such as showers and free drinks. Expect to pay as little as 1500 yen (8£ / 11$) per night.  
LOVE HOTELS
Love hotels (also known as boutique or fashion hotels) are hotels that offer double rooms for short periods of time. Typically you can rent a room for a minimum of one to three hours during the day, called a "rest", or for the whole night, called a "stay", which usually starts after 10 pm. Love hotels are found all over Japan. In Tokyo a lot of them are located in Shibuya. As the name suggests, the main purpose of love hotels is to provide couples with a room to spend some undisturbed time together. Accordingly they are generally equipped with large double beds, a television offering erotic programs and a nice bathroom. A lot of  love hotels are themed and your room might come with a selection of outfits. The Love Hotel is an alternative accommodation for the less sensitive soul and prices per night generally start at 8000 yen. Love Hotels are definitely not your cheapest choice of accomodation, but you do get a lot more bang for your money and the rooms tend to be a lot larger than in normal hotels.

3# FIND A GOOD DEAL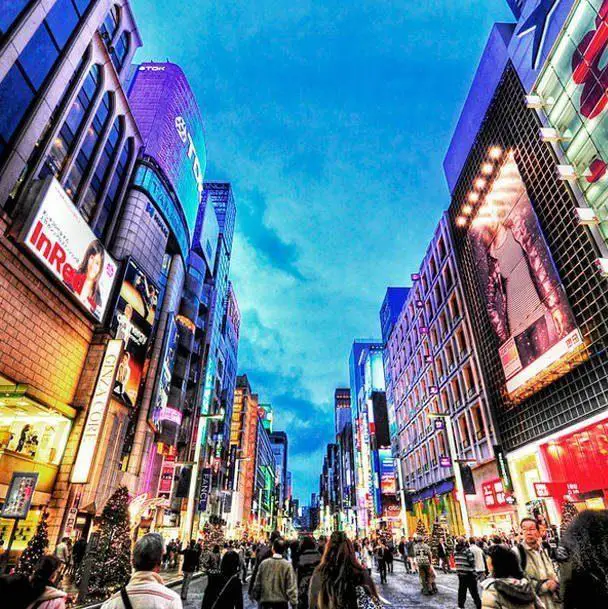 The reason I always book my flights and hotels through Expedia, is because of their amazing deals. Booking the flights and the hotel as a package is guaranteed to be cheaper, than booking them separately, especially if you pick one of Expedia's Smart Deals. You will generally get at least one night for free. For our Japan trip we booked our flights to Japan together with a hotel in Tokyo, then reserved all the other hotels separately. Don't hesitate to shop around. Do some research and find the best deal for you!
4# HAVE BREAKFAST AND LUNCH AT A 7/11
Japanese cuisine (和食) has to be one of the best in the world! It offers a huge variety of of gastronomical delights with a boundless variety of regional and seasonal dishes. In Japan the world is your oyster.
How much you spend on food is completely up to you. You can spend a lot! Some of the best restaurants o the world call Tokyo their home. If you have the money, go right ahead and enjoy some of the finest cuisine at a .
On the other hand if your budget is tiny their are still plenty of option for you. You can pop into one of the many Japanese fast food chains. These small gyudon, curry, donburi, ramen, soba and udon restaurants often have vending machines where you have to buy a meal ticket at a vending machine near the entrance before sitting down.  Lunch at one of these small chain restaurants will generally cost from 300-500 yen (2-3£ /  3-4$). Some of the best Gyudon Restaurants include Yoshinoya, Sukiya and Matsuya.
Another way we saved a lot of money, was popping into a 7/11 or supermarket for lunch and breakfast. Now you might be appalled at the idea But don't despair! Japanese 7/11 and supermarkets have a wide range of suprisingly fresh food. Buy a onigiri ball for 150 yen (1£ / 1$), a big set of sushi for 300 yen (1.5£ / 3$), a steamed bun for 350 yen (2£ / 3$) or a set menu for 400 yen.
5# GET A JR PASS
One of the best ways to explore the country is by train. 
Transportation however is one of the most expensive aspects of travel in Japan and can comprise the bulk of your expenses in Japan.
The bullet train, while awesome, comfortable, and fast, is not cheap. Individual tickets can cost hundreds of dollars. So whether you stay a week or two in Japan, my top tip would be to buy a Japan RailPass before you go.
The JR Pass is the VIP of all train tickets. Your Japan Railpass gives you unlimited access to all JR Trains (including certain bullet trains). You only need to travel three times on a Shinkansen Train to cover the cost of the pass.
Moreover, you can use your JR Pass on any of the JR trains that serve local city areas. So you could get around Kyoto and Tokyo without having to buy a metro ticket.
If you plan to follow an itinerary similar to ours, the JR Pass will definitely be money well spent.
In order to cut down the cost, my husband and I didn't start our round-trip until the second week of our stay. We therefore only bought a one-week JR Pass for our two-week trip in Japan.
If you are planning to visit Japan I would definitely suggest you don't stay just in one place and head out to explore, but you might want to consider staying put in your favorite city for a week like we did.  
I will be writing a detailed guide on how to use your Japan Railpass in the near future, but for now I suggest you book your ticket at jrpass.com.
6# PLAN YOUR ITINERARY WISELY
You can make your trip to Japan a fair bit cheaper simply by planning your itinerary properly. Do a little research before you leave and create a timetable for each day. Make sure to minimize the amount you need to travel on public transport. The price of a single tube ticket (150-300 yen) might sound small, but can quickly accumulate other time. I made sure to plan our itinerary in such a way that we only need to hop on the tube once in the morning and then once in the evening. So although our days were jam packed we minimized our transportation costs. Try to group all attractions that are within walking distance within one day.
HOW MUCH DOES IT COST TO TRAVEL TO JAPAN
1# FLIGHTS
We bought our flights as a package deal from Expedia together with 7 nights at Hotel Grand Arc Hanzomon.
The total price was 105 300 yen ( 585£ / 834$) per person.
The cost of our return flight with Turkish Airways was 71 910 yen ( 400 £ / 570$) per person, making it the most expensive item of the entire trip.
2# ACCOMODATION
In total we spent 68 760 yen (382 £ / 541$) each on accommodation, so approximately 25% of our total spend. Our daily rate for hotel rooms averaged at 3750 yen per person (currently 20£). Most of our Hotels had at least two or even three stars.
We saved a lot of money by booking our Hotel together your flights. We also always booked a semi-double room. Semi-Double Rooms are a specific category of Bedrooms available in Japan. Most Japanese Hotels will offer both semi-double and double bedrooms, with the doubles being a larger room and usually having a larger bed.
Typically the semi-double classification is applied to a very large single room, that can be sahred by two people. The bed width usually ranged from 120 to 140 cm, depending on the Hotel. In my opinion 140 centimeters is perfectly adequate for two adults. 120 centimeters on the other hand can be a bit tight. You should be able to find the dimensions of the bed online i you search hard enough. Alternatively you can email the Hotel or post the question on a Forum such as Tripadvisor. Someone will usually answer the question. I admit that I was a little worried at first about our decision to book semi-double bedrooms. But we had a good nights sleep in every Hotel we booked.
The following is a list of Hotels we stayed at during our Trip through Japan and their daily rates:
TOKYO – 7 Nights – Hotel Grand Arc Hanzomon – 4770 yen per night (26£ / 37$) -33 390
TAKAYAMA – 2 Nights – Hida Takayama Washington Hotel Plaza – 5760 yen per night (32£ / 46$)
HIROSHIMA – 2 Nights – Chisun Hotel Hiroshima – 5760 (32£ / 46$)
KYOTO – 2 Nights – Urban Hotel Kyoto – 3960 yen per night (22£  / 31$)
TOKYO – 1 Night – Hotel Grand Arc Hanzomon – 4950 yen per night (27£ / 38$)
3# TRANSPORTATION
Transportation is one of the most expensive aspects of travel in Japan. In total Transportation costs came to 36 360 yen ( 202£ / 289$).
JR PASS
We were determined to see more than just one Japanese city, but didn't start our roundtrip until the second week of our stay. This significantly cut down our transportation costs. We ended up buying a 7 day JR Pass for our two week trip in Japan. Our Japanese Railpasses cost us 30 600 yen ( currently 170£ / 240$) for 7 days, each. This sounds like a hefty price to pay at first, but actually costs the same as  a round-trip train ticket from Osaka to Tokyo.
TRANSPORT TO / FROM THE AIRPORT
On the contrary, this meant that we had to pay seperately for transport from the airport to the hotel. Narita Airport is connected to Tokyo by a multiple of rail and bus lines. No need therefore to shell out on an expensive taxi. The most comfortable way to travel to Tokyo Station is to board the JR Narita Express (NEX). The journey takes approximately an hour and set us back around 3000 yen (currently 16£). On our return trip we chose a cheaper alternative. The JR Sobu Line was  a little slower (90 minutes to Tokyo Station) but only cost us 1320 yen ( currently 7£).
PUBLIC TRANSPORT
Most of the city metro tickets cost 100–200 yen for a single journey. (The price varies by distance and may often be higher.) Fares were usually around 220 yen to travel across Tokyo but less for shorter distances. In most major cities, such as Tokyo and Kyoto, you can buy a day pass, which gives you unlimited travel for 24 hours for around 800 yen. If you put just a little thought in your itinerary and are willing to walk the shorter distances, you won't spend all too much money on metro tickets. During our week in Tokyo, I grouped each days activities around a specific area. Only rarely did we buy more than 2 metro tickets per day. We thus spent an average of 450 yen (3£ / 4$) on public transport per day during our first week.
A FERRY TO ODAIBA
Located in a bay and criscrossed by rivers, Tokyo has several ferry companies. A ride on a water bus always makes an enjoyable alternative to the crowded underground. Most of the water buses are operated by Tokyo Cruise Ship Company. The most popular route has to be the Asakusa-Odaiba Direct Line, a 50 minute ride from Asakusa to Odaiba in a very boldly designed Himiko Boat with panoramic windows. Our journey from Asakusa to Odaiba cost a reasonable 1560 yen (8£ / 11$).
4# DAY TRIPS
Although most of out time was spent in Tokyo, Kyoto, Hiroshima and Takayama, we used these four cities as starting points for a couple of day-trips.
In total we ended up spending 16 500 yen (92£/131$) on our five side trips.
The cost for these additional trips can be broken down as follows:
HAKONE
Hakone (箱根) located 100 kilometres North of Tokyo, is part of the Fuji-Hakone-Izu National Park. It is particularly famous for it's Hot Springs, Natural Beauty and the potential to catch a glimpse of nearby Mount Fuji.
In total (excluding lunch) we spent 6140 yen (34£ / 48$) on our side trip to Hakone.
We purchased a Hakone Free Pass, which includes a return tickets from Tokyo to Hakone-Yumoto and unlimited use of selected trains, cablecars, ropeways, boats and buses in the Hakone Area.
The Hakone Free Pass set us each back by 5140 yen (28£ / 40$). The entrance fee to certain parks and museums in the Hakone area are also included in the free pass. So we didn't spend any additional money on attractions.
We did however spoil ourselves and ended our day-trip in Hakone-Yumoto with a meal and a dip at one of Hakone's popular Ryokans.  Although staying guests can use the baths for free, day-time visitors will need to pay an admission between 500 and 2000 yen (currently 3-10£).
We chose to visit Ryokan Tenzan, a beautiful traditional Japanese Bath House with a collection of various outdoor hot spring pools.
The entrance fee cost us 1000 yen each (6£ / 9$).
KAMAKURA
Kamakura (鎌倉) is a coastal town an hour south from Tokyo. It was once the political centre of Japan. Today the small town of Kamakura is a very popular tourist destination.
In total (excluding lunch and dinner) our day trip to Kamakura cost 2360 yen (13£ / 19 $)
In order to get to Kamakura we had to board the JR Yokosuka Line. Since our JR Pass was only valid for one week we ended up paying A one-way trip costs 1840 yen (5£ / 7£) each for a round trip from Tokyo.
You will need to pay entrance fees for all Temples in Kamakura. Because we got up pretty late and got lost walking around Kamakura, we only ended up visiting two temple complexes.
The admission to the Engakuji Temple set us back 300 yen (2£ / 3$).
The entrance fee to visit Kamakura's Daibutsu cost 200 yen (1£ / 1.5$) with an additional 20 yen to see the inside of the Buddha.
We thus spent a total of 520 yen (3£ / 4$) on admission fees. If you get to Kamakura early, expect to pay a little more.
SHIRAKAWAGO
Shirakawago is a small extremely historic area in the north of Gifu. Declared a UNESCO World heritage site in 1995, Shirakawago is famous for its old farm houses, built with a traditional Thatched Roofs. Our daytrip to Shirakawgo cost us a grand total of 4900 yen (27£ / 38$) each.
Shirakawago is easily accessible from Takayama. The bus ride to this UNESCO World heritage side is relatively short and usually only takes 50 minutes. We purchased our tickets from the Takayama Bus Terminal. The return ticket set us back 4300 yen (currently 23£).
Admission to the village itself is free but you will need to pay to enter the large variety of thatched cottages and temples. The admission fee for each cottage is generally about 300 yen (2£ / 3$). We were extremely unlucky and booked our excursion on a National Bank Holiday. We were thus stuck in Traffic for 3 hours and only had an hour left to spend in Shirakawgo before our journey home. We thus only entered the Myozenji Temple and the Nagase-Ke House and spent a grand total of 600 yen (4£ / 54) on entertainment.
MIYAJIMA
Miyajima is a small Island less than an hour outside of Hiroshima.  It is particularly famous for its wild roaming deer and the giant Torri Gate, which at high tide seems to float on the water. Our day-trip to Miyajima cost 1300 yen (7£ /10£). You will need to bare in mind though, that at this point are JR pass had been activated. if you do not have a JR Pass, plan to spend a little more.
To reach the Ferry Port you will need to head to Hiroshima Station and board the JR Sanyo Line to Miyajimaguchi Station. The ride takes half an hour and was covered by our Japanese Rail Pass. Ferries from two competing ferry companies (JR and Matsudai) depart daily to Miyajima Island. We choose the JR Ferry – since the cost was included in our JR Pass.
You will need to pay an admission fee for the temples. We only visited Itsukushima Shrine before we headed up to Mount Misen.  Entrance to the Shrine cost us 300 yen (currently 2£ / 3$).
Although there are three trails that lead up to the summit of the mountain, I we took the ropeway. The ride up the mountain took about 20 minutes and cost us 1000 yen (5£ /7$) for one way. You can also buy a round trip for 1800 yen  (10£ / 14$).
NARA
Nara (奈良) founded in 710, was Japan's very first permanent capital. Nara is full of historic treasures, including some of Japan's oldest and largest temples. Nara is pretty close to both Osaka and Kyoto and you could start your day-trip from either.
We boarded our train in Kyoto. The train ticket was included in our JR Pass and the journey took around about 45 minutes.
Again you will need to pay admission to see the temples. Entrance to the Kofukuji Temple Grounds was free, but admission to the Kofukuji's National Treasure Museum and the Eastern Golden Hall cost 800 yen (4£/6$). In order to see Todaiji Temple and it's gigantic Buddha we payed a 500 yen (3£/4$) entrance fee. Finally we visited Kasuga Taisha and payed a 500 yen admission in order to enter the lantern lit prayer room. We thus spent a total of 1800 (10£ / 14$) in Nara.
5# MUSEUMS, PARKS AND ENTERTAINMENT
You have to give it to London. It's pretty amazing that all public museums are absolutely free in the United Kingdom.
This sadly isn't the case in Japan and you should expect to pay entrance fees for most temples, museums and some parks. Of course, there are always a couple of exceptions.
In total, we spent 15 440 yen (86 £/123$) on sightseeing. 
Here is a breakdown what we spent:   
ADMISSION FEES – TOKYO
Tokyo Skytree, Lower Observation Deck – 2060 yen ( 11£ / 16$ )
Sumida Aquarium – 2060 yen ( 11£ / 16$ )
Edo Tokyo Museum – 600 yen ( 3£ / $ )
Tickets for a Sumo Match at the Kokugikan, Arena B –  6600 yen ( 37£ / 53$ )
Tokyo National Museum – 620 yen ( 3£ / 4$ )
Total spend in Tokyo : 11 940 yen ( 66£ / 94$ ) 
ADMISSION FEES – TAKAYAMA
Hida Minzoku Kokokan – 500 yen ( 3£ / 4$ )
Hirata Kinenkan – 300 yen ( 2£ / 3$ )
Kusakabe Heritage House – 500 yen ( 3£ / 4$ )
Total spend in Takayama : 1300 yen ( 7£ / 10$ ) 
ADMISSION FEES – HIROSHIMA
Peace Memorial Museum – 150 yen ( 1£ / 2$ )
Total spend in Hiroshima : 150 yen ( 1£ / 2$ ) ADMISSION FEES – KYOTO
ADMISSION FEES – KYOTO
Sanjusangendo Temple – 600 yen ( 3£ / 4$ )
Kiyomizudera Temple – 300 yen ( 2£ / 3$ )
Kodaiji Temple – 600 yen ( 3£ / 4$ )
Monkey Park Iwatayama –  550 yen ( 3£ / 4$ )
Total spend in Kyoto : 2050 yen ( 11£ / 16$ ) 
FREE SIGHTSEEING OPPORTUNITIES
Imperial Palace and Park
Meji Shrine and Yoyogi Park
Metropolitan Government Buildings
Meji Shrine and Yoyogi Park
Metropolitan Government Buildings
Ueno Park
Sensoji Temple
Tsukiji Market
Takayama Museum of History and Art
Peace Memorial Park
A-Bomb Dome
Children's Peace Memorial
Yasaka Shrine
Fushimi Inari Shrine
Arashiyama Bamboo Grove
6# FOOD : BREAKFAST, LUNCH AND DINNER
We could have spent a lot more on food then we did.
Surprisingly, we found food to be inexpensive in Japan and we spent far less money on food than we anticipated. Eating cheaply but well was in fact kept the total cost of our trip low.
Our daily budget for food was about 3200 yen ( 18£ / 26$ ).
We thus spent a grand total of 44 800 yen ( 249£ / 355£) on food.
 Here is a breakdown of the costs:
BREAKFAST
Breakfast was never included in the price of our Hotels. With one exception. The Washington Hotel in Hida Takayama offered a choice between a set Japanese breakfast and a set western breakfast. The Japanese Breakfast was filling but not particularly good.
Most days we popped into our local 7/11 to buy breakfast. I would either buy a set of 6 Uramaki Sushi rolls or a couple of breakfast pastries. We each spent around 150 – 300 yen ( 1-2£ / 23$) per day on breakfast.
LUNCH
There are so many cheap lunch option in Japan. You can either pop into a supermarket, buy a handful of street food, visit one of the many Japanese food chains or if you must buy a burger at McDonald or Burgerking. We each spent about 500-1000 yen ( 3-6£ / 4-9$ ) on lunch every day.
DINNER
Now dinner is where we treated ourselves and splashed out. We always bought a hot meal and an alcoholic drink. Our daily budget for dinner varied quite drastically. We each spent about 1000 – 3000 yen ( 6-17£ / 9-24$) on our dinner per day.
SNACKS
Neither my boyfriend nor I can go a whole day without a snack of two. Add to that that there is such a variety of vending machines in Japan. The temptation was just too big. We therefore spent an additional 225 yen ( 1£ / 2$) per day on snacks and drinks.
7# SOUVENIRS AND EXTRAS
A holiday wouldn't be a vacation without souvenirs. We were seriously looking forward to buy momentos in Japan and use them to decorate our Home.
We went all out and  bought a variety of souvenirs.
In total we spent about 9820 yen ( 55£ / 78$) each on souvenirs.
Here is a detailed breakdown of what I bought:
Kimono – 2500 yen
Wooden Bowl – 550 yen
Decorative Fan with Stand – 1750 yen
Wooden Mask – 1000 yen
Decorative Mirror – 2000 yen
Socks – 400 yen
Bunny Biscuits – 600 yen
Ink Pad – 200 yen
Geisha Moisturising Face Mask – 300 yen
Postcards – 520 yen
TOTAL TRAVEL BUDGET FOR JAPAN
| | | | |
| --- | --- | --- | --- |
| FLIGHTS | 71 910 yen | 400 £ | 572 $ |
| ACCOMMODATION | 68 760 yen | 382 £ | 546 $ |
| TRANSPORTATIONS | 36 360 yen | 202 £ | 289 $ |
| DAY TRIPS | 16 500 yen | 92 £ | 132 $ |
| SIGHT-SEEING | 15 440 yen | 86 £ | 123 $ |
| FOOD | 44 800 yen | 249 £ | 356 $ |
| SOUVENIRS & EXTRAS | 9820 yen | 55 £ | 79 $ |
| TOTAL | 263 590 yen | 1466 £ | 2127 $ |