Looking for a unique destination for your holiday? Why not visit South Korea, a vibrant and spectacular country, which is becoming an increasingly popular travel destination?
With ancient temples, trendy neighborhoods, tea plantations, and more than 3,000 offshore islands to explore, South Korea is the country you should visit at least once in your lifetime.
Still not convinced? Here are the most picturesque towns in South Korea that are worth visiting if you are looking for a vacation full of culture, magic, and friendly people.
SEOUL
Seoul is the capital of South Korea and one of the largest cities in the world. It is a cosmopolitan city with amazing transportation, modern skyscrapers, and a thriving nightlife with restaurants, pubs, bars, and karaoke rooms. There is so much to do here that you will definitely want to give yourself ample time to explore its historic sites and attractions.
If you are a fan of traditional architecture, you should visit the Gyeongbokgung Palace which was built in 1395 and was the home to Kings of the Joseon dynasty. It's the most famous palace in South Korea and it actually consists of many different buildings that are spread out across the palace grounds. You will need a couple of hours to explore them. Another palace worth visiting is Changgyeonggung Palace which is smaller but still part of the 5 Grand Palaces.
If you want to experience culture and traditions, a good idea is to wander through Bukchon Hanok Village, a traditional village where you can find art galleries, craft shops, and traditional teahouses and try traditional Korean food. In fact, Seoul is probably one of the most walkable cities in Asia.
You will be able to admire Buddhist temples and if you like, you will be able to take part in the Templestay Program and stay there for one or several nights, living like a monk and participating in Buddhist ceremonies and rituals. If you want to talk with monks who are always open for discussion, you can start learning Korean via Skype with a tutor at Preply.
You will enjoy shopping in Dongdaemun, the most famous shopping area in South Korea, and Myeongdong Shopping Street, where you can find a lot of stores and boutiques.
BUSAN
Busan, South Korea's second-largest city, is a very popular destination and for good reason. For one, there is its location on the southeast coast. And then there is the fact that you will never run out of things to do in Busan, with the Korean mountains nearby, lots of stunning buildings, a city center speckled with historic buildings, and a busy street life. All these reasons make Busan one of the best places to visit in South Korea.
If you do decide to visit Busan, make sure to spend a little time on Haeundae Beach . This beach is not only popular among foreign visitors, it is also a local favourite and attracts visitors from across South Korea. This does however mean that it can get very busy. If you prefer quieter beaches, you might want to check out Daedepo or Songdo. 
Do spend a little time shopping. Busan is home to one of the world's largest department store, as well as many traditional markets. The city itself is modern, cosmopolitan, and fashionable. And foodies will be glad to hear that there are sophisticated restaurants aplenty.
Busan is famous for its traditional market culture which continues to thrive despite luxurious department stores and numerous supermarkets.
If you are fond of street food, go to Changseon-dong's Meokja Golmok where you can taste affordable traditional Korean food.
For history fans like my husband and I, we would recommend visiting the 14th Century coastal temple of Haedong Yonggungsa.  And for those seeking adventure in the wild, we would suggest a trek to Taejongdae. It's a massive coastal park that has some epic views across the region. Just make sure to take your hiking shoes, the routes can be a little tough.
The city also offers fantastic hiking opportunities with accessible trails for every fitness level.
Finally, Busan has 450 spas with the biggest Spa Land where 20 spas are fed by all-natural spring water. It's the best place to go if you need rest and relaxation.
GYEONGJU
All buildings in Gyeongju are made in the traditional Korean style. A lot of historical sites and national treasures are preserved here so the city is often regarded as an open-air museum. As you walk through the city, you come across shrines, temples, tombs, castles, gardens, remains of palaces, and Buddhist statuary.
Gyeongju is a UNESCO World Heritage Site.
The best places to see include Bulguksa Temple, Cheomseongdae, the oldest astronomical observatory in Asia, Gyeongju National Museum which contains more than 16,000 artifacts.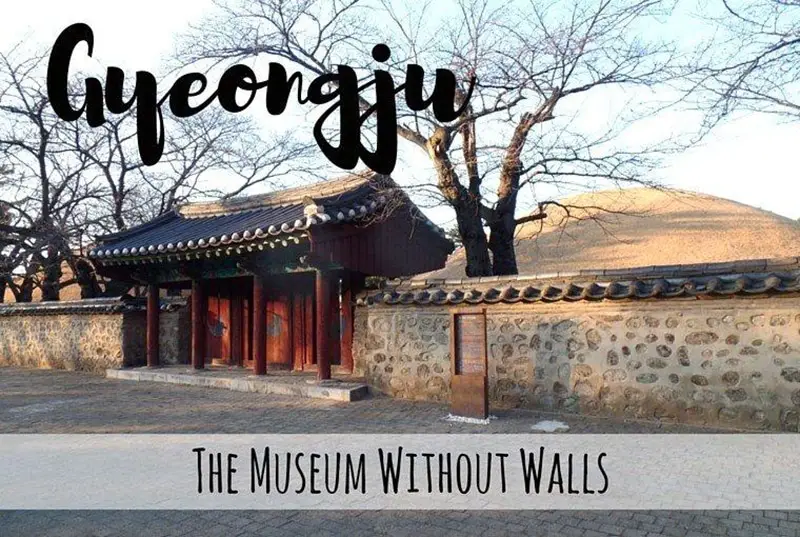 JINHAE
Jinhae is a popular tourist destination in spring and every year it attracts more than 2 million tourists willing to experience cherry blossom festival.
They say the most beautiful place in the town during this short 10-day period is the Gyeonghwa Station where trains run through a cherry blossom field. During the festival, you can also visit parades and art performances.
DAEGU
Daegu is South Korea third-largest city. It is rooted in tradition and has all the conveniences of a modern metropolis where nature and modernity collide. You can see here Hanok houses and traditional palaces.
The city is the hub of the textile industry and there are a lot of fashion exhibitions. It is also famous for shopping.
Every year, the city hosts Chicken and Beer Festival and Dalgubeol Lantern Festival that are amazing tourist attractions.

Disclaimer: Please note that this post was written in collaboration with Preply who kindly provided all the information I needed.  The opinions stated however are all my own. 
What is your favourite city in South Korea?
Let us know in the comments below!
Did you Enjoy this article?
Share it with your friends and family on FACEBOOK, TWITTER AND PINTEREST