Recently I was invited, along with other bloggers, by  Newbury Racecourse to attend the Al Shaqab Lockinge Day. Being the biggest event at the Newbury Racecourses it gave us all the opportunity to wear our finest attires, watch the world's fastest horses and jockeys battle it out for their slice of British history while experiencing one of Newbury's best Hospitality Packages. Our hospitality package in the Fred Winter Suite consisted of a champagne reception, refreshments throughout the day, and a delicious afternoon tea. How could I possibly say no!
In order to live a life of travel, you need to grasp every opportunity that comes your way. For me, travel is about exploring new places. I might fly somewhere further afield or visit a new location in my neighbourhood. All these experiences have the same value to me.
This was my very first time at the races and I wasn't entirely sure what to expect. I knew however that horseracing is one of the oldest sports in the world and that by going to the races I would be aligning myself with the very best.
Attending the races is a very British summer tradition. In the UK, horse racing is known as the Sport of Kings. The Queen herself is a regular and enthusiastic attendee. She even has her own race horses.
Anyone looking for a fun day out does not need to go much further than the Newbury Racecourse!  I can't imagine that anyone wouldn't enjoy the range of activities and the delicious food available at this racecourse.
LOCATION
The Newbury Racecourse is located right outside of London, just to the West of Reading in the South East of England.
We left early in the morning, fearful that we would get caught in traffic. The gates to the racecourse opened at 11am and the first race started at 2pm. Lunch was to be served shortly after everyone arrived at 12am.
It actually only took us two hours to drive from the North East of London to Newbury racecourses, and we hit barely any traffic at all. Had we opted to take the train, it would have only taken us 50 minutes from central London (but two and a half hours from the North East)! Newbury Racecourse even has its own train station.
Car Parking was provided and free. Parking instructions and attendants were meticulously organised. All car parks were well sign posted and marshals were without exception friendly, welcoming and knowledgeable.  We parked in Car Park 4 right next to the entrance to the grandstand. Alternatively, having tickets for the premier enclosure, we could have parked in car park 1 (in the middle of the racecourse).
If you are seriously posh you may even arrive by helicopter. We saw a couple of them arriving throughout the day to park in the middle of the course. Truly a Sport of Kings!
NEWBURY RACECOURSES
The first recorded racing at Newbury took place in 1805 with "Newbury Races", an annual two day race meeting at Enborne Heath. The meeting lasted until 1811 when it transferred to Woodhay Heath until 1815.
Newbury Racecourse didn't come into existence for another 90 years when Kingsclere trainer, John Porter proposed a new racecourse at Newbury. The Jockey Club had laid down strict qualifications for new racecourses and after Porter's plans were rejected several times, a chance meeting with King Edward VII brought about a further application which with the King's support was approved by the Jockey Club.
In April 1904 the Newbury Racecourse Company was formed and purchased the land and construction began of the buildings and stables at a cost of £57,240.
AL SAHAQUAB LOCKINGE DAY
Al Shaqab Racing is an Arabian racing group, started by Al Shaqab in 2011. It has quickly become one of the modern superpowers of thoroughbred racing.  Their sponsorship of the Al Shaqab Lockinge Day has elevated what was always a classic race day to something quite special!
The Al Shaqab Lockinge Day is the highlight of Newbury's Flat racing season. It is the biggest event at the racecourse, with the prize money topping 750 000 £. It also sees some of Europe's finest thoroughbreds going head-to-head on an unmissable day of racing action.
As well as being an unmissable day out, the Al Shaqab Lockinge Day is one of the biggest social highlights of the summer in this area.
DRESS CODE
This was probably one of the first events I attended (apart from Weddings) with a proper dress code.
The rules have lightened up a little over the last few years, but most Brits still enjoy getting dressed up for the races. Think cocktail dress and a very sculptural hat. In fact, the horseracing is probably the reason why the millinery industry is still alive and kicking in the UK.
Gary and I wore matching blue and white outfits. I found a beautiful dress with palm trees and pockets at … I paired the dress with a dark blue jacket and sparkly hat from Marks and Spencer and a dark blue lace clutch from Accessories.
While in my mind I pictured similar attires to those customary at Ascott, to my surprise the dress code at the Newbury racecourses is slightly more relaxed. Most attendees of the Al Shaqab Lockinge Day did not wear a hat.
VIP ACCESS AND THE FRED WINTER SUITE
The Berkshire stand is located within the premier enclosure of the racecourse for those with premier or hospitality tickets. It is surrounded by a fenced of area and has its own betting stalls. The first floor features the Long Room and Paddock View, which had been transformed into a bar. Not knowing that we would be served drinks throughout the day, Gary and I invested in a jar of Pimms. In my mind at least, you cannot spend a day at the races without drinking at least one glass of this fruity concoction.
The Fred Winter Suite is a 23m long hall located on the second floor of the Berkshire Stand. It offers seating for up to 90 people and can be split into two different rooms. It is fully glazed and has access to a private balcony with stunning panoramic views across the racecourse.
We were very kindly provided with VIP all access tickets and invited to join the owners of the racehorses in the Fred Winter Suite.
To be honest I wasn't quite sure what to expect of the day. It ended up being a whole lot better than I could have ever imagined.
FOOD AND DRINK AT THE NEWBURY RACECOURSES
Lunch started off with a selection of charcuterie from the sideboard. The two types of salami, Parma ham were accompanied with mixed olives, fresh crumbly feta cheese, bread sticks and roasted salt and paprika almonds.
Lunch consisted of a series of little canapes very cleverly served at ongoing intervals throughout the day. While tables were available, they weren't allocated and guests could come and go as they pleased (to place a bet, seek out the parade ring or watch the race up close). This is far more efficient than having a formal sit-down meal. You get to enjoy the race and activities surrounding it, whilst still being able to taste every course should you so please.
Next, we were served a whole host of delectable courses including:
Fried Foie Gras served with brioche toast and balsamic cherries,
Tandoori chicken with crisp pitta bread and a mango and red onion sambal,
Pickled golden and candy beetroot with balsamic onions,
Dorset crab and crayfish bonbons
Thin slices of hoi sin glazed duck breast with salad
Beef fillet with Bearnaise sauce
Seabass on mash with beurre blanc sauce
Our feast didn't end there. Decadent desserts were soon passed around. Miraculously I still had a little room left in my stomach for the blackberry and summer berries Eton mess and a very creamy crème brulee.  If after all of that you were still hungry, you could fill up by snacking from the cheese boards that were dotted around the suite.
Later in the day we were served a traditional afternoon tea. The mini cupcakes and sandwiches were delectable and very welcome. A whole variety of cupcakes were on offer but my favourite was the carrot cake and cinnamon cream one.
As mentioned above, we didn't realise that we would be treated to free flowing Veuve Clicquot Rose Champagne. No glass was left empty. Those that weren't particularly keen on champagne (or who had drunk a little too much Pimms before the main event) there was a selection of refreshing summer cordials. My personal favourite was the apple, elderflower and nettle cocktail. Just sweet enough to still quench your first.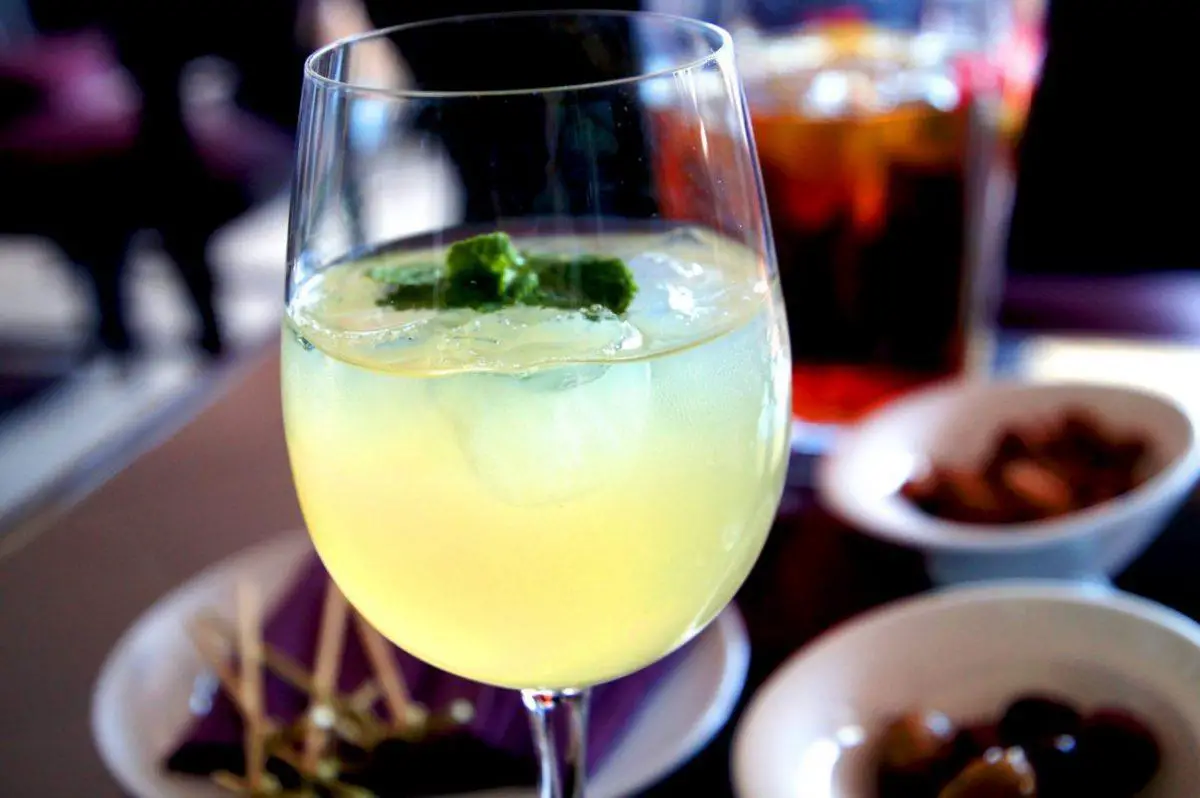 ACTIVITIES ON THE RACECOURSE
We could easily have spent the whole afternoon in the Fred Winter Suite. Our private balcony afforded us with the very best birds-eye views across the racecourse and there was even a clerk on hand throughout the day with whom we could place our bets without ever having to leave the suite. But that would not have been as much fun.
The weather was glorious and a breath of fresh air after all that champagne certainly did not go amiss, so Gary and I took to the open enclosure to watch and cheer on our horses in the thick of it.
We did place a couple of 5£ bets but never won anything. Well you know what they say, unlucky in life, but lucky in love. To be fair though we were never very scientific nor professional with our selection. Although we were provided with a racecard, both Gary and I opted to pick our horses purely based on their names and looks. It was all a bit of fun after all and having only placed small bets, we never lost a great fortune.
My favourite part of the day was meeting the racehorses and their jockeys. If you have tickets for the premier enclosure you can head to the immaculate parade ring and winners enclosure. Here you will come into close contact with the horses, who are groomed to perfection and led around the ring by their trainers prior to the race. Don't forget to watch the jockeys being agilely legged up onto their mounts before heading into the race.
Next, we walked around the venue. Our VIP tickets gave us access to every corner of the Newbury Racecourse, including the VIP bar and lounge. There is a huge diversity of food on offer in the grounds with a variety of stalls in both the premier and grandstand areas. You can choose to buy anything from fish and chips, to ale and pies or a hot bacon roll.
If this is your first time at the races or you are a big fan, you might want to partake in one of the behind the scene tours.  A tour of the Weighting Room is a very rare experience. I can't believe that they offer this for free. Mind you it's on a first come first served basis, so arrive early.
The activities didn't stop there! At the end of the races, you will be able to dance along to some great live music at the after-party. On this occasion, the musical acts that were presented included the Black Kat Boopers, Steve Carroll, and Megan Rhodes.
AMENITIES AT THE NEWBURY RACECOURSE
All age groups are welcome and catered for at the Newbury Racecourses. Disabled Access is good with several designated viewing areas. There is also an on-site crèche, charmingly named Rocking Horse Nursery, which provides two hours of free child care to all racegoers.
You might also want to check out Newbury Racecourse's twitter and facebook feed, where you will be entertained by the comments of racegoers thoroughly immersed in their racing experience.
You might also want to check out Newbury Racecourse's twitter and facebook feed, where you will be entertained by the comments of racegoers thoroughly immersed in their racing experience.
WILL I RETURN TO THE NEWBURY RACECOURSE NEXT YEAR?
I really enjoyed my day at Newbury Races and would definitely consider returning to the Al Shaqab Lockinge Day next year or even any of their other Derby Days. We had a wonderful day and I can't imagine a better way to spend a spring weekend.
I never thought I would go to the races. It just didn't seem to be my sort of thing. But then I didn't fully grasp that a day out at the Newbury racecourses goes far beyond betting on horses. The food was excellent and I loved getting up and close to the horses. They are such magnificent creatures.
I would like to thank Newbury Racecourse for inviting us to this years Al Shaqab Lockinge Day.
Disclaimer: I attended as a guest of Newbury Racecourses, nonetheless the opinions contained within this article are my own and were not in any way influenced by their hospitality.
Have you ever been to the Races?
Let us know in the comments below!
Did you Enjoy this article?
Share it with your friends and family on FACEBOOK, TWITTER AND PINTEREST