Being a part-time traveller, this blog focuses for a big part on the best destination around the UK and particularly on those that are an easy reach of its capital London. Indeed it seems I'm on a permanent quest to discover what makes 'Great Britain' so great.
With that aim in mind, Gary and I have been on many trips, exploring the rural countryside of England. So far we have been to the international metropolis of London, the undulating moors of Yorkshire, the cultured Bath, hippy Glastonbury, the evergreen Devon, and the New Forest where wild ponies roam free.
Last month however we popped over to Guildford for a very short UK Weekend break.
We had already visited Guildford on a previous occasion (I believe during one of our numerous house hunts). And although we enjoyed visiting Guildford's Cathedral and walking along the canals, it wasn't a town that particularly stuck as a favourite.
All that changed however a few weeks ago, when Visit Guildford invited us to their Alice in Wonderland Family Day and encouraged us to explore some of Guildford's more unusual attractions.
This time we stayed for the weekend. Having a little more time on our hands really helped us get under the skin of one of the most unique and beautiful medieval cities in the UK. Which, by the way, also turned turned out to be a really great place for families to live or head on vacation.
LOCATION OF GUILDFORD
Guildford is a large town set in the rolling hills of Surrey countryside. It's a very short trip from London being located only 16 miles from it's center. That's approximately thirty minutes by train from central London and about an hour by car. Surrey itself is an inspiring green and relaxing destination steeped in history, with market towns and an excellent range of attractions and places to go. The diversity of things to do in this county is mesmerizing – from the heathland and valley woodlands to the high empty commons that rise to the soaring outliers of the West Sussex Downs. Historic villages are nestled peacefully in the stunning landscape alongside vibrant market towns, complemented at every turn by many of the South East's best country pubs. The close proximity to the capital means that Guildford makes a great day trip for those visiting London or alternatively a wonderful staycation for those looking to escape the hustle and bustle of the city. In fact it's excellent transport links mean that Guildford has welcomed travellers for centuries.
ABOUT GUILDFORD
Guildford is a vibrant market town that features cobbled alleyways, dozens of stores, several small, yet fascinating museums and a castle with the most well kept gardens you will ever see. Set around the River Wey, Guildford was historically an important trade point between Portsmouth and London. Today you can amble along the riverside or take a gentle cruise in a riverboat. Guildford is also a hugely popular shopping destination. The cobbled streets and historic alleys are home to hundreds of shops – from high-street favourites to independent craft, book and clothing stores. In the evenings you can choose from dozens of restaurants and bars before heading out to the cinema or to the excellent Yvonne Arnaud Theatre for a family performance. In fact Guildford's town centre was voted 'the best luxury shopping destination outside of London' by Experian in 2014 and in the same year clinched the prestigious title of 'Tourist Destination of the Year' beating the likes of Cornwall and Bath at the Tourism Networks Award. Of course, Guildford is also the ideal base for exploring the Surrey Hills Area of Outstanding Natural Beauty, as well as discovering nearby attractions and local villages. So if your ideal weekend away consists of a town steeped in history with plenty of shopping opportunities, a town with connections to some of the world's greatest literature, or a town where you can sit, relax and admire the beauty of nature, then Guildford should be on your bucket list.
WHERE TO STAY IN GUILDFORD
Our trip to Guildford lasted for three days and two nights and for the purpose of this article we were invited by Visit Guildford to stay at the Harbour Spa Hotel.  The Harbour Hotel group is in fact a hotel chain that predominantly has properties on the south coast such as Cornwall (hence the Harbour name).  The Guildford Harbour Hotel & Spa itself  is a luxury 183 bedroom, four star hotel that features a stylish restaurant and bar, an alfresco dining terrace and an accompanying Harbour Spa available to guests. And I would happily recommend this hotel for a weekend break in Guildford  First off it is ideally located in the town center. So much so that the furthest we had to travel to any of our destinations was 20 minutes by car. Furthermore, if you are travelling to Guildford by car, you will be glad to hear that the hotel is surrounded by no less than three car parks. One of which belongs to the hotel itself. Why am I putting so much emphasis on this? Well, Guildford is very much a pedestrian city. You will not find a lot of free parking close to its centre.  The Harbour Hotel also features three restaurants and a spa. Whilst it isn't particularly difficult to find a good eatery in town, this does allow for a very relaxed evening. Finally, as an Architect, I couldn't help but be impressed by the hotels quirky modern design. From its patchwork sofas in the bar to the unusual sculptures in the entrance hall, this hotel certainly has character. 
THINGS TO DO IN GUILDFORD
A HISTORIC WALK THROUGH THE TOWN WITH HANDHELD TOURS
One of the many great things about Guildford is the amount of history in such a small town. Guildford has a strong Saxon background dating back to the 10th century and evidence of this can be seen at Guildford museum, as well as  with other artefacts that can be found in the town. But Guildford also features many historic buildings, several of which are open to the public. These buildings clearly demonstrate the evolution of the town over time. 
Gary is a huge  history buff and one of our favourite activities when on vacation is to delve into the past of our current location. 
 If you are  history fan yourself, you will be glad to hear that there are several free guided walks per week. The tours depart from Tunsgate Arc and are led by experts in their field.
 If you prefer a self-guided tour, there is also an app called Handheld Tours with you can download. Being slightly pressed for time, this is what Gary and I chose to do instead of a guided walk. And we were seriously impressed. You could easily spend a whole day like this, there are so many potential sites to see, and the information given is really in-depth. The 1.5-mile historic trail will take you from the bustling high street up to the Norman Castle, down to the river, and then back to the town center, covering 1000 years of history. 
 The following are some of the historic buildings included on the self-guided tour, that you might like to visit yourself when in Guildford.
THE ABBOT'S HOSPITAL
 The Abbot's Hospital, is a beautiful building situated on the main high-street. But it isn't and was never actually a hospital.  Erected in 1619, the building was  the brainchild of George Abbot, the former Archbishop of Canterbury. It's purpose was to house those struggling to find accommodation and it had enough room for twelve single men and eight single women – under the care of a master.  Nearly 400 years later, the building still continues to house elderly 'Guildfordians' and provides not only town centre accommodation, but a social and supportive environment for those who need it the most. 
THE ROYAL GRAMMAR SCHOOL
The Royal Grammar School was built in 1522, when Edward VI re-endowed the school. 
A plaque over the entrance commemorates the charter that was bestowed upon this school by the boy king.
ST MARY'S CHURCH
St Mary's Church is the only remaining building in Guildford that dates back to Saxon times. The current structure replaced an earlier wooden church on the site in about 1050.  
 It is said that the chancel was shortened in 1825 to allow King George IV's carriage to pass through the then very narrow Quarry Street, whilst making his journey between Windsor and Brighton.
YVONNE ARNAUD THEATRE
The Yvonne Arnaud Theatre is located on the canal and was opened in 1965. It was named after the famous French actress who lived locally. 
It was also featured on an episode of Great Canal with Timothy West and Prunella Scales. Both actors started their careers here.
THE WEY NAVIGATION
The Wey Navigation was one of the first navigable river system in England. It dates back to 1653. 
Before the invention of the railway, the Wey was used to transport cargoes of all descriptions to and from London Docks. This trade greatly benefited the town of Guildford.
THE ANGEL HOTEL
The Angel Hotel is the last survivor of Guildford's Georgian coaching inns. Back when the Angel Hotel was built, Guildford was a convenient halfway stop on several cross-country coaching routes and these inns attracted up to 200 travelers a day as they passed through town.The Angel itself dates back to medieval times and has been used as an inn since 1522.
CLIMB TO THE TOP OF GUILDFORD CASTLE
One of the main attractions in Guildford, has to be it's castle, located on a hill overlooking the town. Guildford castle dates back to approximately 1086 and was built shortly after William the Conquerer invaded England. After the 1300s, the castle was heavily neglected and therefore only a small part of the original building remains. While we were there, the castle grounds played host to the new annual Alice in Wonderland Festival. And the town couldn't have chosen a better location. I couldn't help but feel as if I was strolling through the Queen of hearts garden, painting her roses red. For an extra special 360 degree panoramic view of Guildford and its surrounding countryside, head  to the visitors platform on the roof of the Great Tower. Some of the original features of the Great Tower including its crenulations were discovered between 2003 and 2004, during conservation works. At the same time, a roof and floor were re-instated at first floor level, which has made the building more accessible to visitors. There is a small gift shop on the ground floor and the castle is open April to September every day from 10am – 5pm. Final admission is at 16.30. It is open at weekends in March and October and autumn half term 10am until 15.30. The grounds however are kept in a beautiful and immaculate condition. Indeed on a summery day, it's the perfect place to have a picnic.
VISIT THE GUILDHALL
The Guildhall is a late 16th century building of great historic interest. It's Classical front is dominated by a magnificent bracket clock made in 1683 and it's ground floor is of Tudor origin.  It was once the courtroom and Council Chamber of Guildford. Here the approved men of Guildford ( a forerunner of the Guildford Borough Council) met to administer the town.  Today the building houses the Civic plate and many rare items.   The building is open to the public. The entrance fee costs 5£ per person but includes a very detailed guide book.  Guided tours of the building are held on Wednesdays at 15h30 from March to November. Please check before your visit and allow around about 45 minutes. 
MARVEL AT THE MODERN ARCHITECTURE OF GUILDFORD CATHEDRAL
It was Sir Edward Maute who originally designed and its construction started in 1936, to a design by Sir Edward Maufe. But the building works came to a sudden stop in the Second World War. Despite the wars devastating aftermath the Crypt Chapel of the Cathedral was used for regular services in 1947.  Construction of the Cathedral was resumed in 1954, when materials were more readily available. However despite the determination of the local community to complete their Cathedral, funds for its construction were rather restrictive.  The Cathedral was nevertheless completed in 1961, due for a big part to the Buy a Brick fundraising campaign More than 200,000 ordinary people became brick-givers. Their generosity helped ensure the completion of what they thought of as "their Cathedral". It was an extraordinary act of public support and a true demonstration of modern community spirit.
FOLLOW THE TRAIL OF ALICE IN WONDERLAND
 If you prefer literature to history, you will be pleasantly surprised to hear that Guildford was once home to the author Lewis Carroll, famous for writing the Alice in Wonderland books. He lived with his seven sisters at "The Chestnut" from 1868 until his death in 1898. And it was in fact in Guildford that Lewis Carroll wrote much of Alice through the Looking Glass in 1871.  Since Guildford has honoured its famous writer with many monuments around the town.  The famous Alice Through the Looking glass monument is located in the castle grounds. It was installed in 199 and created by sculptor Jeanne Argent. Alice herself was model on Jeanne's daughter Anne. Just beyond the fence behind the sculpture lies the house that Lewis Carrol once called home.  Alice and the White Rabbit Statue can be found near the canal. It depicts the opening moments of the book, when the White Rabbit vanishes down he rabbit hole, and was designed by local sculptor Edwin Russel in 1984.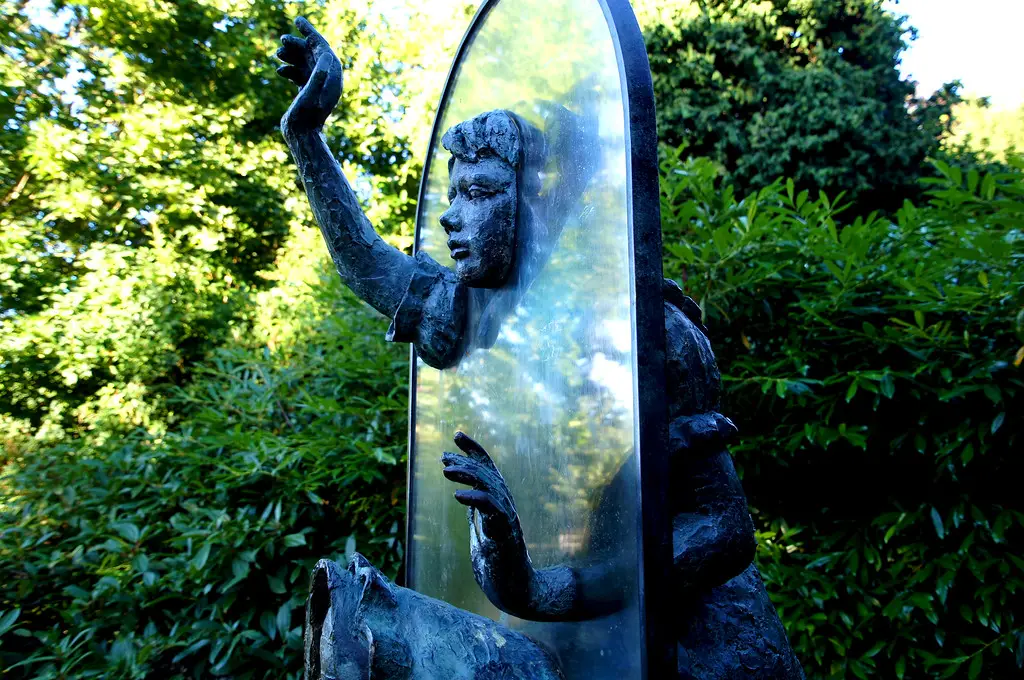 TAKE A STROLL THROUGH LOSELEY PARK
Built during the reign of Elizabeth I, Loseley Park is surrounded by ancient Surrey Parkland and profits from stunning views across the North Downs.  
I have visited a lot of gardens other the last couple of years and the gardens at Loseley Park can compete with the best of them. In fact, I clearly remember telling Gary that Loseley Park easily made it into my top 5.  
The 2.5-acre garden has been divided into individual outdoor rooms each with its own unique planting scheme and personality. These individual gardens have been carefully laid out within a walled enclosure to one side of the house. As you pass through arches in yew hedges you walk progressively through a rose garden, with over one thousand bushes, followed by a Cottage Garden with a maze of pathways and hidden corners.  
From there, the path leads through a richly planted garden of herbaceous perennials in hot colours on one side of a crab apple walk and a large herb garden on the other.  
Don't miss the white garden with its formal pool and its spectacular, showy, blooms which contrast perfectly with the lush yet subtle silver and grey foliage. Certainly one of my favourites.  
Then head to the organic vegetable garden, the nuttery, and the wildflower meadow just outside of the walls, which is a haven of calm and tranquility. A raised walk alongside the moat provides views over the entire enclosure.  
Apart from the gardens, one can also visit the manor itself. Thus a visit to Loseley Park provides both culture and horti-culture. This is good news when you live in  a country where the weather can be a tad temperamental and means.  
The More-Molyneux family still call Loseley Manor home, and astonishingly the building has remained remarkably unchanged since 1562 when Sir William More laid its first stone.
Other attractions include a lovely walk down to the lake across the Front Park, restaurant and refreshment areas, a gift shop and plant sale.
From the House itself, where the intricate panelling in the Great Hall was once in Henry VIII's Nonsuch Palace, to the elegant Walled Garden with its award-winning rose garden, flower, herb, vegetable and white gardens and delightful moat walk, Loseley Park is a place to visit and relax in one of England's friendliest historic homes.
A LITTLE CULTURE AT THE WATTS GALLERY
The most memorable part of our weekend in Guildford was our visit of the Watts Gallery, one of the most beautiful small galleries in Europe.  
The main building of this national Gallery houses a collection of works by the prolific Victorian painter and sculptor, G.F. Watts as well as several special exhibitions.   
The Gallery was founded by the artist himself very near the end of his life. And it was the first of its kind, being entirely devoted to a single artist.  
Watts was born in Marylebone and spent much of his long working life in London. Like many Victorian aesthetic artists, Watts was prepared to turn his hand to many styles of genre painting and was unafraid to branch out. All are richly represented here.  
On the lower level of the main gallery, you'll find the sculpture gallery which house the models for the monumental equestrian statue, Physical Energy. There are also dozens of smaller models and casts of hands feet and busts on display.  
You might be pleased to hear that your visit won't end here. Indeed, apart from the main gallery there are several additional buildings on the grounds.  
One of these is a small museum devoted to the life of Watts. It displays several portraits of his friends and houses his former studio. In the centre of the room you'll find a display cabinet containing letters, photographs, sketchbooks, the artist's tools of the trade, his death mask, and possibly most pleasing: his trade-mark maroon skullcap.  
Right next to the museum sits G.F and Mary Watts' home. This is a quirky building and definitely warrants a visit. Mary spent a large chunck of her life personalising the house, with restored furniture and beautifully intricate ceiling panels.  
The nearby Memorial Chapel is an Arts and Crafts masterpiece, full of Art Nouveau imagery. And again, the interior as well as the exterior were designed by Watts' wife, Mary.  
Admission to the grounds costs £7.50. Entry is free for Art Fund members and Friends of the Watts Gallery (£20 per annum).  Although the gallery exhorts you to go green, parking facilities are good, so I would recommend you take the car if it's your main means of transport.
OUR ITINERARY FOR A TWO DAY WEEKEND IN GUILDFORD
Note that I tend to pack our itineraries full activities. You can pick as many activities or as little as you want.
You could even spend a whole weekend shopping in Guildford.  One quick look at the High Street and you'll immediately realise why so many shopaholics love spending their Saturdays in Guildford. No matter what your style, Guildford's streets will have something for you, and a few hours exploring them is a great way to kick off your weekend away. And ater you might want to pop into the newly renovated spa at the Harbour Hotel.
Total cost of the trip 305£ or 152.5£ per person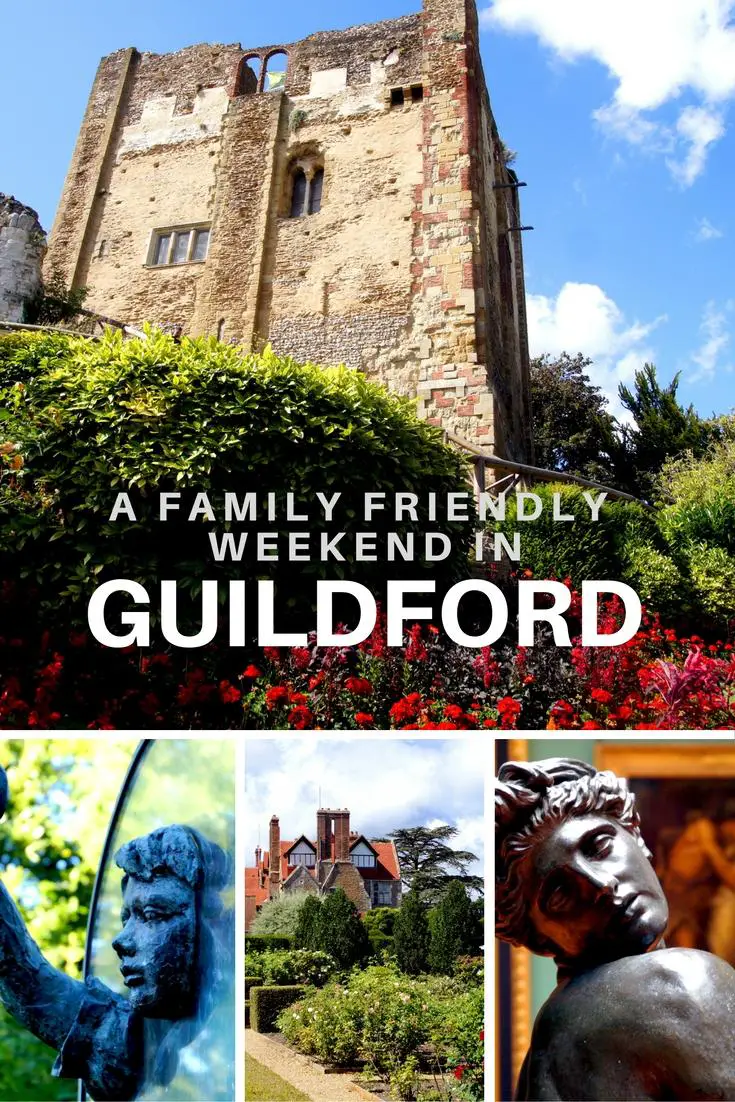 DAY 1
9 AM – Lazy Morning and Breakfast at Home
10 AM – Left London by car  ( Petrol 13£)
11.30 AM – Checked into our Double Ensuite at The Harbour Hotel (110£ for one nights)
12.30 PM – Visited Watts Gallery (cost about 14.50£ per person)
4 PM – Lunch at the Watts Gallery Tea Room (cost about 12£ per person)
5 PM – Returned to the hotel and went for a long walk around Guildford with Handheld tours
7 PM – Returned to the Hotel for a rest8h00PM Had a fabulous dinner at the Harbour Hotel (about 24£ per person for  main, dessert and a cocktail)
DAY 2
9 AM – Enjoyed the Breakfast buffet at Harbour Hotel and then checked out of the hotel
10 AM – Arrived at Losely Park (£10 per person)1h30PM Has Lunch at Losely Park's Cafe (about £11 per person)
2 PM – Returned to Guildford and joined Alice in Wonderland Day
3 PM – Finished our self-guided historic tour of Guildford
5.30 PM – Return Drive to London (Petrol 13£)
What would you choose to do in Guildford?
Did You Enjoy This Article?
Share it with your friends and family on FACEBOOK, TWITTER AND PINTEREST