The following is a guide to the best food in Tokyo. Together with my friends from the travel blogging community, I will show you what to eat in Tokyo and where to find it.
One of the main reasons I couldn't wait to travel to Japan and a major factor in our decision to return for a second time was the country's cuisine.
And when it comes to food, Tokyo really has it all from sizzling street food to some of the best high-end Michelin rated restaurants in the world. You simply cannot visit the capital of Japan without delving into Japanese food culture.
And because taste in food is such a personal thing, I turned towards my fellow travel blogger friends. I asked them: "What was the best thing you ate in Tokyo?". Below are their responses.
If you are planning a vacation in Tokyo then you must read our food guide first. It will tell you everything you need to know about the best food in Tokyo.
This food guide compliments my general itinerary for Tokyo. To find out more about things to do in Tokyo follow this link.
THE BEST SEAFOOD TO EAT IN TOKYO
SUSHI BREAKFAST AT SUSHI DAI – ELAINE AND DAVE
Tokyo is a foodie delight and there are endless foods to sample and savour on a visit to the city. After visiting the iconic Tsukiji fish market, the biggest wholesale fish and seafood market in the world, we had sushi on our mind and decided that we would try and grab a seat at Sushi Dai early the next morning!
Sushi Dai is a renowned sushi restaurant hidden among the maze of side streets surrounding the Tsukiji fish market. It is widely regarded as one of the best sushi restaurants in Tokyo, at least if the long queues and international hype are to be believed.
Having tested our sushi commitment with a stamina breaking 4.5 hour queue, at 3am we finally shuffled into Sushi Dai with 10 other diners and couldn't wait to indulge in a sushi breakfast feast. We opted for the 10 piece Omakase 'Trust the Chef' menu and watched as the chefs got to work on producing fine pieces of sushi. Each mouth-watering course was better than the last: we tried horse mackerel, scallop, sea urchin, tuna, eel, snapper and cutlass and each piece of sushi was incredible.
Sushi Dai was by far one of the best foods we ate in Tokyo, and at 4,000 yen (around US $36) for the experience, it was a complete steal!
>> Check out Elaine and Dave's blog Show them the Globe <<
MINI OCTOPUS – PARI
If you are fan of seafood, Japan has many things on offer for you.
Not only is seafood served in high-end restaurants, it is also a big part of street food. If you go to places like the street food lane near Ueno Park and the market near Sensoji temple, you will find many vendors selling all kinds of seafood delicacies.
I am not a huge fan of seafood per se, still I am of the belief that if you want to know a country, tasting the local food is a part of it.
So, I decided to try a very popular seafood – mini octopus near Sensoji temple in Tokyo. Four tiny octopus were mounted on a stick just like a kebab with soy sauce/oyster sauce (I am not sure which) poured on them.
I was quite hesitant to try them at first. Seeing the suckers on the legs of the octopus didn't help one bit. However, I braved it and put the mini octopus in my mouth.
The octopus had a slightly rubbery texture but apart from that, it didn't taste that bad. Now, that I got used to the texture, I ate the next three with ease. By the end, I actually ended up liking it.
Follow Pari from Traveling Pari on Instagram
UNAGI – NICOLE
Don't let the classic Friends episode fool you, Unagi is more than total awareness it is also a type of sushi you can find in Japan.  Unagi is the Japanese word for freshwater eel and it is one of the most interesting things I have ever eaten.
Unagi is one of the best things I ate in Tokyo and I lived there for a year.  Unagi has a complex flavour that melts in your mouth.  If the thought of eating eel weirds you out just think of it as another fish dish.
Unagi is a common ingredient in Japanese cooking.  You will often find it on sushi platters.  Unakyu is the type of sushi containing eel and cucumber.  Don't worry, the eel is always cooked due to the health risks and is often smoked which gives it more complex flavours especially against the sushi rice which is prepared with vinegar, sugar and salt it is delicious.
Follow Nicole from Travelgal Nicole on Instagram
MEAT DISHES TO EAT IN TOKYO
JAPANESE BBQ – PAMELA
Sushi is one of the best things to eat in Tokyo, but there is an equal best that doesn't come from the sea.
Yakiniku, also known as Japanese BBQ, is one of our favourite dining experiences while in Japan. We have dined at many Yakiniku restaurants, and on our recent trip to Tokyo, we tried Jojoen and Tendan in Chuo-Ginza.
What's so special about Japanese BBQ? Besides the incredible cuts of meat available, the experience is what sets this grilled-meet cuisine apart. But don't worry, if you don't want to eat meat you can opt for seafood and other main dishes instead.
Jojoen and Tendan offer private rooms where you can grill your own meat, seafood and fresh vegetables. The tables are equipped with a small grill and a powerful ventilation system which won't leave you smelling like food. You dine in complete privacy, and if you need anything you simply push a button, and a waiter magically appears.
A few of our favourites include Wagyu, sirloin, beef filet, scallops and all the delicious dipping sauces. Pair your meal with a local beer or Shōchū and enjoy this highly interactive dining experience in Tokyo that will leave you wanting more!
Follow Pamela from Travel like a Chieff on Instagram
TONKATSU – KAVITA
Katsu is a hugely popular dish in Japan, available in supermarkets, snack bars, cafes and restaurants across the country.
You may be surprised to learn, however, that its origins are European – most likely the breaded veal schnitzels of Austria and Germany – and it's categorised as yōshoku (Western-influenced food). Originally known as katsuretsu (a phonetic representation of "cutlet") the most popular version is tonkatsu (pork katsu), but beef katsu has become very trendy in recent years.
On our first holiday to Japan, we made sure to head to Maisen's Omotesandō branch, built in a former traditional public onsen (bathhouse).
Famous for high-quality tonkatsu, Maisen offers a variety of cuts from different breeds of pig, including the famous Kurobuta brand as well as it's own-brand Amai Yuwaku.
The classic way to enjoy tonkatsu is with a side of shredded cabbage, and the ubiquitous rice, pickles and miso soup to complete the meal. Tonkatsu sauce (a Japanese adaptation of British Worcestershire sauce), is the traditional condiment.
If you don't have time to eat in, try Maisen's katsusando, a white-bread sandwich filled with tonkatsu, available from the takeaway stall outside the restaurant.
Click this link to read all about Kavey's trip to Japan
Follow Kavey from Kavey Eats on Instagram
RAMEN YOU MUST SLURP IN TOKYO
MISO RAMEN – VICTOR
Tokyo is an absolute feast for foodies, with some of the world's most refined flavours and ingredients. One downside, however, is the price. Budget travelers will inevitably end up in 7-elevens or fast-food places like Yoshinoya, MOS burger and Matsuya. Nothing wrong with that, of course, and the food standards in Japan are so high that it hardly feels like you're eating fast food.
Luckily, there are some loopholes. One of them was shared with me by a Japanese friend. The place is called Mentsudan and it's a small restaurant in Tokyo serving udon noodles. Located in the extremely densely commercialized Shinjuku area, it's easy to not even notice this restaurant as a tourist. Because of the astounding number of food places in this area, I found that you will inevitably start scanning over shop windows that only consist of Japanese characters. As my friend had given me some great tips before, I entered Mentsudan with great confidence.
Udon is a type of thick wheat flour noodle used frequently in Japanese cuisine. The noodles are often served cold in the summer and hot in the winter. There are a myriad of toppings, from tofu and tempura to mochi rice cakes and raw egg. As in many places to eat in Tokyo, an English menu was present at the restaurant, which made choosing a dish considerably easier.
The restaurant was full with white-collar workers, quietly eating their lunch before returning to their offices. The staff was very friendly and helpful, and even seemed a bit surprised to see a tourist wander in. I chose the "Cold udon served with Concentrated Broth", which was a basic dish with noodles, a very tasty sake and soy-based broth, with spring onions and a slice of lemon on top.
The best thing? The bill came to only 460 Yen, which is about 4 USD! If you happen to wander around Shinjuku train station, as you most likely will, I definitely recommend checking out this place for lunch or dinner.
And, as it's the polite thing to do when eating noodles in Japan, don't forget to slurp!
Click on this link to read about Victor's trip to Tokamachi
Follow Victor from Victors Travels on Instagram
TONKOTSU RAMEN – RYAN
Whether you've got one day in Tokyo or a week, there's hardly a tastier introduction to the city's unique flavour profile than a steaming bowl of Tonkotsu ramen.
While others may argue in defence of sushi as Tokyo's top must-try food—and who could blame them?—Tonkotsu ramen offers a more familiar palette of flavours than the likes of sashimi, maki or nigiri.
For the average traveller, many of whom have probably spent a least a short period of their lives eating instant noodles to save up for tuition, Tonkotsu ramen is like comfort food fused with the exotic; in other words, the perfect introduction to Japanese food.
Let's be careful not to draw too many comparisons yet: Tonkatsu ramen doesn't truly belong in the conversion alongside run-of-the-mill Mr. Noodles snacks. This is a dish that's taken quite seriously in Japan as any true ramen aficionado will quickly tell you.
What separates Tonkotsu ramen from regular noodle soups is its broth. While most soup broths are slow-simmered to clarify the liquid, Tonkotsu ramen broth is created by boiling pork bones along with pork fatback for a thicker, creamier finish.
The broth's complex umami flavors are further refined with a dash of dashi (a broth made from kombu seaweed & bonito flakes) and other ingredients like soy sauce, mirin, sake, and salt. Add in the slippery goodness of fresh ramen noodles, a half-cooked boiled egg, and the succulent slices of Tonkotsu pork that give the dish its name, and it's easy to see why this bowl is such a beast in the Tokyo food scene.
Wherever you go in Tokyo, you won't have a problem finding an excellent bowl of Tonkotsu ramen. One of the most popular—and easiest to find—hotspots is Ichiran, a local chain restaurant with branches all over the city including in Shinjuku and Shibuya.
Follow Ryan from Trekexplorer on Instagram
TSUKEMEN – ADELINA
One of the best foods to eat when in Tokyo, and my personal favourite type of noodle, is a bowl of tsukemen or dipping noodles.
These aren't your regular bowls of ramen. Instead, the noodles and the broth come separately. The noodles are generally cold or at room temperature and the broth is hot. As you eat, you dip your noodles into the umami broth. The broth is also much thicker than an ordinary bowl of ramen which allows it to cling to the noodles as you dip. At the end of the meal, you can ask for hot water to dilute the broth so you can enjoy it as a soup.
My favourite place to get this is at Fuunji not too far from Shinjuku station. The storefront is easy to miss, but if you look for the line out the door then you know you're there.
Another good place is Rokurinsha which is located at Ramen Street found underneath Tokyo Station. This too can have long line ups, but it's a great option if you want a bite to eat before heading elsewhere in Japan.
Regardless of where you go, be sure to try out this variation of ramen and maybe you'll discover your new favourite too.
Follow Adelina from Pack Me To on Instagram
BLACK SESAME RAMEN – KYLIE
In Tokyo, we had the most amazing Black Sesame Ramen at a small non-descript restaurant in Shibuya. It's a great alternative to the more traditional style of ramen, and if you can get your head around eating black soup it's so worth it!
The ramen was made up of a boiled pork bones broth (tonkotsu), and made in kotteri style, which is rich and heavy and comes from many hours of boiling the bones. The broth is then seasoned with shoyu, a type of Japanese soy sauce. Added to the broth was the ubiquitous thin straight ramen noodles and a selection of vegetables – finely shredded stir-fried cabbage, bok choy, the most incredible wood ear mushrooms which are a dehydrated mushroom that's soaked and sliced, scallions and beni shoga, a type of pickled ginger. Interestingly the mushrooms didn't offer that much in the way of taste, but they gave the dish a nice crunchy texture.
Often ramen is served with a few slices of pork, however, in this ramen, it was ground up and minced which was slightly different to any other ramen we had while in Tokyo. Finally, the black sesame was finely ground up in a pestle and mortar and added to the broth which gave it the black colouring and added a real nutty taste to the dish. If you have the opportunity to try black sesame ramen as an alternative to the more traditional styles, I'd highly recommend it!
Click this link to read about how to travel to Tokyo with kids
Follow Kylie from Our Overseas Adventure on Instagram
VEGETARIAN / VEGAN FOODIE FINDS IN TOKYO
FLUFFY VEGAN PANCAKES – ANNA
After a full day of site seeing, we were pretty hungry. As vegans, we tend to have to do some forward planning in terms of where we can eat when visiting new cities. When I was researching I came across the phrase 'Ain Soph. Ginza vegan pancakes' a lot. Many reviews were raving about the incredibly fluffy vegan pancakes to be tried in the Ginza district. We decided to check out Café Ain Soph's pancakes for ourselves to see if these pancakes were worth the hype.
Ain Soph. Ginza brands itself as serving Japanese French fusion cuisine. We did not book ahead and were seated downstairs. The atmosphere was pleasant, the room was quite airy and light. As we were on a tight budget, we had snacked on little things throughout the day and thus decided just to order the pancakes. At 1860 JYN for the heavenly pancake dish, Ain Soph. Ginza is not the cheapest establishment to visit in the Japanese capital. We ordered two of the heavenly pancakes and hoped that this dessert would be worth the price tag. Luckily, it certainly was.
Two gigantic, fluffy pancakes were presented to us surrounded by seasonal fruits. A large dollop of fresh ice cream was served as an accompaniment and a sprinkle of nuts added the finishing touches. I can happily report that these are some of the most delicious pancakes I have ever had in my life, almost better than my mothers. The golden pancakes were light, not dense. The ice cream was velvety, the fruit added sweetness to the dish and the nuts provided the perfect amount of crunchiness.
Both full of yummy pancake we sat back and smiled. What a perfect end to a great day of site seeing in Tokyo.
I would recommend these delicious pancakes to all the sweet tooths planning to visit Tokyo.
Follow Anna from My Travel Scrapbook on Instagram
TEMPURA – NIC
When you head to Tokyo there are so many different foods to try, but for us the one that takes the crown is Tempura. This tasty, fresh and fried delicacy is not only delicious but it is also adaptable being one of the only dishes in Japan that can be made not only with seafood but vegetarian too.
Back when we visited Japan we did eat seafood and the Tempura we had at Tsunahachi Rin was some of the best food we've ever tried. It was individually ordered and cooked right fresh right in front of us by the expert chef. Served with rice and miso soup, soy sauce and of course your own tap of green tea!
If you visit Japan and are wary of Sushi or aren't a fan of raw fish then the battered and fried Tempura is a great option. It does kind of remind us a little of the battered fish you get in a chip shop back home in England!
The most common tempura is shrimp but if you are vegetarian like us then look out for "yasai tempura" which also comes in many varieties including mushroom, pumpkin, bamboo shoots and Kabocha!
Follow Nic and Paul from The Roaming Renegades on Instagram
OTHER SAVOURY DISHES YOU MUST TASTE IN TOKYO
TEISHOKU – JESSICA
If you're looking for a full Japanese meal at a very reasonable price, I highly recommend teishoku. These are traditional set menus that generally include a main dish, rice, miso soup and pickles.
Teishoku is a style of meal so you can find it at many restaurants. A great time to grab a teishoku-style meal is lunchtime when many eateries offer lunch menus for a set price. Sift through the menus to find the one that has the daily lunch specials for the best-value deals.
One of my favourite places for a teishoku meal is Ootoya. This is a popular chain restaurant with many locations in Tokyo (as well as across the country). You can have a satisfying meal here for around $8-10.
They have quite an extensive menu, but I have a few go-to favourites. When I want a really filling meal, I get the black vinegar chicken and vegetables (you can also get the same dish with fish instead of chicken if you prefer). For a lighter meal, the charcoal grilled basil chicken with vegetables is a great choice. On a cold day, I love "chicken kaasan" served in a steaming broth with grated radish.
And if you're really hungry, you can get a larger than average serving of rice for no added cost. Just ask for oomori.
Follow Jessica from Notes of Nomad on Instagram
ONIGIRI – MIKKEL
My happiness when I visit Japan mostly rests on three main factors: 1) the people (they're so sweet and I adore them!), 2) the incredible sites and 3) the food! The Japanese are masters of many things and cuisine is no exception. Some people opt for Michelin rated restaurants when they visit this Asian country but I'm a more simple woman – I love a great bowl of ramen, some delicious udon at a noodle stand, fried tempura or katsu and…onigiri!
My savior when I travel in Japan is these incredible rice snacks, sold in either triangular or circular shapes. For just a couple hundred yen (which is simply a few pounds or US dollars) you have a delicious, fuss-free snack you can toss in your backpack and take out during your daytime excursion when you feel peckish.
Some of my favorite flavors are seasonal, like the sakura Cherry Blossom flavor in the spring (pictured). I love going into convenience stores in Japan (and there are plenty of them) to discover what varieties they carry. It becomes a bit of an addiction! Another favorite flavor is one with ketchup (yes, ketchup!) worked into the rice and half a hard-boiled egg smushed into the front of the onigiri. Trust me – it's delicious! The low cost of these snacks allow you to be adventurous; if you don't end up liking the taste (which you may not be able to recognize pre-purchase since everything on the label is in Japanese) you haven't lost but a few bucks! But more than often you'll love it and you'll have discovered a new flavor to adore.
Click on this link to read about Mikkel's adventurers in Japan
Follow Jessica from Sometimes Home on Instagram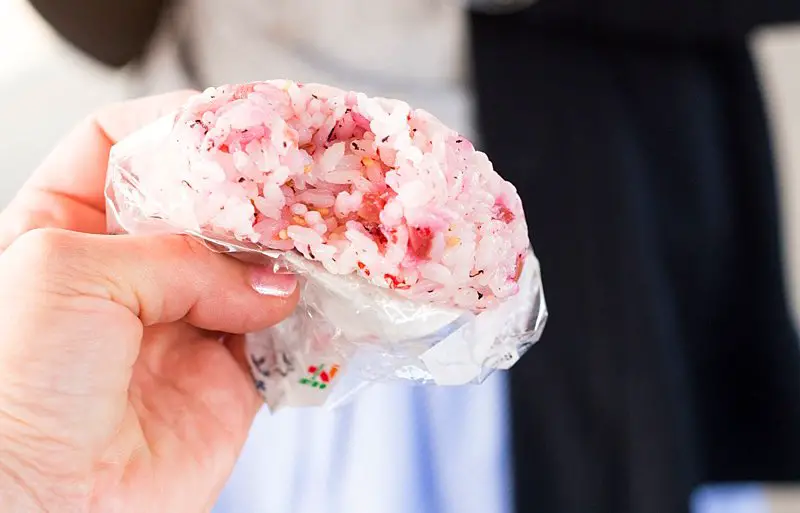 BUSINESS LUNCH BENTO – NOEL
Everyone visiting Japan and Tokyo knows that the city is a very expensive place to visit and also eat. Eating out in the city is relatively expensive unless you eat fast food or noodle dishes that Tokyo has so many wonderful eateries. But if you want to get a fantastic deal and delicious to boot, make sure to look out for the typical business lunch Bentos offered all around the city and of course at any of the business areas of the city. Bentos or boxed lunch meals are cheaper to go, but many restaurants offer sit-down bento lunch meals that are a bargain and quite good. Typically you will find bento lunch deals in business districts but many areas including tourist areas offer fixed meal deals for lunch and most have placards or those wonderful bento plastic meal displays for you to check out when you walk around different parts of the city. While you are visiting the city, check out my free things to do in Tokyo post here to stretch the yen in your pocketbook.
Follow Noel from Travel Photo Discovery on Facebook
WHAT TO EAT IN TOKYO – SWEET TREATS
TOTORO CREAM PUFFS – ALLAN
For those new to Totoro, he is a bit like a cute and cuddly cat/bear/God thing, who features in the Studio Ghibli film "My Neighbour Totoro". And he is a character that has gained a cult following from all over the world. Although you don't really need to be a follower to enjoy a tasty Totoro shaped cream puff.
So the Totoro Cafe, known officially as Shiro-hige cream Puff Factory, is found in a somewhat suburban Tokyo neighbourhood of Setagaya, which in itself is a nice area to explore, as it shares a slower pace of life to the big city. And it makes for the perfect setting for the "Totoro Café" which was the only cafe to have an official license from Studio Ghibli (before a 2nd café opened in Bangkok in 2018).
The owner of the 'cream puff factory' is also called Miyazaki, as in Hayao Miyazaki (the man behind Studio Ghibli), although there is no official confirmation that he owns it. We just like to think he does.
So the café is ridiculously cute as expected, sharing various memorabilia from My Neighbour Totoro and the Ghibli franchise.
However, the main attraction has to be the Shirohige 'Totoro Cream Puff; which comes in four different flavour fillings, including strawberry, custard, chocolate, and caramel banana. Which obviously makes a hard decision. So maybe just order all four.
Click on this link to read more about themed cafes in Tokyo
Follow Allan from Live Less Ordinary on Instagram
WAGASHI – THAIS
I love the sweet sugary stuff, and in Japan, my favorite food is wagashi.
Wagashi is the traditional Japanese sweet that can be made out of rice dough, sweet bean paste, gelatin, and/or something else, often served in tea ceremonies. They're always beautiful, decorated according to the season. Almost always served with a tea to match the flavor, it's perfect. And even when eaten alone, they aren't overly sweet.
Even though Kyoto is THE place to have those little pieces of heaven, Tokyo has some really good ones too.
I tried it in Nihonbashi. It was a shop with a wagashi master making it right in front of me. He showed me the three options I had, explained what each one meant and what they were made of. I chose one and he made it right there.
It wasn't the cheapest thing to eat, of course, but it was very worth it.
I was served a wonderful wagashi made out of bean paste, beautifully decorated, with the most perfect cup of matcha tea. I had no idea how to eat it, so I asked the master and he guided me. People are often very helpful to tourists there.
When I was done, a cleansing cup of green tea arrived and it was divine. A perfect – sweet – wonder there.
Click on this link to about traveling to Tokyo as a family
Follow Thais from World Trip Diaries on Instagram
MATCHA ICE-CREAM – ALEX
Matcha Ice Cream is definitely one of the most classic foods to try in Japan. Everywhere you go, you'll notice that there's no shortage of products with matcha flavor. The Matcha Ice Cream is one of the most classic ones together with the famous Matcha Latte.
Matcha is basically green tea, and besides from the flavor, it's also supposed to be healthy. Matcha is packed with antioxidants, including the very powerful EGCg. On top of that it also has a calming effect on the mind and body. It's rich in fiber, chlorophyll and vitamins, and it's also said to boost metabolism and burn calories.
Obviously, Ice cream is not the healthiest thing to eat, but when Matcha powder is added to the ingredients, it's definitely a healthier kind of ice cream.
I've tried a few places in Tokyo, and found the best Matcha Ice Cream to be in Omotesando/Harajuku, outside the Tokyu Plaza shopping center. The Soft serve Ice cream comes in either a cone or bowl. The place is called Momi & Toys Creperie, so it's not even a dedicated place for Matcha Ice Cream, but it's still one of the best I've had, and the price is quite reasonable as well.
Follow Alex from Swedish Nomad on Instagram
RESTAURANTS – WHERE TO EAT IN TOKYO
NARISAWA – MAR
Narisawa is one of the best restaurants in Asia and in Japan and has been holding onto 2 Michelin stars for a few years. The restaurant only serves a set menu for his forest-inspired cuisine called Satoyama Scenery.
The Satoyama Scenery landscapes and Narisawa's sustainable and beneficial cuisine philosophy is focused on Japan's vegetation and landscapes. While we all think of skyscrapers and bustling metropolis, Japan is a volcanic and mountainous country 70% covered in forest many of which reach to the sea. It is this type of landscape that inspires Narisawa's menu making it a very unique restaurant. The menu changes with the seasons always in keeping with this philosophy.
When I visited, one of the restaurants signature dishes served since 2010 was offered. This consists of a self-raising wheat bread called Essence of the Forest which is "cooked" on the table thanks to the kinome protein and you can see it grow. It is paired with a lovely mos-covered butter. Quite a fascinating experience. if the bread was this complex and fancy, imagine the rest of the 13 dishes on the menu!
Some of the other dishes we had were snake broth, Botan shrimp, water shields, caviar and humble beans, oysters, Kobe beef or wild eel. Attention to detail was high n every dish but perhaps the prettiest was the "Gion Festival" aubergine which was accompanied with several cute colorful flower petals.
Click on this link to read the full review of Narisawa
Follow Mar from Once in a Life Time Journey on Facebook
FINAL FOODIE THOUGHTS

I hope that you found this food guide for Tokyo helpful and that it gave you an appetite.
Tokyo truly is the ultimate foodie city. Whatever your taste there is something for everyone. In fact, Tokyo has more restaurants than any other place on earth. 160,000 restaurants to be exact. (source)
But what makes Tokyo so special isn't only the variety of available food. It's the quality of the food. The Japanese put so much care into every single morsel. Every detail is beautifully designed, including the packaging. It's truly is a form of art.
And the atmosphere at Tokyo's restaurants makes dining out a true experience. Honestly, the service in Japan is beyond compare.