So, we got engaged! Honestly, it still feels surreal to say it. Gary proposed to me in September 2017, during our second trip to Japan. He always threatened to do it at the top of Kilimanjaro. Since I am somewhat out of shape, I never thought it would actually happen. Well, I guess he didn't want to wait that long himself and popped the question in front of Mount Fuji.  I suppose Fuji San is also a famous volcano, so his threat wasn't entirely void.
Overall 2017 was an eventful year for us. I graduated as a fully qualified Architect and then got engaged a month later. Since then we have been fully engrossed in planning our wedding. 
And as always, we haven't made it easy for ourselves.  Rather than getting married in London, where we live, we have opted to celebrate our nuptials in the country we met – Scotland. The first step was finding a venue and let me tell you we have picked a stunner. We drove up to Scotland on two consecutive weekends in October and three times in November. You might remember my Instagram Stories. We also spent a whole week in Glasgow at the beginning of January. It took us a while to reach a decision but we now couldn't be happier. Rowallan Castle is our perfect venue. Not only is it incredibly romantic, it is also historic.  Better yet we get two castles for the price of one. 
You will surely forgive me for not broaching the subject of our engagement any earlier. We really wanted to enjoy the first few months as fiancée without broadcasting it all over the internet. But I am finally ready to make our news public and what better time to do it than in the week of Valentine's day. 
I am not sure how much I will write about our wedding planning process on this travel blog. I might publish several posts or simply focus on our minimoon and our honeymoon (yes we are having two). But for now let me tell you about the day-trip and his proposal. 
WHAT ARE THE FUJI FIVE LAKES? 
Mount Fuji is an icon of Nihon. In fact, if you asked a bunch of people what the first thing is they associate with Japan, I am sure at least a couple of them would say Mount Fuji. At 3776metres Fuji San is the highest summit in the land of the rising sun. The mountain is renowned for being overwhelmingly beauty and famous for hiding in the clouds. In fact, Mount Fuji can only be seen in its entirety for about 70 days in an entire year. Your best chance of getting a clear view of its peak is from December to January. It is generally to misty/cloudy the rest of the year. 
If you are planning a trip to Japan and are googling Mount Fuji, you might wonder why most of the results make reference to the Fuji Five Lakes. Fuji San is surrounded by five lakes Kawaguchiko, Saiko, Yamanakako, Shojiko and Motosuko) and the best way to see it in its entirety is from Hakone or from one of those lakes. Their shallow water perfectly reflects the mountain's generally snow-covered cone. 
The Fuji Five Lake region (富士五湖, Fujigoko) lies to the North of Mount Fuji and is located about 1000 meters above sea level. The main draw to the region is, of course, Japan's highest and most famous peak but even if you don't intend to climb Fuji-san, it's still worth coming to enjoy the visual and natural delights around the volcano's northern foothills.  
In fact, Fujigoko is a famous resort area and locals travel here just to go hiking, camping, or fishing. In winter snow sports become another popular activity. You will also find a lot of hot springs and museums in the area, along with Fuji Q Highland, one of Japan's most popular amusement parks.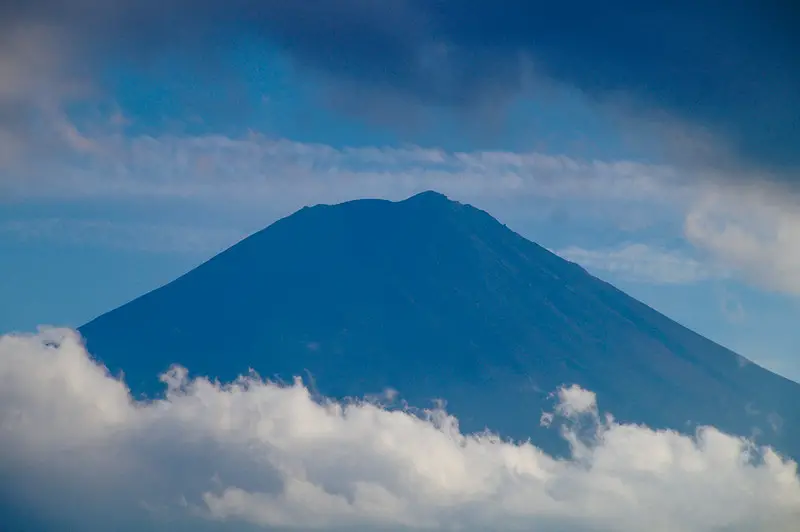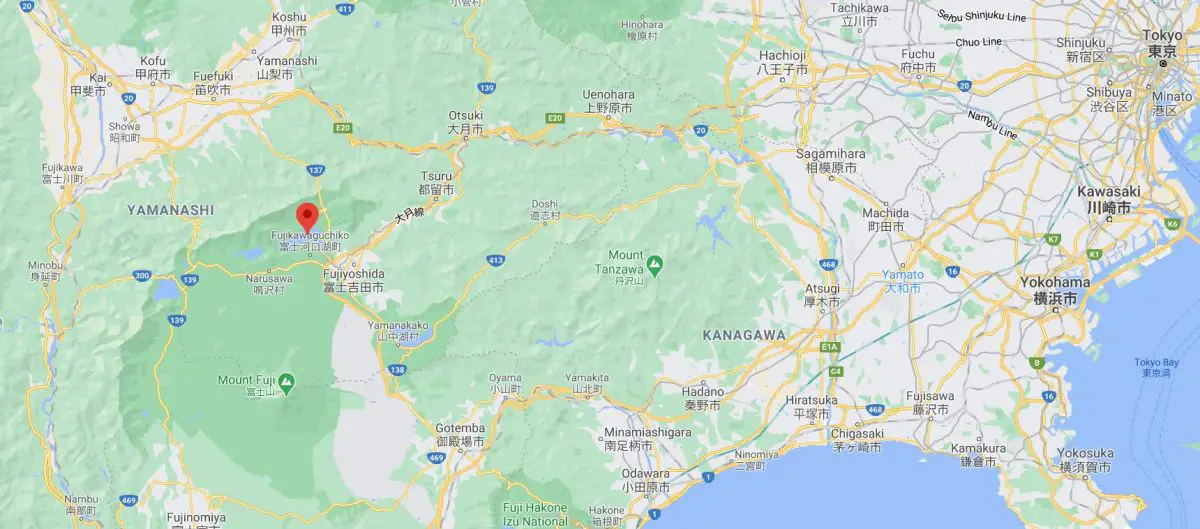 A LITTLE BIT ABOUT LAKE KAWAGUCHIKO 
After several days in the most populated city of the world, the need to escape into the countryside grew strong. We visited Hakone on our first 2 week trip to Japan so decided to take a day-trip to one of the Fuji Five Lakes instead on our second trip to Nihon.  
We decided which one of the five lakes we wanted to visit pretty quickly. Lake Kawaguchiko is not only the largest lake it is also the easiest one to reach from Tokyo. (Scroll to the bottom of this post if you want to find out how to travel from Tokyo to Lake Kawaguchiko.) In fact, Lake Kawaguchiko is the most popular lake of the Fuji Five Lakes region and therefore features various tourist attractions and a lot of places to eat. Kawaguchiko itself is a small town and offers a good contrast to the hustle and bustle of Tokyo. 
We soon found out that Lake Kawaguchiko offers stunning sights of Mount Fuji even in autumn (it's a remarkable sight, especially on a cloudless day) and spent an exciting day exploring the area. Be warned though that even though Kawaguchiko is located right at the base of Mount Fuji, the mountain is not always visible because of clouds. Visibility tends to be best in the early mornings (usually before 9 am) and in the late afternoons, while clouds often obstruct the view during daytime even on days with fair weather, and especially so during the hazy summer months.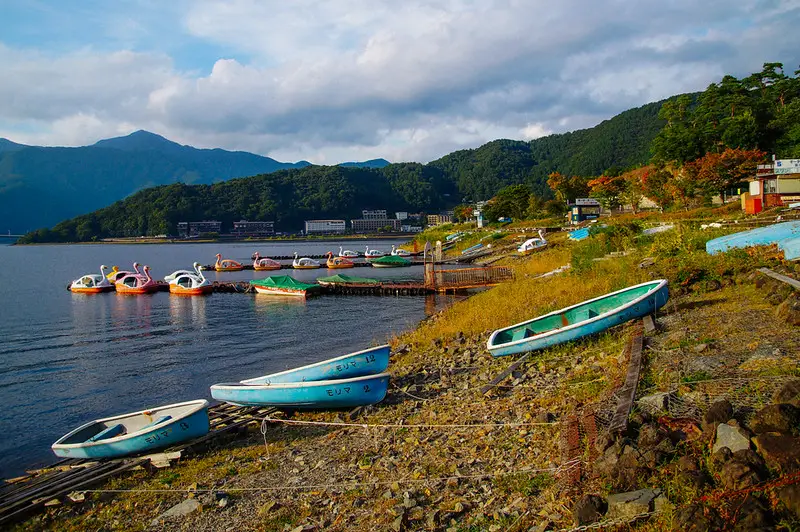 WHAT TO DO IN LAKE KAWAGUCHIKO 
A BIRDS-EYE VIEW FROM MOUNT KACHI KACHI ROPEWAY
I am a huge fan of a great viewing point, especially if it doesn't affect my vertigo. So the Mount Kachi Kachi Ropeway was a must-do for me on our Kawaguchiko day-trip. I would highly recommend it to all of you, especially on a clear day. And not just because it's an extra special place for me either.
Kawaguchi-Kohan, the station for the ropeway, is located a mere 13 minutes by bus from Kawaguchiko Train Station, on the Eastern shore of the lake. The 3 minutes ride then takes you to Fujimidai Station near the summit of Mount Tenjo.  Tenjoyama Park is located at an altitude of 1075m and offers several observation decks. The ropeway costs ¥720 for a return trip – but if you are planning to do both the boat and the ropeway, a combined ticket will save you a few hundred yen.  The ropeway runs on 365 days of the year between 9-9:30 am and 5-5:30 pm, but may stop due to bad weather 
If you are a bit of an adventurer and would prefer to hike, you will be pleased to hear that you can walk up the mountain instead. This should take you between 30 – 45 minutes. A different trail leads from the observation point 300 meters uphill to a small shrine at the summit of Mount Tenjo, from there the trail continues on to Mount Mitsutoge, a popular day hike with good views of Mount Fuji. 
Mount Tenjo is actually the setting for a famous folk story "Kachi Kachi Yama", written by one of Japan's literary masters, Osamu Dazai. The Kachi Kachi ropeway is named after this tale. In the story, a rabbit gets revenge on a thieving tanuki (Japanese racoon) by setting him on fire and drowning him in a river. Cute cartoon characters of the animals decorate the ropeway cars and observation point and are surprisingly kid-friendly considering their gruesome background. 
The splendid view from above, however, will leave a stronger impression than the cartoon characters. And you do not even need to hike to the summit of Mount Tenjo to enjoy amazing views of the surrounding towns and lakes with Mount Fuji in the background. Reaching Fujimidai Station is more than enough. Obviously, the scenery varies a little bit depending on the season. In fact, when we first stood on the observation deck, we were sad to find Mount Fuji shrouded in clouds. Imagine our excitement though when we suddenly spotted its summit peeking through the mist.  
Take your time to enjoy the views and the facilities available at the rest space adjacent to the observatory. You can buy refreshments and sit on a bench to rest while gazing at the scenery.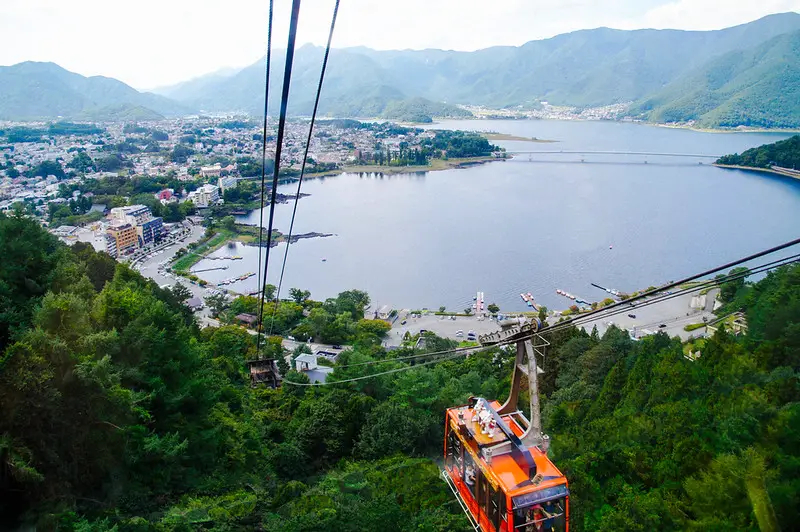 THE PROPOSAL – HOW WE GOT ENGAGED
After we ascended to Fujimidai Station and spent a good while waiting on the viewing platform for Mount Fuji to reveal her peak, Gary grew somewhat antsy. He was desperate to find a quieter spot. So we followed the trail into the woods and up the mountain.  
Anyone more perceptive than me might have realised that something was up at this point. But honestly, I had no clue. In fact, I was a bit grumpy about the pace of our climb. 
We finally reached a secluded spot in the woods. There in the clearing sat a creepy abandoned building with flabbergasting views of the valley. 
Gary suggested we take a picture as a couple in front of Mount Fuji, something we rarely do. I did think this was slightly odd but let him set-up the camera nonetheless. He had actually brought a gorillapod just for that purpose. There was another clue I missed! 
A young Japanese couple had followed us up to the abandoned building. They just stood there watching the commotion. As Gary joined me, he mumbled that he might as well do it in front of the people of the country he loved. He then got down on one knee and that's when it hit me. This was actually happening. From this point onwards our life would never be the same again. 
Gary told me that he realised he wanted to spend the rest of his life with me on our first trip to Japan. I was his dream travel companion and he could not imagine marrying anyone else. He had planned this proposal for two years and had patiently waited for us to return to Nihon to get engaged. 
Of course, I said yes. I couldn't picture life without him. Excited and giddy we returned to Fujimidai Station. Our first action as a newly engaged couple was to order a grape sundae. We sat in the sun eating our ice cream as we contemplated what lay ahead of us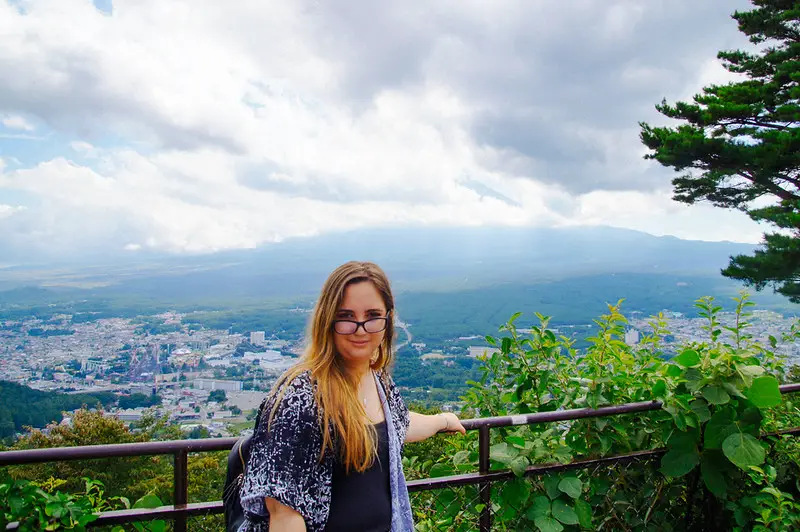 BOAT TRIP AROUND LAKE KAWAGUCHIKO 
We finished our snack and jumped back onto the ropeway. The ferry terminal was located right across the road from Kachi Kachi Station and the boat was just about to leave. So clutching on to our backpacks we sprinted down the quay and were the last people to hop on board. Thankfully we had already bought a combination ticket and were, therefore, able to head straight on to the ferry. 
I've been told that a tour on this pleasure boat is one of the most popular activities in Lake Kawaguchiko  It certainly was pleasant to get out onto the water, even though the ride was only 20 minutes long. Better yet, the clouds that had hung thick in the sky in the morning slowly melted away and revealed Fuji San in her full glory. We got to see Mount Fuji from various angles, as well as an amazing bridges and various other structures, such as quaint temples or holiday resorts located on the shores of the lake. 
I would suggest you dress warmly or at least bring a jumper to throw over your shoulders, as it can get a little chilly on board. Although it was sunny the cold air was magnified by the winds across the water. 
At 900 yen the ticket for the Lake Kawaguchi Pleasure boat is slightly on the pricey side. Nonetheless, I would argue it's worth the money.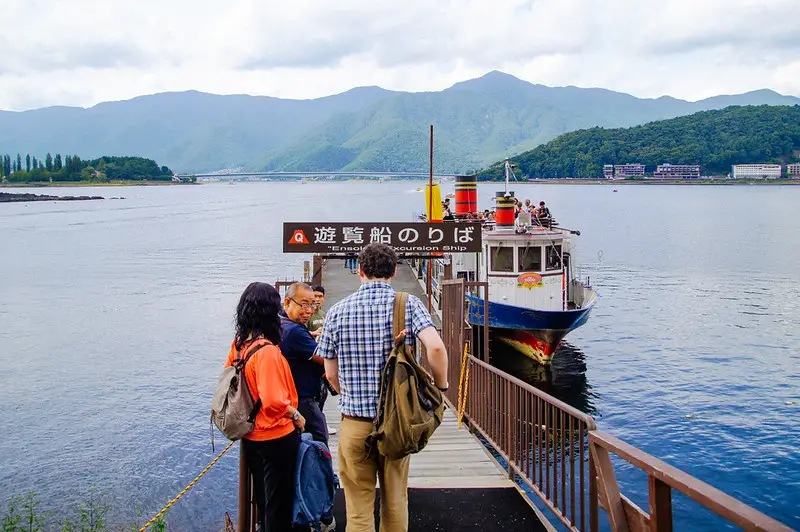 HOUTOU NOODLES FOR LUNCH – A LOCAL SPECIALITY 
At this point, we had worked up quite an appetite and it was time for lunch. The Mount Fuji Five Lakes region is famous for its Houtou Noodles. The unusual flat noodles are cooked in a miso soup with vegetables to create a nourishing bowl of hearty goodness, similar to a stew. Despite looking like udon these noodles are actually more similar to dumplings in the way they are prepared. So we sought out an inn that served the local speciality. It didn't take us long to find a restaurant either. 
We got comfortable, Gary ordered an omelette and I ordered a large portion of.  
Now it was time to tell our family about our engagement. Whilst we'd spent the entire morning basking in our new status, our family and friends back in Europe were only just getting up. I was really glad that we had brought a pocket WiFi. It meant that we could easily connect to the internet and phone our parents and siblings via Whatsapp (without incurring additional costs).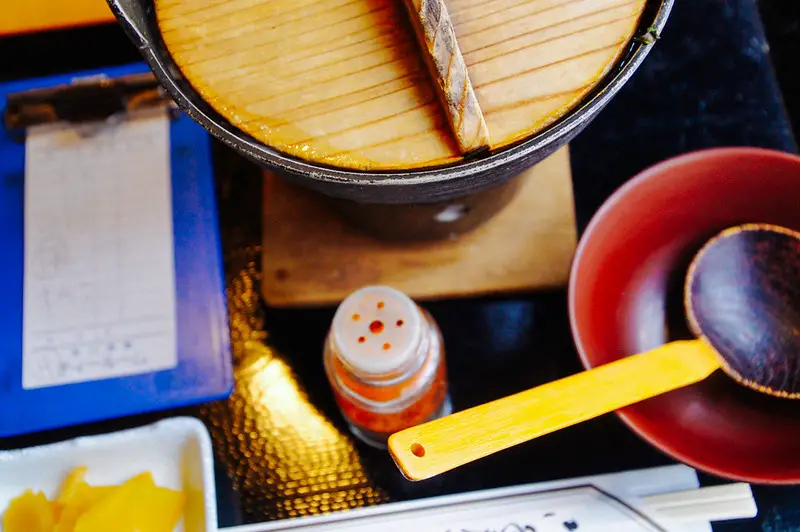 SWAN PEDDLE BOAT HIRE
We hadn't had our fill of Lake Kawaguchiko and so decided to hire a swan peddle boat after lunch.  There are quite a few quays on the lake and you can hire one of these boats for the same price from pretty much any of them. If my memory serves me right the cost for an hour was 1500 yen, which is pretty deer, but we felt like treating ourselves on this special occasion. Each peddle boat can fit two people. After paying we were escorted to the pier and had a brief lesson on how to tie the boat back up once we returned from our excursion on the lake. It was very simple. 
And so off we went into the sunset, pedalling towards the other side of the lake. 
By this time the clouds of the morning had almost entirely disappeared and Fuji San stood in front of us entirely naked. Honestly, it was a bit of a weird sight to behold. The position in the middle of the Lake afforded us dome perfect photo opportunities. Needless to say, a 30-minute rental on the lake is more than enough time to the soak up the view and burn a few calories. 
Then it was time to head back to Tokyo.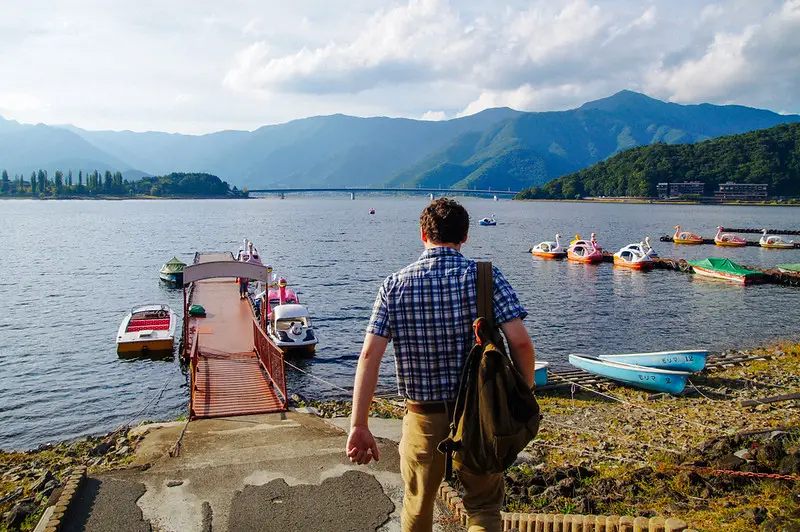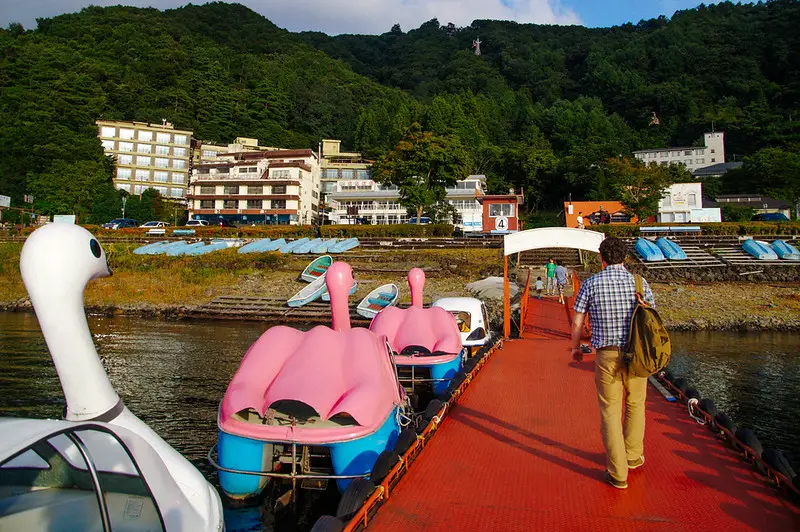 HOW TO TRAVEL TO THE FUJI FIVE LAKES FROM TOKYO 
Traveling from Tokyo to the Fuji Five Lakes area was remarkably easy. You can choose to take a train or a bus from Shinjuku to Kawaguchiko.  
Personally, we did the latter, because it seemed more relaxed. I booked and paid for our tickets online in London about three months before our trip then printed out the booking confirmation. The return journey cost us 1750 yen each. Once in Tokyo, we made our way to Shinjuku Expressway Bus Terminal where we picked up our physical tickets. All we then had to do was wait for our bus. And let me tell you I was glad that we had pre-booked our tickets, the bus was packed! I believe that buses to Fujikawaguchiko depart every two hours. The journey from Shinjuku to Kawaguchiko Station took about 1 hour 50 minutes. That being said we were lucky with the traffic. The bus made a few stops before it reached Kawaguchiko Station, but there was an announcement on board for each one so you don't have to worry about missing your stop. For the return at the end of our Fuji Five Lakes day trip, we simply waited at the same place in front of Kawaguchiko Station where the bus originally dropped us of. No need to fret or figure out if you need to board from an opposite bus stop. 
Alternatively (if you prefer to travel by train) you can take the Limited Express from Shinjuku Station to Otsuki. At Otsuki change over to the Fujikyu railway, it will take you all the way to Kawaguchiko. The journey takes just over 2 hours and costs 3,910 yen. If you want to save some cash, you can catch a local train (possibly changing at Takao, depending on the times) to Otsuki instead, which adds half an hour to your travel time but saves you nearly 1,500 yen.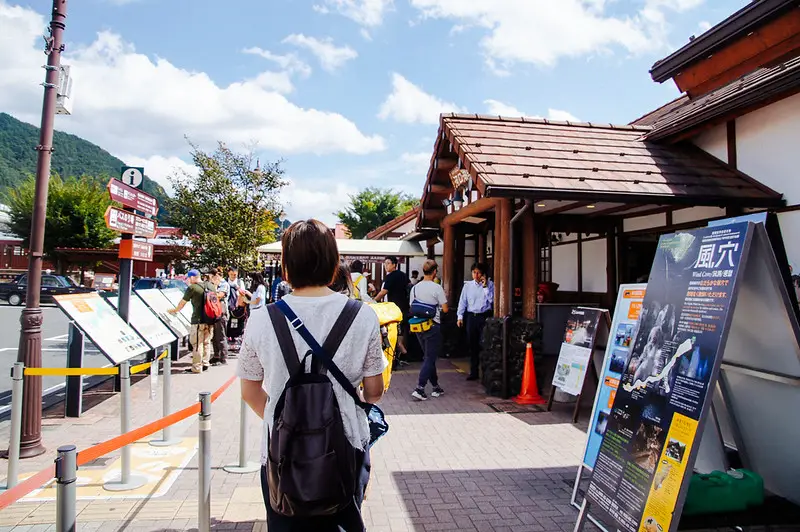 HOW TO TRAVEL AROUND LAKE KAWAGUCHIKO 
The Fuji Five Lakes region is a great place to visit as a tourist, as the tourism board has made it really easy for us to travel around the lakes. The two major transportation hubs in the region are Kawaguchiko Station and nearby Fujisan Station (formerly known as Fujiyoshida Station). From these two stations, buses depart into all directions, providing access to the five lakes and other attractions. 
So the first thing we did was pop into the tourist information centre right next to Kawaguchiko station to grab a map and a bus timetable. You can also purchase a ticket to visit the three closest lakes for 1,500 yen or just Lake Kawaguchiko for 1,200 yen. Both tickets cover transport for two days and are great value if you are planning on seeing a lot of the sights. 
Several old-fashioned sightseeing buses provide access to most attractions around Lake Kawaguchiko. There are two lines starting from Kawaguchiko Station. The Kawaguchiko Line (red line) departs every 15 minutes and runs along the eastern and northern shores of Lake Kawaguchiko. The Saiko Line (green line) departs every 30 minutes and runs along the southern shore of Lake Kawaguchiko and around Lake Saiko.  
Each stop is numbered and clearly marked on the map provided by the visitor centre. The stops are also announced by the bus driver and there are friendly locals that will help you out if in doubt. So don't worry you won't get lost. If you didn't get a day pass, you can pay the driver in cash when you alight. 
Apart from the retro buses, there is a network of regular buses, which can be used to access the more remote Lake Shojiko and Motosuko, as well as Oshino, Lake Yamanakako and Gotemba. Another bus line of interest connects Kawaguchiko Station with Fuji Subaru Line 5th Station halfway up the mountain. 
A rental car can also be a convenient way to get around, especially if visiting places outside of central Kawaguchiko. A few rental car outlets can be found near Kawaguchiko Station. Similarly, a rental bicycle can be an attractive way to get around, although some roads in the region are rather busy and distances between the lakes are considerable. 
What is your favourite day-trip from Tokyo?
Comment below and let us know!
Did you Enjoy this article?
Share it with your friends and family on FACEBOOK, TWITTER AND PINTEREST