Gary and I visited North Yorkshire over this year's Easter Bank Holiday weekend, mainly to have a break from London. Ever since Gary and I moved from Glasgow to London, we have been on a mission to explore as much of the countryside and as many cities of England as we possibly can.
Gary and I both hold down 9 to 5 jobs. While Gary has a couple more days than my twenty to allocate to holidays, we both try to maximise our allowance. Long weekends are therefore incredibly important to us and we aim to make the most of them. That mission certainly was accomplished on our trip to in Yorkshire. I hope you enjoy this fully detailed itinerary for a long weekend in Yorkshire and that it helps you plan your own four-days in York.
LENGTH OF OUR TRIP TO YORKSHIRE
York is located in the North-East of England, about a five-hour drive away from London. So far our trip to York was our most northerly excursion. We were therefore very grateful that we had two bank holidays in April to lengthen the trip. We left on Friday, spent most of the day stuck in traffic, and returned on Monday, the following week.
Yorkshire is England's largest county and definitely cannot be fully explored in a single holiday. Our four-day trip was a short snippet and only gave us a brief glimpse of all the wonderful sights that could be explored. Although as usual, we packed on as much as possible, our short trip definitely left us lusting for more.
If you can only spend a long weekend in Yorkshire, this itinerary will give you the perfect overview of the county. But it would definitely be easy to add on a couple more fun-filled days to your journey.
LOCATION
Yorkshire is probably one of the most important counties in the north of England. York, its main city, has been the ecclesiastical and political capital of the North since the time of the Plantagenet. Even more fascinating is York's Viking history. York surrendered to the Vikings back in 867. York was then ruled by the Vikings until 954 when Viking York (then called Jorvik) was finally re-absorbed into England. The Viking Age then continued for another century, albeit without political independence.
York is approximately a five hours drive away from London, if you don't dawdle along the way. It was by far the furthest we have travelled within the UK so far. Unfortunately, we got stuck in traffic and it took us most of the day to get to York.
If you are only planning to visit York, it is far more efficient to hop on a train from king's cross. Within two hours you will arrive in the magnificent Victorian station in the heart of York.
OUR HOTEL IN YORKSHIRE: MIDDLETHORPE HALL
Our hotel, Middlethorpe Hall, was one of the most beautiful, charming and glamorous hotels that we have stayed in by far.
Middlethorpe Hall is a Grade One listed National Trust building located a 10-minute drive or 30-minute walk outside of York. This Georgian Mansion is set in a beautifully designed ten-acre garden.
The hotel's twenty­-nine comfortable and fully equipped bedrooms, each decorated individually, are located both in the house and in the attractively restored 18th-century courtyard next to it. There are several room types ranging from single rooms to a deluxe suite in the main house. Ten of the rooms are in the main house, seventeen in the 18th Century classical courtyard, as well as a Garden Suite and two Cottage Suites in an adjacent cottage.
We stayed in one of the more affordable courtyard rooms just outside of the main mansion. Our room was gorgeous, in a quaint old-fashioned way with views across the garden.
I won't dwell too long on our Hotel in this particular article but you can head over to read my full review of Middlethorpe Hall, should you feel like it. You might even find yourself booking a room and I swear you won't regret it!
However, if you don't feel like splashing the cash or would rather stay in the city centre, there are many other hotels to choose from in York. Bear in mind though that York has a sizeable student population so the city centre can be noisy at night, making a more remote location such as Middlethorpe Hall's even more attractive.
If you don't know where to stay yet, you might want to check out this list of unusual hotels in the UK.
DAY 1: DRIVE, CHECK-IN AND YORK BY NIGHT
CHECK-IN
From the moment you arrive at Middlethorpe Hall and Spa you will feel relaxed and spoiled. The service at this hotel is second to none. A butler greeted us at the door and took charge of our suitcases. Check in was more than smooth. The butler than took us to our room in the courtyard and gave us a detailed description of the the amenities in our room and in the hotel.
After the long and somewhat stressful drive, we relaxed for about an hour in our beautiful room – filled with antique furniture – before heading into town.
It took us about 45 minutes by foot to get from Midddlethorpe Hall into the city centre of York. It was nice to stretch our legs a bit after being confined to the car for five hours.  The walk was very pleasant and after a short stint along the main road, we followed the River Ouse all the way into town.
A STROLL THROUGH THE LIVELY STREETS OF YORK AT NIGHT
York's wealth of history means that there's intriguing historic stories and tall tales everywhere you look. It is also one of the best places in Britain for exploring a maze of medieval streets, ginnels, snickets and 'snickelways' (tiny alleys). Some of these were tiny shortcuts several centuries ago but they remain today as a throwback to York's medieval streetscape.
I believe that York has the largest number of odd street names in the United Kingdom. Some of the weirdest street names include Whip-ma-whop-ma-gate, Mucky Peg Lane, Little Thief Lane, Whip Dog Lane and Pope's Head Alley.
By the time we arrived in the centre of Town, the sun was just starting to set. All the shops and attractions were long closed. But we enjoyed soaking in the atmosphere and strolling along York's lively medieval streets in the dark. We even came across an extremely popular ghost tour that must have had about 200 participants. Something to try out next time we are in York, for sure.
Whilst I enjoyed the little winding streets of York and the general quaint atmosphere, the drunk crowds grated a little on my nerves. My student days are long behind me and I cannot help but feel that my experience of York would have been a little better without drunk students. That being said we had a lovely evening and amazing meal at Little Italy.
DINNER AT LITTLE ITALY
York is brimming with great dining options of every variety, and a fabulous collection of pubs and pub fare.
Any time we out in a new location, I like to check Tripadvisor for the best local restaurants. We ended up walking all across York in order to find a place to eat – most of the best restaurants were packed to the brim on this busy Easter Weekend. We really should have booked a table.
Having failed to do so, however, we luckily came across Little Italy.  A gorgeous little Italian deli and restaurant, selling homemade pasta, delicious Italian pastries, and rich Ragu sauce.  This is the kind of place where you'll find people shopping for their weekly produce downstairs, while you're venturing upstairs for a romantic gourmet meal in atmospheric surroundings.
Little Italy was as busy as all the other restaurants but they were able to squeeze us in, on the condition that we had an hour and a half to order and eat. Because of this time restriction, we had to stick to pizza or pasta. Both Gary and I opted for the Lasagna. It was heaven on earth, probably one of the best Lasagnas, either of us had ever eaten. Nonetheless, we couldn't help but feel a little jealous of all the grandiose meat dishes consumed by our neighbouring patrons. We swore to return on one of the subsequent nights.
DAY 2: EXPLORING THE YORKSHIRE MOORS AND COASTLINE
Our original plan for our second day in Yorkshire was to visit York and all its cultural attractions and museums. A quick glance at the weather forecast the night before predicted rain throughout the weekend. You can therefore imagine our surprise when we woke up to beautiful sunshine. We simply had to change our plans. We decided to explore the Yorkshire Moors and visit York on our third day.
Yorkshire has been blessed with the best moorland in the country, riven with deep valleys and dales, and a glorious coastline of towering cliffs and hidden bays.
The North York Moors are famous for their gorgeous, green rolling countryside and farmland and have been a national park since 1952.
If you want to get away from it all and explore nature at its best, this is your destination. Ridge upon ridge of purple heather moorland extends into the distance and the warmth of the red-roofed villages almost comes as a surprise. Once you get to the villages, you realise that they are charming, full of character, and many with an interesting history to tell, the more you explore the more you find out.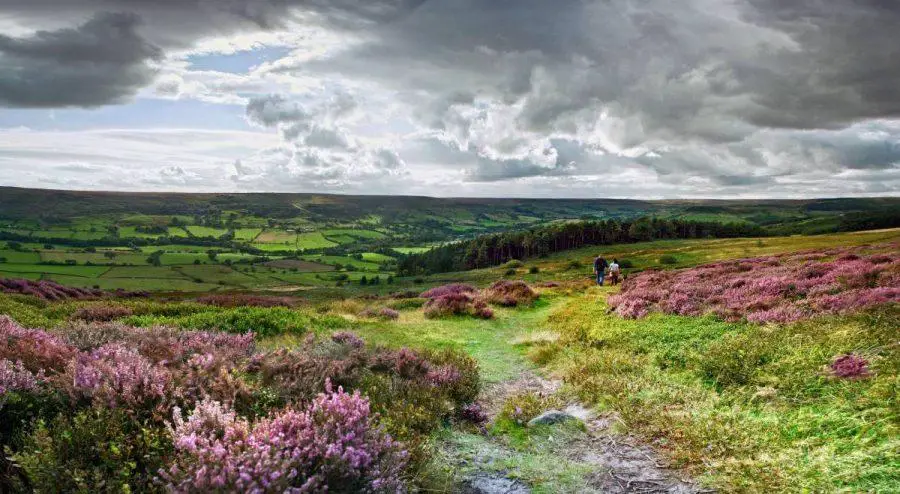 SCARSBOROUGH BEACH AND CASTLE
After a stunning drive through the Yorkshire countryside, we arrived at our first destination: Scarborough.
Gary spent most of his childhood vacations in this little town. He likes to proclaim that he was nearly born there. (His parents lived here before they moved up to Scotland). He was so excited for me to find out more about his childhood. I on the other hand was a little sceptic.
Scarborough was once an important port. In the 17th century Scarborough developed into a spa town. Back then people – desperate for a cure – believe these could heal them from all sorts of diseases and a lot of seaside towns developed into spa towns as a consequence. A Mrs Farrer discovered a spring at the bottom of the cliffs containing iron and soon masses of people flocked to Scarborough.
In the late 18th century bathing in seawater became increasingly fashionable. Doctors claimed it was good for the health and many wealthy people went on trips to the seaside. At this point Scarborough was already a flourishing spa town but it grew into a seaside resort as well. Scarborough is particularly famous for its many chairlifts, that date back to this time.
My first impression of Scarborough was a good one. We parked a little outside of town at the top of the hill. The views of the beach – Scarborough looming in the background – were absolutely stunning. The park we walked through wasn't bad either.
Scarborough itself is your typical British seaside village. It has a beautiful sandy beach that was very popular even in the cold weather. To my dismay even Scarborough is lined with casinos and arcades. I believe that everything has its time and its place and I am not a huge fan of this recent development.
Along the edge of the port, you will find an assortment of food stalls that all sell fresh fish. I enjoyed a fresh crab sandwich for lunch. The perfect choice for a trip to the seaside.
Next we made our way up the hill to Scarborough Castle. This medieval keep is in a commanding location, it would have been a spectacle to behold and easy to defend. The castle is mostly ruined now, but it is great to walk around and learn about the 3000 year history of the site.
WHITBY ABBEY AND VILLAGE
Our next destination of the day was Whitby. Whitby is a lovely old fishing town, famous for its black jet, its ruined abbey and its gothic scene. The town is split in two by the river Esk, the older town being on the east bank and the new part on the west bank. Both sides are full of independents shops, cafes and pubs.
The drive to Whitby is pretty spectacular. We followed the long, undulating road across the moorland, with its wide open but desolate-looking hills. We wound our way several villages before ending at the coast.
As we dropped down into the town, we managed to find a parking space next to Whitby Abbey. It was a perfectly base for our little adventure and (being members of the National trust) didn't cost us a penny.
Whitby Abbey is well worth a visit. I really enjoyed the audio tour. We spent almost an hour walking around the ruins.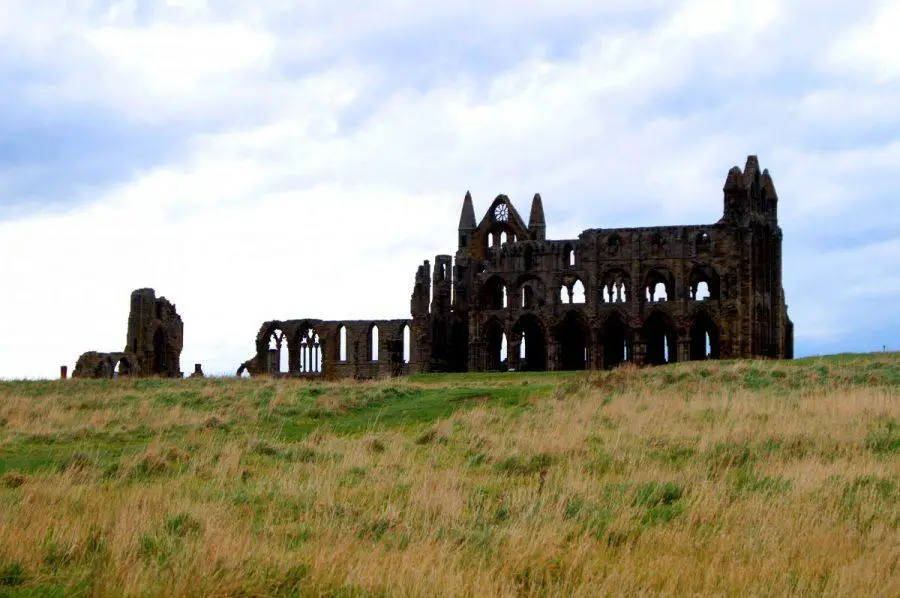 Right next to Whitby Abbey you will find the Church of Saint Mary, perched on the east cliff overlooking the harbour and the town. The church graveyard was the setting of Bram Stoker's Dracula, a book which he wrote after staying in the town back in 1890. The seaside town's ties with Dracula are actually one of the main attractions of Whitby and attract thousands of people every year.
Right next to the Church, the famous 199 steps wind their way down into the town. It looks like a long and steep way down but it's actually an easy climb. To be honest you can't really visit Whitby and not walk down the steps, plus you get such a fabulous view from the top of the cliff.
Whitby has a beautiful harbor packed with little fishing boats and the nets piled high to both sides. Even on this cloudy April day there were lots of people milling about and no shortage of places to grab a coffee. If you feel like it and have the time you could even partake in a short boat trip and if we had had more time I think we would have done, but as we only had the one day we soon made our way back.
ROBIN HOOD BAY
At this point Gary and I were starving and keen to find a place to eat. We decided to continue on our way and head to Robin Hood bay.
Robin Hood Bay, a historic fishing (and smuggling) village located five miles south of Whitby, is one of the most picturesque places on the Yorkshire Coast.
Robin Hood Bay's main attraction it is large beach which is perfect for fossil hunting.  You need to park at the top of the town and wander down the steep lane to get there. On the way down you pass charming shops, cafes and pubs.  At the bottom you will find the Old Coastguard Station, a National Trust visitors centre to help you get a sense of the natural history of the area.
Unfortunately, we hadn't booked a table and being an Easter weekend all the restaurants were jam-packed. My advice to you, book a table earlier in the day and the head to Robin hood bay for dinner.
DINNER AT THE FALCON INN IN THE FLYINGDALES
Dismayed and starving we drove back to York. Fortunately we came across the falcon Inn in the Flyingdales.
Here we enjoyed a surprisingly pleasant dinner.  I was really impressed by the attention to detail. All dishes were cooked with seasonal and local produce and ensured a gastro experience to be remembered.
I ordered a pressed free-range Easingwold pork belly with crispy crackling, apple puree, black pudding, on a bed of mashed potato with seasonal vegetables, and a sauce forestiere.
Gary on the other hand opted for the 10 oz dry-aged Sykes House Farm Yorkshire Sirloin Steak, served with homemade chips, onion rings, roast tomato, and a grilled field mushroom.
DAY 3: A CULTURAL DAY IN YORK
After a wonderful breakfast at Middlethorpe Hall and a quick exploration of their garden, Gary and I popped into York. For some reason (mainly laziness) we took the car. My advice, don't! In fact it is best to leave the car at the hotel. York is easily explored by foot and the streets can get very congested. Finding car parking was a complete pain in the proverbial neck.
YORKSHIRE MUSEUM
Having parked right next to the museum gardens, our very first destination in York was the Yorkshire Museum.
The Yorkshire Museum is set within a ten-acre botanical garden, established in the 1830s by the Yorkshire Philosophical Society. This garden is incredibly peaceful and the perfect place to walk around.
The park also serves as a romantic backdrop to St. Mary's Abbey… or what's left of it. The monastery was first built in 1088 and was among the wealthiest and most powerful Benedictine monasteries in England. In the 1530s King Henry VIII banned all monasteries in England in 1530s and St. Mary's gradually fell into the medieval ruins you can see today.
The museum itself was opened at the same time as the garden and was one of the first purpose-built museums in the country. Reopened on 1 August 2010, following a nine-month 2 million pound refurbishment project the Museum houses five galleries showcasing some of Britain's finest archaeological treasures and many rare animals, birds and fossils, in exciting displays.
YORK MINSTER
Next we went to visit York Minster, seat of the Archbishop of York. York Minster is the largest gothic cathedral in northern Europe and holds the greatest expanse of medieval stained glass in the world. It is a must-see and the city's most popular tourist attraction.
If you think it's beautiful from the outside, just wait till you get inside. Although the entrance fee of 8£ per person was rather painful, in the end it was worth it.
The cathedral with its towering ceilings and gilded ornaments is absolutely beautiful. Make sure to look out for the stained glass windows, the huge organ, the intricate detailing of the wooden panelling in the Quire and the splashes of colour in the ceiling bosses holding the beams together.
Energetic visitors can climb the 275 steps to the top of its tower for unparalleled views of the city. Unfortunately, we didn't have time.
THE SHAMBLES
Within York's compact 13th-century walls lies an entire microcosm of English history.
The Shambles is probably one of the most visited streets in York. It is also one of the best preserved medieval street in the world. The network of streets, lovingly referred to as the Shambles, has been a part of the city of York since the coming of William the Conquerer in 1066. Some of the present-day buildings date all the way back to the late 14th century.
Take a stroll down the cobbled streets and marvel at the inwards leaning buildings (almost ready to topple other) and the shops that are crammed together in such a haphazard and quaint way.
Though the Shambles is no longer a butcher's district as it once was, travellers and residents alike can grab a lovely pork pie on their way down this historic street. The streets were purposefully built so narrowly to keep the sun and heat off the raw meat. This, of course, was long before the days of refrigeration and modern preservatives. In 1830 there were still 25 butchers still trading in The Shambles. But now there are none. Instead, you'll find a mixture of fabulous boutique shops, eateries, book shops and tea rooms.
We stopped for lunch (a delicious pork pie) then spent the early afternoon wandering, looking up at the black and white Tudor buildings and the quaint little cafes and pubs, soaking in the atmosphere on these pretty little streets.
York might be busy, but it is not as overwhelming as London. Whilst exploring the Shambles fellow magpies and vintage lovers will want to head to the York Antiques Centre . With five showrooms spanning across three very packed floors you'll find oddities, collectibles and a vast array of vintage items from over one hundred dealers. I ended up buying a beautiful antique ring.
NATIONAL RAILWAY MUSEUM
We ended our day in York at the National Railway Museum. Despite the small size of the city, York has one of the most important railway stations on the British railway network. This might sound surprising but York plays an important role as a key railway junction approximately halfway between London and Edinburgh.
Gary is a huge Rail fan and was excited to visit the National Railway Museum. It is easy to spend a couple of hours in this huge complex requires at least a couple of hours, if not a whole day. And best of all – admission is free.
You're allowed to go on board many of the trains in the collection so it's easy to imagine the sights, smells and sounds of the classic steam era.
Our favourite train by far was Queen Victoria's splendid saloon constructed in 1869 in which she took the long journey between southern England and Balmoral in Scotland.
DAY 4: RETURN TO LONDON WITH A PIT-STOP IN KNARESBOROUGH
As always our little jolly up North ended far to fast. The drive from London to York is a long one, so we had to make our way back on the morning of our fourth day. We did however stop at a couple of attractions on the way back South.
THE KILLBURN WHITE HORSE
The Killburn Whitehorse, cut into the hillside in the North York Moors at Sutton Bank, is actually the second out of four that we have seen in this country. It is Britain's largest white horse figure and it's most northerly. However, unlike its southern cousins it is not cut into a chalk hillside and so over the years the white surface has slowly turned grey as algae has grown on the stones – giving it the nickname, the old grey mare.
When it was originally cut in 1857, chalk stone chips were spread on the surface. Now those chalk stones are regularly spray painted with pressurised hoses. The figure covers about 1.6 acres and is clearly visible from miles around, especially from the East Coast Main Line railway south of Thirsk.
There are 151 steep steps from the car park up to the top of the White Horse and The Cleveland Way Long Distance Footpath. You will most likely be out a little out of breath by the time you reach the top. But the view of the surrounding landscape is more than worth it.
KNARESBOROUGH
Our very final stop in our Yorkshire adventure was Knaresborough. Dramatically set into a rocky gorge, the medieval town of Knaresborough is a maze of cobbled paths and stone staircases weaving up from the river.
We spent the afternoon wandering around, discovering Knaresborough's main attractions: the ancient, crumbling castle overlooking one of the most stunning views I've ever seen, the House in the Rock, Mother Shipton's Caves and the Petrifying Well.
Whatever you do, you really can't miss the imposing structure of the four-span stone viaduct high above the River Nidd. A stunning panorama, that makes for some wonderful shots.
Knaresborough is a magical little place, quaint and everything you expect from the United Kingdom – at least once you get to the older part of town.
Walk along the picturesque riverside, or row a boat out under the viaduct's soaring arches, or simply wind your way through narrow lanes to Knaresborough Castle. Our pit-stop in Knaresborough certainly was the perfect end to the day.
I hope you have found my little guide to Yorkshire helpful, if you have any extra tips please let me know in the comments section.
Check out this post by fellow travel blogger Emma for other fun staycation ideas in Yorkshire.
Have you been to Yorkshire?
Comment below and let us know!
Did you Enjoy this article?
Share it with your friends and family on FACEBOOK, TWITTER AND PINTEREST