As we left the noisy and steamy streets behind us and entered the cool polished lobby of the Oriental Residence Bangkok, a sense of calm washed other us. After a long and turbulent trip around Thailand, we had finally returned to the capital and would be staying at the Oriental Residence Bangkok for the last two days of our summer vacation. 
Bangkok is a lively city and at times it can feel a little overwhelming. Choosing the right place to stay can make all the difference to your overall experience.
Combining Eastern designs and modern comforts, Oriental Residence Bangkok oozes luxury and class as soon as the porter opens the doors for you. So if you're looking for somewhere traditional, luxurious yet iconic to stay in the capital of Thailand, than look no further than the Oriental Residence Bangkok.
ABOUT THE ORIENTAL RESIDENCE BANGKOK
Awarded the 2016 Traveller's Choice Award, for luxury, this hotel truly is a hidden gem. In fact, the Oriental Residence is more than just a hotel. With 145 elegantly appointed rooms on offer, ranging from one 1 to 3 bedroom apartment style suites, the Oriental Residence bridges the gap between opulent apartment and prestigious hotel. Indeed many of its guests stay for long periods, literally calling the Oriental Residence their home for several months at a time. Furthermore the top floors (starting from the 22nd floor) of this thirty-one storey hotel are given over to forty-six privately owned residential apartments which are accessed via a separate lift and lobby area. These apartments even have their own private pool and sky terrace on the thirty-second floor. I would also like to point out and commend the Oriental Residence for its active Corporate Social Responsibility programme. The staff raise money for local charities by selling Teddy Bears at the reception desk. Additionally all proceeds from the sale of Cafe Claire's tasty brightly coloured macarons are donated to local projects. Finally the hotel frequently hosts fundraising events such as the Flower Power pool party and participate in global sustainability efforts such as Earth Hour.
LOCATION OF THE ORIENTAL RESIDENCE BANGKOK
The oriental Residence is located on Wireless Road , in one of the quieter districts of Bangkok right next to the famous Lumpini Park. This central location means that the hotel is just a stone's throw away (ie. a 10 minute walk) from the Sukhumvit luxury shopping malls and the Ploenchit BTS Skytrain station – making it perfect for cultural travellers, business men/women and shopaholics alike. The hotel is also incredibly popular with diplomats. No surprise there, since it is positioned right between the American and Dutch Embassy. In fact many of the rooms actually overlook the beautiful embassy gardens. If you are looking for a quiet and safe location, you cannot do much better than this. This is why I would highly recommend the oriental residence if you are a solo-female traveller or this is your first time in Bangkok and perhaps you are feeling a little nervous and/or home sick. If you want to get around the city and need to grab a taxi, you are in luck. They drive past the hotel almost all the time. But for those on a budget or health-kick, the nearest BTS station is only 10 minutes' walk away. The Oriental Residence even offers a complimentary shuttle to those that require it (high heels anyone??). Despite being so close to the chaos of the Rama/Loenchit/Sukhumvit Road, the snazzy 32-storey skyscraper is a peaceful oasis of calm and thus the perfect place to recharge after sightseeing and shopping.
ATMOSPHERE AND INTERIOR DESIGN AT THE ORIENTAL RESIDENCE BANGKOK
The Oriental residence is probably one of the sleekest and prettiest hotels we have stayed at. From the furniture to the arrangement of floral bouquets, every detail has been thought through and is highly Instagram worthy. On first glance, the exterior of the hotel actually resembles an office block. But this impression changes as soon as you enter the lobby. Stepping through those glass doors, you will immediately appreciate the feeling of light and space. The pastel coloured décor could have been taken straight out of a Parisian interior design magazine and conveys a timeless sense of style. The lobby clearly takes centre stage, with its generous use of space, an open plan design and a massive chandelier. But the theme continues throughout the building and into the individual suites. With high ceilings and an almost overwhelming use of light colours and cooling marble, the interior of the Oriental Residence generally feels bright and airy. Pops of colour are added here and there by the use of vases filled with fresh blooms of vases, clusters of feature artwork and elegantly patterned upholstery. This in its own way breaks up what could be described as a very classic and timeless design and brings the look up to date with the current fashion. Perhaps now you understand why this exclusive five-star gem is currently ranking as Bangkok's sixth best hotel on TripAdvisor and received both the travel site's Travellers Choice Luxury Award 2016 and Certificate of Excellence in 2015.
CHECK-IN AT THE ORIENTAL RESIDENCE BANGKOK
Check-in at the Oriental Residence Bangkok was short and efficient. We had a bit of a disaster happen to us at the airport, where we nearly got into a Mafia Taxi, so understandably were keen to get back to comfortable surroundings quickly. The taxi we did eventually end up taking, dropped us of in front of the entrance of the Hotel. Portieres opened the glass doors for us and were subsequently greeted by a very pleasant check-in agent. We were then asked to sit in the beautiful lobby described above until it was our turn to check-in. We didn't have to wait long and the check-in process itself was speedy and seamless. All the staff members we encountered were courteous and professional. Here I would like to add, however, that we noticed that other guests were presented with cold towels and a delicious looking beverage. We, on the other hand, weren't. So I would note, that in order to get full marks from this reviewer, the hotel needs to ensure that all its clients receive the same level of service. A little niggle that can be forgiven, considering that this hotel only recently (2011) opened its doors.
OUR ROOM AT THE ORIENTAL RESIDENCE BANGKOK
Whilst at the Oriental Residence, Gary and I stayed in one of the hotel's Executive Deluxe Rooms. Within its repertoire of short-term lets, the Oriental Residence Bangkok also offers a One-Bedroom-Suite, a Two-Bedroom-Suite as well as a Three-Bedroom-Suite. Whilst the executive Deluxe Room isn't technically a suit, we certainly didn't lack space. This 45 square meter large room includes one very comfortable double bed, a spacious wardrobe area, a beautifully appointed bathroom, a lavish sitting area, as well as a fully-equipped kitchen. The same attention to detail that I described in the lobby is carried through into the bedrooms. This was refreshing to see. Most hotels in Bangkok put all their effort into the main lobby. The rooms can thus seem neglected and bland. But not so at the Oriental Residence Bangkok We particularly enjoyed the mint coloured geometrically patterned wallpaper and the vintage chest style storage wall in the bedroom. And I couldn't write about our room without mentioning the incredible views. Indeed the bedroom features a gigantic full height window that gives onto an epic scene. Whilst the location of the hotel is excellent for business the building itself overlooks the embassy gardens, giving the rooms a leafy, green outlook. The floor to ceiling windows frame the view and as there is a drop down desk from the wall unit, you can perch near the window to work whilst soaking up the greenery and skyline beyond. The only thing that could potentially have topped this epic feature is a balcony, which I read is indeed part of the larger suites. We really couldn't have asked for more. The Executive Deluxe room at the Oriental Residence Bangkok offered us everything we could possibly have needed for a short stay in Bangkok and even for an extended one.
THE LIVING AREA
You enter the Executive Deluxe Room through the living area, which features a sophisticated muted palette and cosy atmosphere. It is large, well-equipped and beautifully decorated. We loved the light, bright colour scheme and the contrasting dark floors. One corner is taken up by a large grey sofa, which is perfectly complimented with pastel coloured cushions. The hotel also provides you with a small dining table and four chairs. The table was set and decorated with a bouquet of flowers. Here we also found a tray of complimentary Thai sweets, which the staff had kindly left in the room. The flat-screen TV straddles both living and sleeping area. So you can watch the domestic and international channels from your bed or the comfy couch. The choice is yours. There is even a DVD player and films can be rented from reception.
THE KITCHEN
Although Bangkok offers some of the best food in the world, having your very own kitchen is a great luxury and will come in handy for a longer stay. At the Oriental Residence Bangkok you are in luck. All rooms come with a fully equipped modern kitchen. And when I say fully equipped, I meant it. In the kitchen nook you will find a microwave, refrigerator, toaster, stove, fridge, coffee maker, kettle, washer-dryer and plenty of kitchen utensils. Plates, pots, cutlery, this kitchen is fully stocked with them all. Our kitchen back in London isn't actually much bigger than this. There is also a mini-bar with all sorts of delicious and very tempting treats. Gary and I only stayed at the Oriental Residence for one night, so we didn't actually make use of the kitchen facilities, opting for dinner at the nearby night market instead. But if we had been here any longer we certainly would have done.
THE BEDROOM
The most important thing in a hotel room is clearly the bed. And the one we slept in at the Oriental Residence Bangkok, certainly didn't disappoint. Although the hotel is located in the centre of busy Bangkok, our stay was peaceful and thanks to the comfy bed we got an excellent night's sleep. In fact the bed's crisp white quality linens and the soft mattress made it rather difficult to get up the next morning. The bed itself features a retro-lux padded headboard and oodles of pillows. Perfect to prop yourself up in the evening, whilst you watch a film. If the pillows are not to your liking, the hotel offers a pillow menu with a large variety of choices. On the dark wood armoire sits an alarm clock, with integrated USB cable to charge your phone. What a clever and neat idea! The wall facing the bed is panellised, that resembles a pile of vintage chests. Here you will not only find plenty of space for your storage needs. There is also a fold-down desk beside the window, should you need to do some work.
THE BATHROOM
A walk in wardrobe connects the bedroom to the large marble bathroom, which not only boasts a humongous rain shower, but a very nice bath tub too. Imagine my surprise, when I discovered that this room had underfloor heating! A rare commodity in hotels. The marble sink featured both a vanity mirror and a magnifying one. What I liked most though was that the toiletries (shampoo, conditioner, body lotion) were decently sized. Let me explain. Nowadays, almost all hotels offer complimentary toiletries. But these are generally small, 100ml max. But the toiletries offered by the Oriental residence Bangkok wouldn't have been out of place in your own bathroom. It is almost as if they were inviting us to stay longer… Furthermore the bathroom was equipped plenty of fluffy towels and enough space to store all your make-up.
CAFÉ CLAIRE AT THE ORIENTAL RESIDENCE BANGKOK
Within its ground, the Oriental Residence Bangkok offers several dining opportunities. At the entrance is Savelberg Thailand, a French restaurant whose chef Henk Savelberg holds multiple Michelin stars. The food it serves up is highly rated by food critics and locals alike. On the second floor of the hotel, you will find an intimate bar, decorated in gold and red tones and with low lighting. Apparently the cocktails are fabulous. And then there is Café Claire. Located on the ground floor, right next to the hotel lobby, Café Claire is a chic Parisian inspired venue stylishly decorated in a monochrome theme. We loved the black leather booths, white marble tables and mirrored walls which lend the cafe its bistro feel. Food-wise Café Claire specializes in French bistro classics and many of the fresh ingredients used its meals actually come from the hotel's rooftop kitchen garden. If you opt to have breakfast at the Oriental Residence Bangkok, it will most likely be at Café Claire. Every morning the restaurant dishes up an excellent help yourself buffet. And it truly includes anything a western tourist could ask for: bread, cheese, sausage, fresh fruits, muesli, pancakes and a fresh juice bar. You can also order a variety of hot meals from an a la carte menu. I tried the poached eggs with asparagus and tomatoes and Gary chose the waffle tower (which I cannot recommend enough). Both dishes were delicious and my eggs were cooked just right. But Café Claire doesn't only serve breakfast, they also offer lunch and dinner. And if you really want to treat yourself, then you should get afternoon tea with homemade scones.
AMENITIES AT THE ORIENTAL RESIDENCE BANGKOK
THE PLAYDECK
Most hotels in Bangkok offer a rooftop pool. The Oriental residence is no exception. The Play Deck, located on the fourth floor, is a sizeable outdoor swimming pool, with an adjacent bar, that is only open to residents. The pool itself is uncrowded, nicely heated and lined with curtained cabanas and funky rattan pods. From these egg-like chairs comfortably cradle you while you are lounging in them and offer you fantastic view across the city. You can even catch the sunset if you time your visit right. The pool is cleverly half covered so if you wish to avoid the heat of the sun like me you can lounge at the shady end in comfortable nest-like beds. For sun-lovers though there are loungers at the far end of the pool. Towels are already conveniently laid out on the beds, so all you have to do is pick one. Not only can you enjoy the poolside during the day, you must also try one of their cocktails in the evening after dinner. I can tell you now, once up there, it's not easy to drag yourself away – so make sure you factor in some downtime to your schedule so you can enjoy it properly.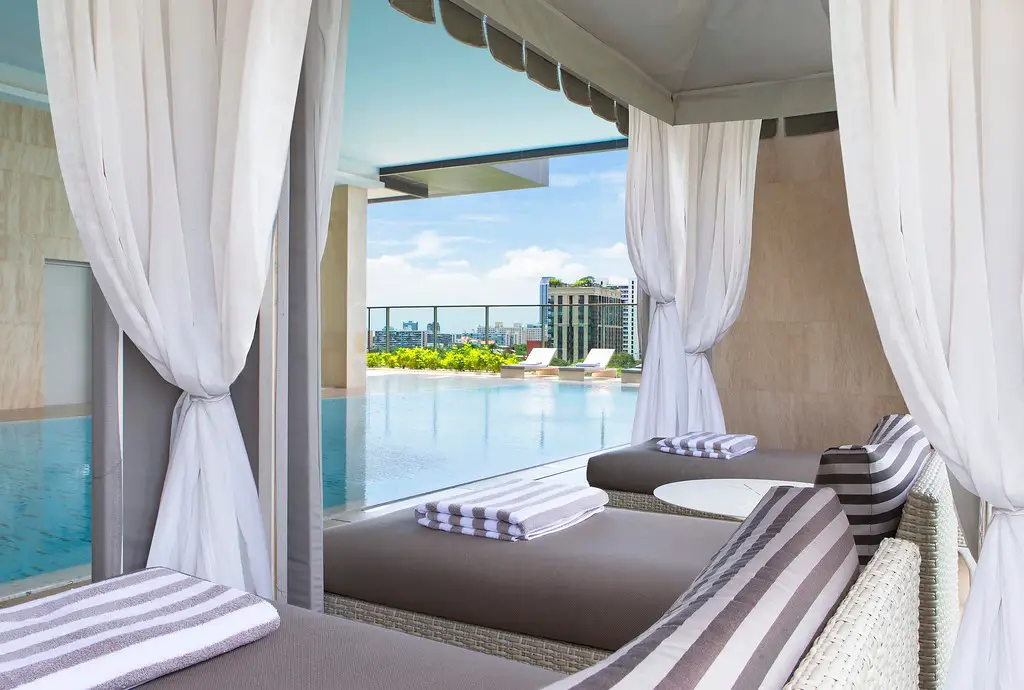 THE FITNESS CENTER
Adjacent to the Playdeck is a well-equipped fitness centre with TechnoGym equipment, should you feel the need to work out. However if you get up early enough to beat the heat you can also exercise with the locals in Lumpini Park which is just a few minutes away,
FINAL THOUGHTS

We absolutely loved staying at the Oriental Residence Bangkok, even though it was only for one night. It was one of the most luxurious experiences we had in Bangkok. We were made to feel so comfortable and could thus imagine ourselves staying here long term. What we liked the most about the Oriental Residence, was that our rooms was the perfect combination of apartment (with our own kitchen) and hotel (with impeccable service). The Oriental Residence Bangkok is an outstanding hotel, classy and opulent but not pretentious. A luxury hotel without being over-the-top; suitable for single travellers and families alike. In fact, it feels a lot like a boutique hotel, in its quiet and understated way. Its location is central yet quiet, with two BTS statiosn within walking distance. And thus I recommend this hotel for anyone who is planning to stay in Bangkok for a longer time, for the first-time traveller, for a fashionista or a business-man. In fact the Oriental Residence Hotel suits a whole range of travellers.
Oriental Residence Bangkok, 110 Wireless Road, Lumpini, Pathumwan, Bangkok
Telephone: +66 (0) 2125 9000
Website: www.oriental-residence.com
Check-in: 2:00pm and Check-out: 12:00 noon
Special thanks to the Oriental Residence Bangkok for hosting us. For the purpose of this review, A Life Beautifully Travelled received a discount on the overall price. However, as always, all our opinions are our own.
You can find more guides for Thailand here. Or if you haven't fully decided where to go yet, you can find other great destinations in Asia here.
YOU MIGHT ALSO ENJOY
> Read my Suggested Itinerary for a Luxurious and Cultured Two-Week Trip to Thailand
> Read my Review of our Historic Stay at the Boutique 137 Pillars House Hotel in Chiang Mai
> Read my Review of our Sustainable Retreat at Zeavola Resort Ko Phi Phi
What is your favourite hotel in Bangkok?
Let us know in the comments below!
Did You Enjoy This Article?
Share it with your friends and family on FACEBOOK, TWITTER AND PINTEREST