Ever since I have started travelling on my own dime, I have become extra careful not to over-pack. I try to make good packing decisions and ponder over the need for each item. However since my camera and computer equip mentioned always takes priority I sometimes run out off clean clothes on  extended trips that last let's say more then 10 days.
This is when travel gear like the Scrubba Washbag comes in really useful. Now don't get me wrong. I don't have anything against simply doing my washing in the hotel sink and it can actually be a fun experience to find a local laundromat. In Thailand for instances there countless places that will wash your clothes by the kilo.  I am also no where close to being OCD about the cleanliness of my clothes.  I will happily wear the same pair of trousers for several days. I wouldn't even consider wearing the same top twice.  But socks and underwear are where I draw my limit.
And whilst a washing machine surely never made it onto my packing list, I would happily make some room for my Scrubba Washbag just for the ease and comfort it provides. It's a small luxury really  and should feature on your must have list.
After having drooled over Scrubba Bag reviews from fellow travel bloggers for a while, I finally took the leap and contacted Eartheasy to find out if they would send me one for the purpose of a review .  They happily  obliged.
Gary and I were about to head  on our two-week round-trip of Thailand, so the timing couldn't have been any better. Over the two weeks we spent in Thailand we found ourselves in five different locations, hopped on a total of five flights and slept at eight different hotels. Packing light was therefore absolutely essential and having my trusty packing cubes and Scrubba Bag along for the ride made the whole trip a whole lot easier.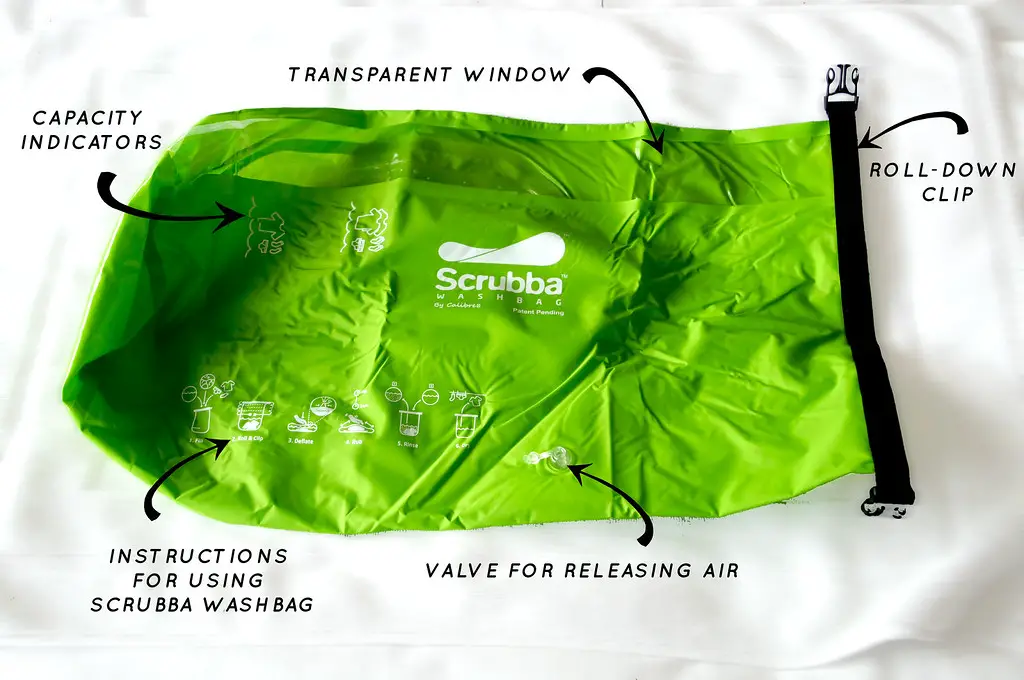 WHAT IS A SCRUBBA WASHBAG ?
Dubbed as the world's first ever portable washing machine, The Scrubba Washbag is a bright green waterproof bag, with a specially designed flexible and integrated scrub board panel, that can help you wash your  clothes within 30 minutes.  Scrubba fuses old with new technology to clean your clothes more efficiently.  When unfurled, it looks very much like a typical waterproof roll-top dry bag (because that's what it is), except with the additions of a see-through window, an air release valve, maximum fill lines, and printed instructions.  But it's the inside that's most significant, as it features a series of rubbery protrusions that act like a washboard. These little bumps significantly increase the agitation and cleaning ability of the Scrubba Bag, making it far more efficient and effective than just swirling a t-shirt around in the sink, or holding one up in front of a shower head for a while. With this thing you're actually scrubbing your clothes, rather than just rinsing them off a bit.  The washbag's internal Scrubba nodules will allow you to efficiently clean your clothes and will ensure you achieve 'washing machine like quality' every time.  You really can wash just about any kind of garment in the bag and expect reasonably clean clothes. Essentially the Scrubba Washbag is a tiny modern day washboard for the 21st century  that will help you meet all your short term laundry needs. With it, you will never have to worry about washing your clothes in a sink (especially a hostel sink) or stream again. All you'll need to do your laundry is a little spaces, some water and a bit of soap. 
ABOUT THE MAKERS OF THE SCRUBBA WASHBAG
Calibre8 Pty LTD is an Australian company founded by Ash Newland, a patent attorney.  Upon planning for a mountain climbing expedition to Mt. Kilimanjaro, Newland realized that a flexible washboard combined with a water resistant bag might just revolutionize the way we wash clothes in places far away from conventional washing machines.  He quickly created  a prototype for the Scrubba Washbag and found that it was incredibly useful in terms of washing clothes and preserving water.  Newland then set up a crowd funding platform that saw a lot of success. This, as well as the money earned through pre-orders allowed him to build a factory and manufacture the Scrubba Washbag.  I would also like to note that even though the company was only founded in 2012, it has already donated over $25,000 for water drilling and developing water resources in nations such as Bangladesh and Ethiopia.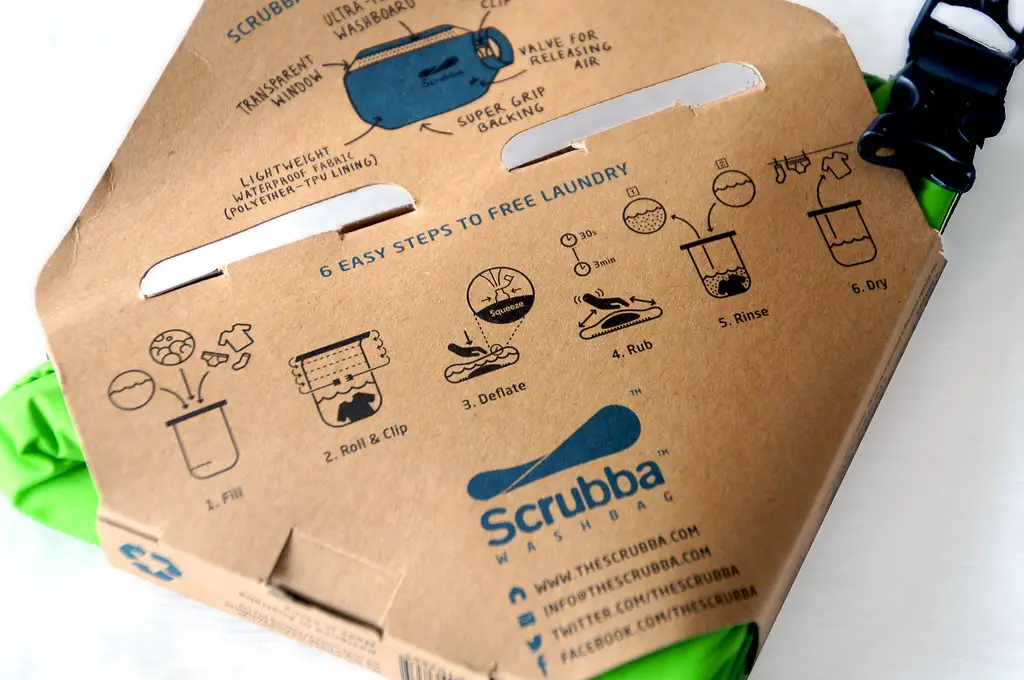 HOW TO USE A SCRUBBA WASHBAG
The instructions for the use of the Scrubba Bag are clearly drawn in pictographs on the upper side of the Scrubba. But just in case you have thrown away the packaging after unwrapping it, here is a set of my extra detailed ones.
STEP 1: STUFF IN YOUR CLOTHES
Unroll the Scrubba Bag and fill it with your laundry. Note, that we actually also used the Scrubba Washbag as a laundry bag during our travels around Thailand. Any fabric suitable for immersion can be washed in the Scrubba Bag. It will take approximately  two shirts or two pants, some socks, undergarments, and a small towel for a single load. But don't threat, the Scrubba Bag actually comes with detailed indicators that will help you fill it to desired capacity. By the way, make sure to zip up any metal zippers. They have sharp teeth that can rip your clothes. Whilst this is a good idea when using any laundry machine, it is even more important when using the Scrubba Bag, as you'll be shoving clothes against each other (and against the bag) in a vigorous manner.
STEP 2: FILL THE SCRUBBA WASHBAG WITH WATER
Now fill the Scrubba Washbag with water. How much you need to add depends on how many items you are planning on washing.  There is a fill line on the side of the Washbag but as an idea, you'll need about 2 to 3 liters. Don't forget to add some cleaning liquid. I would suggest you use liquid detergent since if you use powder, it will take a while to melt. You will need far less detergent than you might think. Scrubba actually officially claims you only need a few drops of concentrated soap, as the scrubbing action is handling a lot of the cleaning process. And if you think about how little laundry soap you add to a full-size washing machine, you can imagine how little you'd need for just a set or two of clothes.
STEP 3: ROLL DOWN THE TOP OF THE SCRUBBA WASHBAG
Now you need to roll down the top the Scrubba Wasbag. Letting out some air first will make things easier. Then fold down the plastic sewn edge about 4 times and push the back clips together. Voila!
STEP 4: DEFLATE YOUR SCRUBBA WASHBAG
Next you'll want to deflate the washbag. The Scrubba has a little valve for exactly that purpose. Open the escape valve, lay the bag flat and push on it to expel as much air as possible. Once you're done close the valve. Removing the excess air will allow you to scrub against the washboard more effectively. By the way, that pressure release valve is very secure; you actually need to pinch it to allow air to escape, so you don't need to worry that the Scrubba Bag will leak, even when the valve is open.
STEP 5: SCRUB YOUR CLOTHES CLEAN
Now we need to get to work. Push on the bag and roll it around to rub your clothes against the side of the Scrubba Washbag. Its unique internal flexible washboard will work its magic on your clothes as you this! Try to be a little more gentle with delicates, though. Depending on how soiled your clothes are, this could be a quick task or it may take a little longer. You will probably want to scrub your clothes for approximately 30 seconds for a quick wash or 3 minutes for a machine-quality wash. You will see the water becoming dirtier as the garments encounter the scrub board. And you can really feel those ridges in the base of the bag hitting the clothes while you're washing. The outside of the bag also has a sticky base to hold it in place on a countertop, which is quite helpful during vigorous scrubs.
STEP 6: RINSE AND REPEAT
Once you are satisfied with the results, you can drain the Scrubba Washbag. To do this, undo the clips, unroll the top and then simply pour out the dirty water. I would also suggest you rinse your washed clothes a couple of times to get rid of the detergent. Just fill up the Scrubba Washbag with clean water and shake it. Repeat Steps 6 – 7 until the water in the bag pours out clean. Alternatively, you can rinse the garments again, use pre-washes, or multiple washes as needed. Just make sure that your last cycle is a rinse with just clean water. I actually found emptying the Scrubba Washbag the hardest part of the procedure, as you need to dump the soiled water out, but keep the clothes inside. For me the "upside-down strangle" method was the easiest. But the downside of doing it this way is that the water drain through the clothes, and so some of the dirt might get caught in their fabric.
STEP 7: DRY YOUR CLOTHES
Finally, you need to dry your clothes. Remove everything from the Scrubba Washbag and wring out as much water from the clothes as you can without damaging them. The squish method is probably better than the twist method, although a little twisting should be fine. If you want to speed up the drying process you might even want to roll the clothes in a dry towel before hanging them up.This is generally a good idea in colder climates, and also if you have nowhere to hang them but in the shade. Then hang up the clothes, and you're done for now. It can take anywhere from 6-36 hours for your clothes to dry, depending on how well they were wrung out and towel-dried, how sunny it is, the thickness of the fabric, and so on. So make sure to leave enough time for this stage of the process when planning to do your laundry.
STEP 8: AIR OUT YOUR SCRUBBA WASHBAG
Typically, the Scrubba Wash Bag will not require any further maintenance. Simply dry it out after each use. You'll want to make sure it's wide open for air-drying, or inside-out. Toweling off the inside of the bag will help it dry faster, which is important to prevent mold, mildew, and other problems. And it would also help to initially rinse out the bag and make sure that no residue of dirt and soap from the garments remains in the bag. Then fold it up and store it away until you need to wash your clothes again. When storing, make sure to avoid placing on or near sharp objects that might puncture the bag. And that's it.
WHY SHOULD YOU GET A SCRUBBA WASHBAG
There are many advantages and benefits to adding the Scrubba Washbag to your packing list. especially for longer trips. Here are just a few reasons I would recommend you buy one: 
The Scrubba Washbag will help you get your laundry done a lot faster
The Scrubba Washbag will allow you to clean your clothes far more thoroughly than doing it in a sink. In fact, independent testing claims that the Scrubba is twice as effective as hand washing your clothes.
It is far more comfortable to wash your clothes in the Scrubba Washbag than doing it by hand in the sink. Goodbye, coarse skin and red knuckles.
Washing your clothes with the Scrubba Washbag is far less expensive than paying for laundry service at your hotel or at a laundromat.
In contrast to paying someone to do your laundry, there is no risk in using the Scrubba Washbag. Having your own laundry device will ensure that you won't suddenly be missing a few clothes and that they won't come back to you in another size or color!
The Scrubba Washbag is actually less harsh on your clothes than a washing machine, without sacrificing cleaning quality. it is useful for all types of fabric and will be especially useful for delicates.
The Scrubba Washbag is smaller than a T-Shirt incredibly light (weighing less than a pound) but when unfolded is still large enough to wash a few pieces of clothing at a time. It will therefore not take up a lot of weight or space in your luggage. It is, therefore, a no-brainer to simply toss it into your backpack or suitcase.
The Scrubba Washbag will give you peace of mind. Whether you're just packing a small carry-on or a month's worth of clothes, you got it covered!
The Scrubba Washbag has loads of uses. You can use it as a dry bag, or later on use it for your delicates at home, or for when you're out camping, hiking, backpacking, sleeping in dorms, etc. Even if you aren't planning to go off the grid anytime soon, or don't camp much, the Scrubba can still fit into everyday life. In fact, business travelers, college students, people that need to wash a few things in a hurry, and many others make surprisingly good use of the Scrubba Wash Bag.
The Scrubba Washbag only uses 2-6 liters per load. So it helps you do your part as a traveler in water conservation. If you have an interest in protecting our environment or don't want the expense of maintaining a regular washing machine, the Scrubba will suit your needs fairly well. 
In essence, the Scrubba Washbag will be useful for you if: 
You are backpacking through expensive countries, where laundry fees might get annoyingly pricey, especially on longer trips.
You are in rural areas that have no laundry facilities at all.
You want to wash just one or two items at a time, especially if you need a specific outfit for some reason.
You are on a road trip or camping trip, where there might not be a laundry machine for miles.
DRAWBACKS OF THE SCRUBBA WASHBAG
As with anything even a useful item such as the Scrubba Washbag has some drawbacks. 
Even though the Scrubba WashBag works well, it is very small. There is no way to get a large amount of clothes done in one go. Since if you happen to be the group member responsible for doing laundry, you will wind up doing several loads as opposed to just doing one via other methods.
It is also very important to make sure the bag dries out fully after use since mold and mildew tend to generate very quickly in just about anything you wash clothes in.
In my opinion, the Scrubba is a bit on the pricey side. If you use it all the time rather than paying a hotel to do your laundry for you, then sure, the price will make itself up quickly. But if you can get by with hand washing in a sink or bathtub, then it's not necessarily essential.
There's still a certain amount of manual labor involved, specifically bringing out the clothes and hanging them to dry. While it's true that you only need a few minutes to wash your clothes with the

Scrubba

, it won't speed up the wringing, towel rolling, and hang drying steps, so the grand total amount of time might not be significantly reduced. And although it's true that you can wash several items simultaneously instead of dealing with them one at a time, that saved time is offset by filling, clipping, deflating, and emptying the bag.
By comparison, if you're doing a sink wash, you can start scrubbing clothes while the sink is filling up, and start wringing them out as the sink is draining, whereas the

Scrubba

requires you to do those steps separately. And although a shower wash pretty much requires you to wash your clothes one at a time, it doesn't require any time spent filling and draining a bag, and you're also (sort of) getting a shower at the same time. Note that Scrubba does sell a complete traveler's kit, which includes a drying towel and travel clothesline, but this costs extra.
The

Scrubba

  requires a flat surface for scrubbing, and if there isn't one in the bathroom, you might find yourself using the floor, or wandering around in search of a table.
So in a way you might say that you won't necessarily need a Scrubba Bag if: 
You are traveling through super-cheap countries with readily-available laundry facilities.
You are not a short trip where you won't do laundry anyway.
You would rather just pay for laundry. But even in this case, the Scrubba Washbag might come in handy if all the laundromats are closed for the day, or if you spill coffee all over yourself and need that shirt clean by tomorrow morning.
MY FINAL THOUGHTS ON THE SCRUBBA WASHBAG

When I first heard about the Scrubba Washbag, I couldn't believe no-one had thought of this before and marvelled at the simple genius of it. 
And yes, the Scrubba was very useful on our trip to Thailand. Gary packs even lighter than I do and refuses to bring enough tops, socks and underwear for each day. he was therfore particularly happy about my new acquisition and volunteered to do the laundry. 
It was an easy enough process and the Scrubba really didn't take much space in our luggage. 
Whilst I doubt that using the Scrubba Washbag saves you much time over hand washing your clothes in the sink, it does allow you to scrub the hell out of your clothes, getting them as clean as you want, which is a major improvement compared to sink and shower washes. So whilst the Scrubba won't necessarily increase the speed of a hand wash, it will definitely increase the  quality. And for some people, that might be exactly what they need. 
There are plenty of people who take the kitchen sink when traveling but if you're like us, you'll choose to travel as lightly as possible, then the Scrubba might fill the void, and allow you to come up smelling like roses, or laundry powder, in this case. 
I would therefore happily state that the Scrubba Washbag is a travel essential for most long-term and adventure travelers, and would highly recommend it to all my fellow travelers. It's a worthy investment that will save you a lot of time, money, and effort in the long run! 
You can buy the Scrubba Wash Bag at Amazon.com for $54.95 USD, or 49.99 at other online retailers. Depending on availability, you may find it in camping stores or other locations dedicated to outdoor living.
Or to purchase it at this discounted price, head on over to Eartheasy, an eco-friendly online store that promotes sustainability. Better yet, if you purchase the Scrubba from their store, a portion of the proceeds goes back to providing clean drinking water to areas around the world that need it such as the World Vision Emergency and Preparedness Fund, Rift Valley Reservoir Project in Kenya, and more! 
I am definitely excited to finally have Scrubba Washbag in my life and can see myself using a lot other the next couple of years.  
Thanks to the people at Eartheasy.com for supplying the Scrubba and I hope you find this an interesting product to look into.