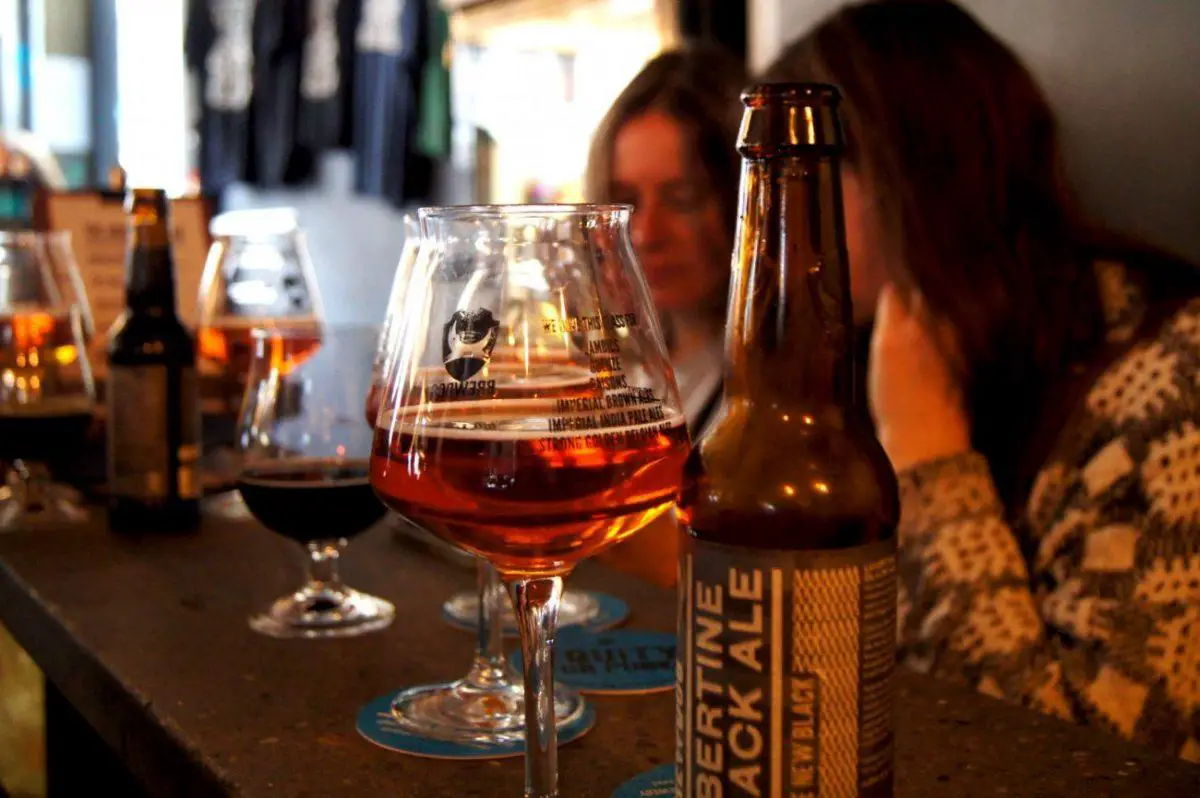 You could live in London for a lifetime and still not explore all the hidden gems this city has on offer.
When you live in a place long enough you start ignoring the things that are right in front of you. You get affected by local blindness. Yes, you have a better insight into the culture of a place but you also become oblivious to it. You start to ignore everything around you. After all, you have seen it all. Haven't you?
I have lived in Great Britain for over 8 years. Two and a half of those, I have spent in London. Beer is an integral part of this culture, of my culture. From my stepdads' obsession with the pub (his all-time favourite is the Drum and Monkey in Glasgow) to the cheeky pint I grab with my colleges on a Friday afternoon after work. Beer is a social event. It is also one of the biggest problems in our society, with binge drinking literally running amok. I have always enjoyed beer for what it is. A refreshing drink to be enjoyed with family, friends or colleagues. But I never dug deeper into the background of this staple drink. Never made an effort to learn about the process of making it and how it transcends our society and culture.
Founded by National Geographic writer Paul Bennett and designer Lani Bevacqua, Context Travel is a network of English-speaking scholars and professionals, including art historians, writers, architects and gastronomes, who organize and lead walking seminars in 35 world cities including: Florence, Rome, Venice, Paris, London, Madrid, Barcelona, Berlin, New York, Istanbul, Athens, Amsterdam and Tokyo. Groups are led by a credentialed "docent" and limited to six people maximum. Walking seminars range from three hours to three days hours in length and begin at $85 USD per person.
LONDON'S ALES AND PUBS WALK: SIPPING THE HISTORY OF BRITISH BEER
Pubs and beer are a symbol of British society and tradition as much as tea and cakes and fish and chips. But do you truly know what lies behind the tradition of beer and public houses, beyond the well-known, and often stereotypical beliefs? Context Travel's three-hour Ales and Pub Walk tour will give you a new perspective and appreciation of beer as you enjoy ample tastings at various pubs and breweries located in the East End of London. Led by a trained food anthropologist with expertise in the beer and brewing industry, the walk focuses on the history of brewing in London, highlighting beer's evolution from a dietary staple to the almost lost tradition of cask ales, to today's renaissance of craft beer and brewing.
Your docent will discuss the history of brewing in London over time and you will also learn about the history of the East End of London more generally – how it changed over time and how it's culinary and cultural landscape has shifted with the arrival of new immigrants and social groups. Furthermore, you will discuss the re-emergence of brewing, the recent craft beer movement and the ways in which brewers are experimenting with old recipes to reinvent, redefine and recreate traditional beer styles.
Context Travel's Ales and Pub Walk slowly winds its way through the hip East End of London, stopping in at a select group of breweries, pubs and beer bars. I was told that the exact stops and presentation will vary depending on the docent and group – but I promise whichever route you take it will be a lot of fun and hugely educational.
Along the way, you will sample a range of British and local beers to experience the diversity of the country's brewing industry. You will examine how all of these products fit into the British diet and other culinary traditions and philosophies. And at the end of the walk, you will have gained an understanding of the significance of beer in British history, including its contribution to diet, its social status, and the decline and rebirth of the brewing industry in England.
OUR DOCENT AND TOUR GUIDE: CATHERINE LE BLANC
Our walk was led by the intelligent and very entertaining food anthropologist and beer expert Catherine Le Blanc. Catherine is very well educated in her field and proficiently answered all of my questions. However, she isn't your typical beer nerd. In 2011, Catherine earned a Master of Arts degree in the Anthropology of Food from the School of Oriental and African Studies in London. Although her fondness for beer preceded her degree, it was while living and studying in London that she came to appreciate the significance of beer and drinking culture in this city. Inspired by her surroundings, she wrote her dissertation on the burgeoning craft beer movement in London, exploring the social, economic, and historical roots of the production and consumption. Since completing her degree, she has worked in breweries and craft beer bars in the United States, leading brewery tours and educating customers on topics including the history of beer styles, their flavour profiles, and how they have evolved over time. Because she is particularly interested in the social dynamics of beer, she believes beer is best enjoyed when shared in a charming London pub. And I couldn't agree more!
Recent years have been marked by a new movement: The Craft Beer Movement. To be honest I was never fully aware of it until I moved to London two years ago. A couple of months ago the graphic designer at our architectural practice quit his job. He was off to do better and more exciting things. Bob's homemade beers were always a popular treat at the office picnic party. So he decided to make it his life mission to pleasure Londoner's palettes with his lovingly crafted beer.  This was my very first encounter with London's ever growing Craft Beer Movement. Our Context Travel Walk on a sunny Saturday morning was to be my second.
Our first pit stop was the Crown and Shuttle on Shoreditch's main high street. Once renowned as one of the most sordid and sleazy strip clubs in Shoreditch frequented only by perverts, the Crown and Shuttle pub near the city is now a haven for beer and food lovers.
I am not surprised that Catherine took us here. This pub has a large variety of Beers on offer from Ales to wines and spirits. You can also enjoy some delicious British food alongside your choice of beverage.
Better yet the Crown and Shuttle features an enormous beer garden! The pub itself is fairly diminutive, with intimate seating and small tables, but the expanse at the back is this venue's gem. Plenty of furniture fills the space which is surrounded by plants and vintage decorations.
We arrived at the Crown and Shuttle at 13h30 and it was already packed with punters having a jolly good time.
Catherine tested the waters first to find out how much knowledge each of us possessed on the topic of beer. We discussed the difference between beer and ale and learned about the ingredients that make up beer.
Did you know for instance that the local water source is often a brewery's most important asset? The quality and consistency of the water has a huge impact on the taste of the beer.
We also discussed the recent re-emergence of brewing. At its peak, London had over 160 breweries. A steep decline meant that in the 90s only two breweries were left in this vast city. Since then the British population has rediscovered its love for beer. In 2010, London counted 11 breweries and now there are over 50 – many of them are what we call microbreweries. Five years ago, there were only 700 breweries left in the UK. Today that number has more than doubled. Pubs, on the other hand, are declining in number. It's a sad fact. Pubs are so important to the British culture. Hopefully, the current trend can be halted. Let's all start today and head to our favourite pub this weekend.
The beer we tasted at the Crown and Shuttle, was dark, bitter and very smooth (in fact it was barely carbonated). Known as Truman Beer, the recipe has existed since the 1600th. Closed in 1989 during dark days for the brewing industry, Truman's was reborn with the opening of a new brewery, The Eyrie, in 2013.
Next, we paid Redchurch Brewery a visit. It isn't the easiest place to find and I surely wouldn't have been aware of this little Gem had Catherine not introduced us to it. The brewery itself is located within one of the railway arches at 275-276 Poyser Street. It's not exactly well signed, nor does it look like a bar, so watch out for the open door with lots of kegs and fermenters.
The tap room sits on the mezzanine level directly above it. While brewing engines churn away somewhere close by on the premises, the elevated bar space has a distinctly urban feel: with a high spec bar crafted out of timber crates, bar and tables made from up-cycled wood, a curved roof moulded out of corrugated iron and low hanging lights burning bright with hot filaments. Hanging hessian covers and a relaxing lighting scheme add some much-needed warmth.
Founded in 2011,  the brewery started from the owner's home on Redchurch Street Shoreditch, hence the name. It migrated to its current home in 2012, soon opening the public tap room.  The brewery  produces a core range of 6 craft beers. You can purchase all of these at the bar. Each beer is named after a local area: Hackney Gold, Shoreditch Blonde, Hoxton Stout, Bethnal Pale Ale, etc.
All fresh beer is served from a keg. Redchurch brewery takes pride in its filter-less and unpasteurized technique of maturing malted barley, hops and yeast. Catherine ordered three beers for us to try: The Oldford Export Stout, a Pale Ale and a Saisons beer.
The Old Ford Export stout was exquisite and very bitter. A rich, dark export stout with a complex malt base providing burnt chocolate, espresso coffee, molasses and leather aromas. The complexity of the malt is perfectly balanced by the warmth of the alcohol, added to which is the punchy bitterness and earthy spice of the Columbus hops. At a heady 7.5% though, you don't want to be drinking this all night.
However, the beer that truly stood out to me here and generally on this beer tour was Tartellete, the Saisons. It's appearance and taste really isn't what you expect from your typical beer. Saisons beers are made with wild yeast, giving them a distinctively sour taste. Tartelettes is a Berliner-Weisse sour beer brewed with an initial lactobacillus souring followed by a saccharomyces fermentation producing a delicate beer with subtle tartness and a gentle citrus finish. Pineapple Yellow in colour with a strong carbonation, this beer reminded us all a little of apple cider. At 4.5% it is also a lot more drinkable than the Old Ford Export. Catherine pointed out, that although often rejected by the more seasoned beer enthusiast, Saisons beers are often a good entry point for us females.
Beer is lovely on its own. Especially on a hot summer's day amidst your circle of friends. But it is vastly improved with a platter of tasty cheese and meat. In fact Catherine mentioned that a new trend has appeared alongside the craft beer movement – beer tasting menus, where the food is purposefully matched with the beer. Redchurch Brewery definitely had the perfect companions on offer –  Sticheleien,  Isle of Mull cheese, radstone cheese, smoked pincette and boar salami. Our stomachs suiteably lined we moved on to our next destination.
Our final stop of the day was at BrewDog. BrewDog is an independent Scottish brewery of rather bold craft beer. Catherine believes that the owners of Brewdog might even have started the craft beer movement in London. Along the way, they have garnered respect but also a lot of controversy. Martin and James were only 24 were they decided to push the boundaries of traditional brewing in the United Kingdom. Taking inspiration from the craft beer movement in the United States, these young entrepreneurs came up with all sorts of crazy concoctions. Their most famous beer, however, has to be Punk IPA, commonly sold in London.
From its beginning in 2007, Brewdog has rapidly grown and expanded. Martin and James started their company by brewing tiny batches and selling them at local markets and out of the back of our beat-up old van. Brewdog now has 44 bars across the world, 540 employees and a TV Series in the United States. Six of those bars can be found in London. We visited the one in Shoreditch.
The rapidly growing Scottish chain took over the premises in late 2012 from Mason and Taylor, another purveyor of craft ales. Brewdog Shoreditch looks bit like a foundry with its bare lights, bits of iron and  moulded aggregate. It's not however quite as sterile as this might sound. Wooden booths add a little privacy and will shield you from the crowds.
You'll be lucky though to find a place to sit since Brewdog is often filled to the rafters. When we arrived at 4pm the place with heaving with jolly punters.
As with all BrewDog sites, you'll find a standard range of own-brand ales supplemented with a large and ever-changing selection of guests.  It's all about the craft beers here. There isn't a single Carling or Krony in sight. Everything on offer is a celebration of the endless drinking possibilities that arise when malt, water, yeast and hops come into contact, from the dark and spicy Alice Porter to the sharp and fruity Raspberry Revolver. Most o these craft beers average at about 6.5% and none of them are particularly cheap, so best stick to half-pints.
As we relaxed with our last pint, Catherine discussed the differences between the brewing industry in the United States and the United Kingdom. In her opinion,  American brewers tend to be more experimental and thus often produce better craft beer. There are less traditions in the United States to be stringently adhered too. Less history. British brewers are often reluctant to step outside of the boundary. In their opinion this could harm the integrity of British Ale.
As much as I am a stickler for traditions it is hard to argue with the American perspective when you have the taste of an exquisite beer such as Elvis Juice on your tongue. An American IPA with a bitter edge that will push your citrus tolerance to the brink and back; Elvis Juice is loaded with tart pithy grapefruit peel. This IPA has a caramel malt base, supporting a full frontal citrus overload. Waves of crashing pine, orange and grapefruit round out this citrus infused IPA. This beer was more than refreshing and one of my favourites on this beer tour.
LONDON'S ALES AND PUBS WALK: SIPPING THE HISTORY OF BRITISH BEER
WHEN: Friday and Saturday – starts at 13:00 pm and last around 3 hours
COST: £80 per person for a small group (which is never more than six people); £300 for a fully private tour
LOCATION: Generally speaking, the walk begins and ends in the Shoreditch neighborhood. Your confirmation email will have the exact meeting point details along with a map, and 24 hour phone number for any last minute issues. Your nearest station will most likely be Liverpool Station (Central Line, District and Circle Line and a variety of trains)
WHAT TO PACK: While this Beer Tour is not strenuous, comfortable shoes can be very helpful. The tour runs rain or shine, so be sure to bring a rain jacket or umbrella. Context Travel requests no umbrellas. You might also want to bring along your camera. There are a lot of amazing Photos to be taken.
CONTEXT TRAVEL: The company focuses on very small group tours that are led by Masters and Ph.D. credentialed docents, providing both overview tours as well as intense topical immersion.
This post contains affiliate links, which means that if you click on some of the links in this post and purchase something, I might receive a commission. This is a good thing! There is no additional cost to you and I make a tiny bit of money to help fund this website!