Our recent Weekend break to Snowdonia was an adventurous cocktail of exploring castles, hopping on a Rib Ride and enjoying the panoramic view of snow-covered mountains at the top of Snowdon. It's safe to say we made the most of our 2 nights and 3 days in Wales, and we left feeling like we had experienced a generous slice of Snowdonia.
But after the miles of walking, exploring castles and a Rib Ride on the Menai Strait, one of the best things about the trip was coming back to our heavenly hotel. Here's my review of Victoria B&B in Caernarfon…
> Read more about our Winter Hike up the Miner's Path
> Read about our Rib-Ride down the Menai Strait
> Read more about Visting Caernarfon Castle
VICTORIA B&B: GETTING THERE
We left London at lunchtime on Friday and drove all the way to Caernarfon, which is located a little North West of Snowdonia National Park in Wales. Leaving London on a Friday after work might sound crazy, but the drive is only about five and half hours. Although we got stuck in traffic, we weren't delayed for too long.
We arrived in Caernarfon at 8 pm and headed straight to the Black Boy Inn, to enjoy a tipple and a warm meal. The reward for our Friday Journey was a full day of exploring on Saturday. We returned to London on Sunday. Leaving Snowdon at quarter to five in the evening, we returned home by 10
THE LOCATION: CAERNARFON
Visit Wales arranged for us to stay at the Victorian B&B. Located centrally within the old town walls of Caernarfon, Victoria House is a Grade II listed building dating back to 1894. It has been tastefully refurbished to provide all modern facilities yet retains much of its original charm and character.
Backing onto the medieval town walls of Caernarfon Castle and the Menai Straits, it is very conveniently situated in close proximity to all local amenities.  Caernarfon Castle and the market town are a short stroll away, as is the harbour and Welsh Highland Railway. It is around 15 minutes' drive to the Menai Bridge which crosses to the beautiful isle of Anglesey.
Caernarfon is a historic town and port in Gwynedd, Wales. It lies along on the eastern shore of the Menai Strait, opposite the Isle of Anglesey. The city of Bangor is 14 Km (9 miles) to the north-east while Snowdonia fringes Caernarfon to the east and south-east.
Caernarfon is probably most famous for its mighty medieval castle. Its presented incarnation was constructed between 1283 and 1330 by order of King Edward I. The banded stonework and polygonal towers are thought to have been in imitation of the Walls of Constantinople. The impressive curtain wall with nine towers and two gatehouses survive largely intact.
VICTORIA B&B: CHECKING-IN
After texting us during our journey, Jan welcomed us upon arrival. She ensured we had been able to garner a parking space nearby and even offered us. Jan also gave us a parking permit for the medieval town of Caernarfon, a lovely insightful addition.
Jan then led us up the stairs to our room on the first floor. She described all the facilities of the Bed and Breakfast and pulled out a map to show us the local attractions. Finally, she advised we head to the Black boy Inn for dinner.
VICTORIA B&B: SUPERIOR KING ROOM
Victoria B&B has four rooms on offer: the Superior King Room, the Queen Suite, the Queen Room with Sea View and the Superior Double Room. Because the B&B was so popular and almost fully booked, Visit Wales kindly upgraded us from a classic room to a gorgeous Superior King Room. Our welcome was made even more special with a surprise gift of four small bottles of white wine and delicious pralines. As with most hotels in historical buildings, each room has a different layout and slightly quirky shape. Our room was the largest (apart from the suite) and featured a compact lounge area with two comfy chairs, a coffee table and a dressing table. The room was incredibly light and airy, with a large bay window and crème coloured walls. Quirky details such as a large original fireplace and medieval decorations gave the room a nice bit of character and the complimentary water in the fridge made for a nice touch. Each guest room includes a flat-screen TV with DVD player, fridge and tea and coffee facilities.  The tea and coffee facilities were very varied (with three different options for coffee, tea and hot chocolate on offer) and I loved that there was a little jug of fresh milk in the fridge. The bathroom was well stocked with toiletries and bathrobes. The bathroom itself was very spacious. Apart from the usual white goods it also featured a whirlpool tub and shower. Obviously, this was too good an opportunity to miss.  On Saturday, we popped into boots and bought a foaming bath soap. Needless to say, I really enjoyed my soak in the giant whirlpool bathtub that night. The best part of the room however was easily the king sized bed. With a memory foam mattress, fluffy down pillows and crisp white sheets, it was exactly as a luxurious hotel bed should be.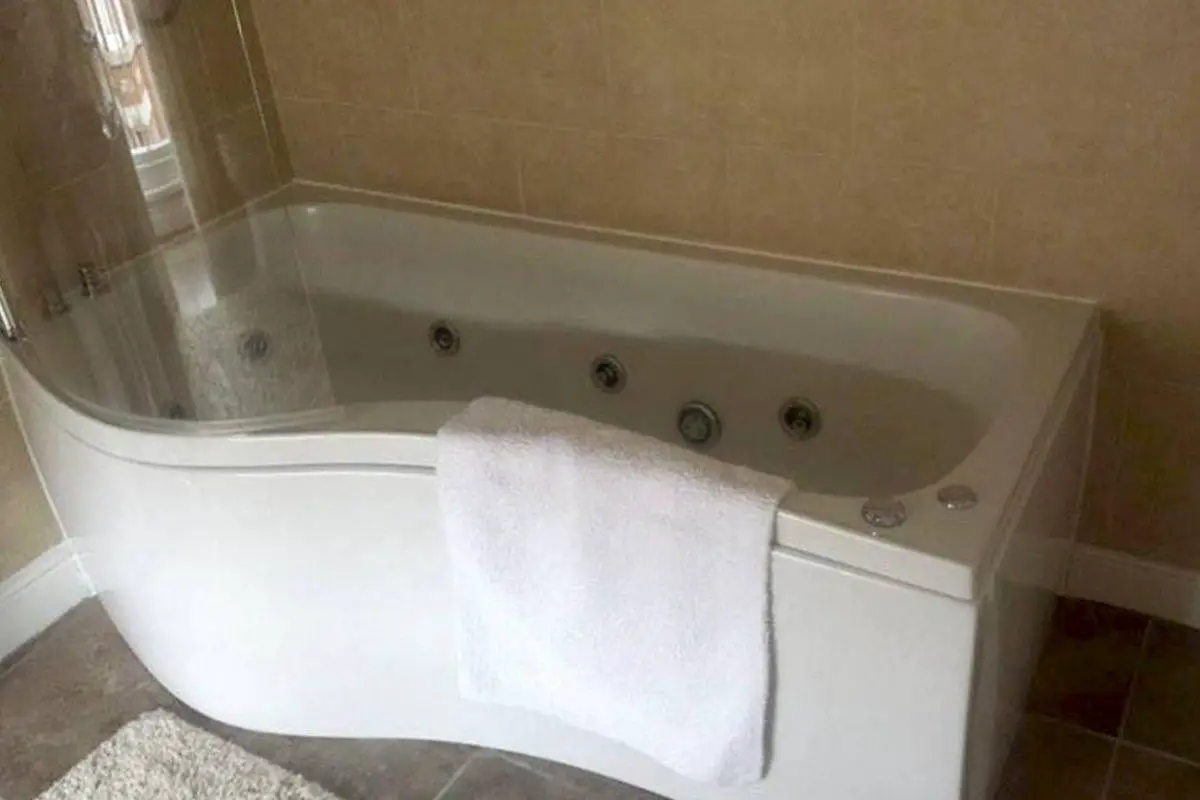 VICTORIA B&B: THE BREAKFAST EXPERIENCE
I absolutely love taking my time over a leisurely breakfast at the weekend so when it comes to B&Bs, a good breakfast buffet is always high on the priority list.
With an expansive breakfast buffet (croissants, toast, muesli, yoghurt and cereals, along with innocent fruit juice, tea and coffee) and an inclusive a la carte menu, the Victoria B&B had it spot on. The a la carte menu included all the British breakfast classics such as the Full English, Eggs Benedict and porridge, as well as some Welsh specialities such as Welsh Rarebit. As is generally the case with B&Bs, breakfast was inclusive in the price of your stay.
Gary enjoyed Pancakes on both days, while I opted to mixed it up a little. I had a the full breakfast on Saturday (with poached eggs, bacon, sausage, mushrooms, hash browns, baked beans, tomato and fried bread) and a Welsh Rarebit on Sunday.
VICTORIA B&B: THE VERDICT
The Victoria B&B is everything I could ever hope for from a Welsh Bed and Breakfast; boutique in style, characterful and luxurious. It is stylish yet unpretentious and the Jan is not only professional but particularly friendly and incredibly helpful.
The Victoria Inn is part of Caernarfon's fascinating history and is a hotel equally as charming as the city it's in.
We really enjoyed our stay at Victoria Bed and Breakfast. It is all the little touches and details that made our stay so unforgettable. The foam mattress, the bubble bath, the parking permit, the soft bath gowns and towels, the bottle of wine on arrival and the fresh flowers on the breakfast table.
Victoria Bed and Breakfast is a great place and I would highly recommend it. We certainly hope to return someday soon.
Perfect for: A Romantic Weekend Getaway 
What is your favourite hotel in Caernarfon?
Comment below and let us know!
Did you Enjoy this article?
Share it with your friends and family on FACEBOOK, TWITTER AND PINTEREST