Hamburg is the ideal place for a city break – compact enough to explore by foot yet with multiple attractions worth exploring.
I would actually suggest you visit Hamburg around November-December, to make the most of the city's dreamy Christmas markets and get you into the festive mood.
Situated on the bustling river Elbe, Hamburg is the second largest port in Europe. However, the city is home to much more than merchant ships. Grand historic buildings, beautiful lakes and canals, a museum dedicated to chocolate and plenty of Christmas markets are just a few of the highlights a visitor can experience in this epic city. So if you are planning a brief weekend getaway to the German city in the North, be prepared for a busy itinerary.
I actually lived in Hamburg's rival neighboring town Bremen for a whole year, back in 2010. So it's fair to say that I know Hamburg pretty well. Truth be told I have a bit of a soft spot for this part of the world. And this is why below I will be parting with my best tips, to help you make the most of your 48 hours in this beautiful city of the Hanseatic League.
ABOUT HAMBURG, GERMANY
But first, a little bit about Hamburg itself. Hamburg is the second-largest city in Germany, as well as the second busiest in Europe after Rotterdam.
Yet it's everything but a dreary industrial centre. This city is a magnet for tourists and a hotbed for cultural events. The city owes its life and fortunes to the water. Similar to Venice, Hamburg's historical heart is crisscrossed by canals and lakes with plenty of bridges that hold its various bits together.
After turbulent beginnings in the Early Middle Ages Hamburg, like many coastal towns on the Northern and Baltic Sea, entered the Hanseatic League. A free city throughout most of its history, it was not until the 19th century that Hamburg officially became part of the German Empire, and subsequently in the 20th century part of the Weimar Republic. Annihilated during WWII and cut out from a big part of its hinterland due to its proximity to the DDR border, Hamburg and its port re-flourished upon the reunification of the country and the accession of Central European and Baltic States into the European Union.
Despite the widespread destruction caused by the last world conflict, Hamburg has managed to preserve, re-adapt and restore a consistent portion of its historical heritage. Likewise, urban projects such as the HafenCity have brought together international names of architecture and design for the redevelopment of entire areas of the city. Between daring architectural structures and the high spires of its churches, there are large green areas, making Hamburg one of the greenest cities in Europe.
Overall, the feeling one gets from Hamburg is of an urban centre that has managed to strengthen its original assets while embracing new economic opportunities and high livability for its citizens, resulting in a thriving urban mix. Each district and neighbourhood boast a unique character and several attractions.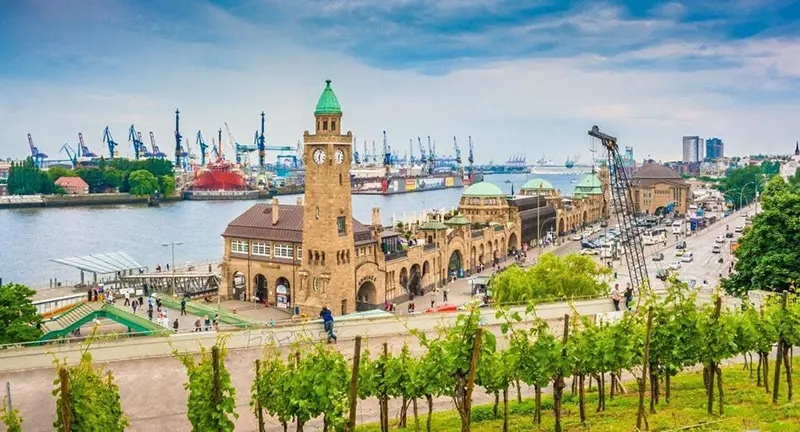 HOW TO GET TO HAMBURG
I'll start off by stating the obvious; Hamburg's position in northern Germany means the flight from the UK is super quick, so flying out doesn't eat into your exploring time. Hamburg itself is easily accessible from the airport by taxi or underground train in under 30 minutes.
If you like to be organised, click here to book your to and from Hamburg Airport ahead of your trip.
Check into your hotel, freshen up, and get ready to explore!
HOW TO GET AROUND HAMBURG
There are numerous options to get around Hamburg – public transport, cab, bike hire or ferry.
To travel to a little further away, hop on to the U-Bahn or the S-Bahn. This is Germany's version of the underground and tram. Alternatively hitch a ride on a bus. Hamburg's U-Bahn, S-Bahn and busses all run from 05:00 a.m. to around 11:00 p.m every day. The frequency is at very least every 20 minutes, and can be as often as every 5 minutes.
You could of course hire a cab to get around Hamburg, but we personally prefer public transport as it's better for the environment and makes you feel like a local. If you do decide to take a taxi, look out for a "Umwelt Taxi" (environmentally friendly taxis). They can be recognized by a large sticker on the bonnet.
Cycling around town is a fun option on a sunny day. Hamburg runs a bike hire scheme – the StadtRAD Hamburg. There are multiple bike hire stations around town. To hire a bike you will need to download and register on the StadtRAD app. In the app select "borrow" and enter the wheel number or select a suggested cityRAD. Simply tap the display on the handlebar to unlock the bike. Then press the red lock button on the rear wheel and pull the station latch on the right side of the lock. Your first 30 minutes with the bike are free, which is plenty to reach most attractions in Hamburg. Don't fret if, you need your bike for longer. It will only cost you 0.10 € per minute. Alternatively, you could book this 3.5hour guided bike tour of Hamburg or even whizz about town on a skuddy
We have kept the best for last. Our favourite way to get around Hamburg is by ferry. You can catch a HADAG Ferry on the Landungsbrücken. They depart fairly regularly and stop at various locations along the river. It's a great way to explore Hamburg!
WHERE TO STAY IN HAMBURG – HOTEL LOUIS C. JACOB
Whilst in Hamburg, Gary and I stayed at Hotel Louis C. Jacob. And I simply cannot recommend this hotel enough.
It is located in Altona, where all the famous and rich live. It's possible to reach the hotel by public transportation (there's a bus stop going straight from the central station to the hotel), by ferry or by taxi. A quick 15-minute drive from the centre will take you straight to Hotel Louis C. Jacob and even though you might not notice it at first, there's actually an impeccable 5-star hotel with a 2 star Michelin restaurant hidden behind the facade.
Hotel Louis C. Jacob houses 85 rooms, which are divided into deluxe rooms and suites. All of the rooms are different from each other, but they have a timeless elegance in common, which is expressed through interior decorations such as parquet floors, hand-woven carpets, and walk-in wardrobes. Aside from the incredibly friendly welcome and service we received at Hotel Louis C. Jacob., the best part of our stay at this hotel has to be the epic view across the harbor and river Elbe from our room.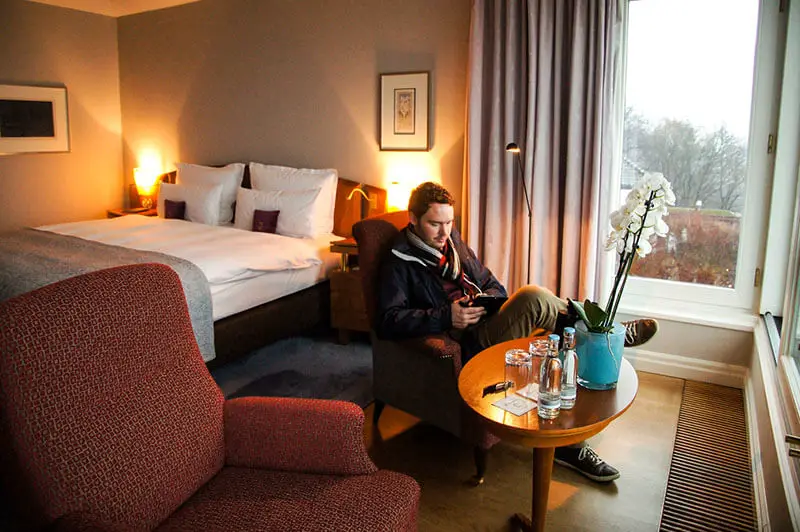 WHAT TO DO ON DAY 1 IN HAMBURG
CITY AND HARBOUR TOUR
There isn't a much more scenic way to enter Hamburg than from the estuary of the Elbe River.
As the boat proceeds downstream one sees fields and small towns progressively leaving space to a more urban landscape: on your left-hand side, the district of Altona overlooks the city airport that lays right on the water.
As the Elbe imperceptibly narrows one's sight is captured by the expanse of cranes, containers, and port structures. Crafts cut through the waves, the river traffic intensifies; impertinent seagulls shriek, ferries whistle, the breeze hits: finally, before your eyes, Hamburg's city centre rises from the waters.
The very first thing Gary and I did after we checked into our hotel was to take a harbor tour. To be fair this was more out of necessity than by choice (our beautiful hotel was actually located slightly outside of the city center in Altona).  But purely by chance, this little boat ride ended up being the perfect activity to start our Hamburg itinerary with.
If like us you are staying at Hotel Louis C. Jakob or in Altona, you will need to hop onto two separate ferries to get to the city center. Just ask the staff at the reception, they are incredibly friendly and more than happy to provide you with directions and timetables.
If you are staying in the city center I would still suggest you start at least one of your days with a tour of Hamburg's gigantic harbour. If you are keen to do so there are varying options depending on your budget.
First head to the Landungsbrücken. From here you can either hop onto a cheap ferry as we did. No. 62 departs every 15 minutes and will take you all the way to Finkenwerder and back at the same cost as a regular transportation ticket (in fact if you have a HamburgCard your ride will be free).
Alternatively, splurge on a proper Harbour boat trip. You can book one of these amazing harbour tours right now if you like to be organised like us:
Or wait until you get to Hamburg to join the  Barkassen-Meyer  Harbour Tour (€18, 1-hour round trip) or the XXL Harbour Tour (€25,  2-hour round trip )
LANDUNGSBRUCKEN
The Landungsbrücken, also known as the harbour area of Europe's largest floating island, is one of Hamburg's most iconic landmarks. 
Built-in 1839, this pier/platform was the departure point for many future Americans setting sail to the New World.
Nowadays, the pier serves as a departure point for sightseeing tour boats across the harbour. The iconic 420-metre long clock tower besides functioning as a clock/bell tower also has a water level indicator. 
SPEICHERHAFEN
Next up on our itinerary was the world's largest warehouse complex.
This expanse of brick buildings sitting on the side of Hamburg's canals is certainly an impressive sight to behold. In fact, the Wasserschloss is the most photographed landmark in this district.
Literally meaning 'City of Warehouses', Speicherstadt is the largest warehouse district in Europe. The structures that survived WWII, built on the water on timber pile foundations, are exquisite examples of Industrial Neo-Gothic architecture. Their facades are adorned with terracotta decorations, towers, and alcoves.
After its recent regeneration, the area flourished and has today turned into a beloved attraction for tourists – and a desirable address for the wealthy citizens of Hamburg to live. In fact, in 2015, the whole area was listed in the UNESCO list of world heritage sites.
Meander over the bridges and through the alleyways of the Speicherstadt to admire the brick waterfront warehouse.  Today these impressive brick structures store the world's largest selection of Persian-style carpets, as rug dealers fleeing Afghanistan with their inventories in the wake of recent wars have joined the Iranians long resident here. 
There are lots of great guided tours of this area. We have picked out the best ones, in case you want to book one ahead of time: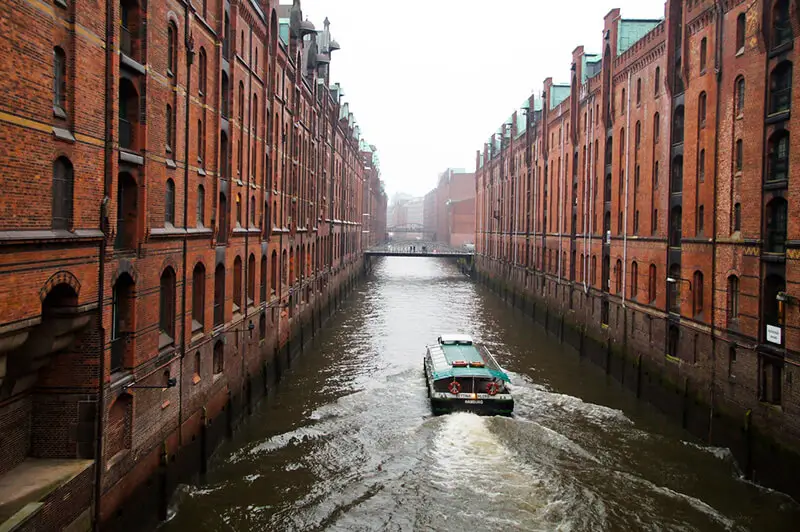 ELBPHILHARMONIE
If you are strolling through the Speicherstadt it would be a shame not to pop across to its modern counterpart, the Hafencity, or at least visit its newest and probably most renowned building – the Elbphilharmonie.
Considered the largest inner-city redevelopment project in all of Europe, Hafencity is a work in progress to be completed between 2020 and 2030. The Elbphilharmonie, designed by Swiss architects Herzog & de Meuron, is an outstanding concert hall built on top of an old warehouse and just one of the various attractions of the area.
At the time of our visit entrance to the viewing platform was ticketed but free. To avoid overcrowding only a certain amount of people are on to the viewing platform at a time. Gary and I grabbed one of the free tickets before heading over to the Speicherstadt then returned an hour later. 
Alternatively, you could book a guided tour of the Elbphilharmony ahead of time. Here are some great options:
An incredibly long escalator takes visitors from the ground floor through a blindingly white tunnel up to the viewing platform on the 34th floor. From here you can even walk around the whole building enjoying the 360 degree view of Hamburg. Inside you will find a rather large café that serves delicatessen. Here, Gary and I enjoyed an incredibly tasty Oreo cake, before heading on to the next stop on our busy itinerary.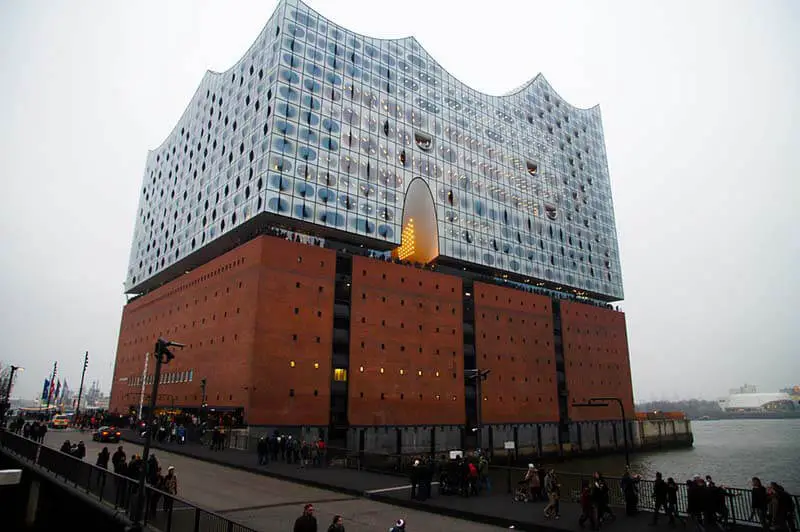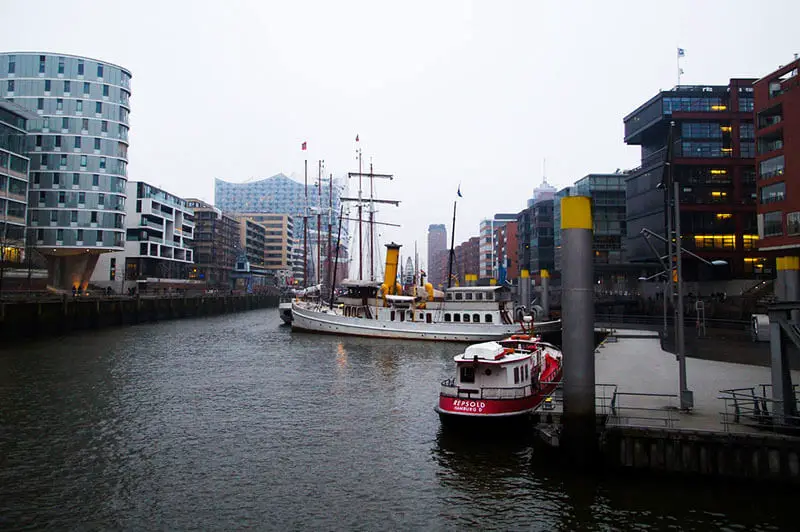 INTERNATIONAL MARITIME MUSEUM
Hamburg has a long maritime history and the sea is an integral part of its culture. I can therefore not imagine a more suitable way to find out about Hamburg's past than to explore its maritime museum.
The International Maritime Museum Hamburg (IMMH) was inaugurated in June 2008. It is not only a beautiful decorative brick building but also houses 3000 years' worth of maritime history. What was once the oldest preserved warehouse, the historic Kaispeicher B, has today been filled with exhibitions of various nature spread across nine floors.
The exhibits include 1000 large and 36000 miniature model ships, 5000 paintings, graphic art pieces, watercolours, films, photographs, and uniforms that tell the stories of Hamburg's many discoverers, conquistadors, captains, and ordinary sailors. The museum is vast and to make the most of it, I would highly recommend you spend at least a couple of hours here.
You can go ahead and book your entrance ticket for the Hamburg Maritime Museum now if you like.
MINIATURE WUNDERLAND
It has been a busy day and at this point, your feet are probably aching but don't miss out on Miniatur Wunderland, the model railway display to end all model railway displays.
Miniatur Wunderland is in fact one of Germany's most popular tourist attractions and attracts over 1 million people a year. With areas dedicated to America, Europe, and the city of Hamburg, the attention to detail of this model world is incredible. You could spend hours in the exhibit quite happily just marveling over the tiny houses, mountain scenes, and thousands of tiny people dotted about the place. There is even a working airport with planes taking off and landing.
Whilst you could easily spend a whole rainy afternoon here, you should at least plan in two hours to take in all the intricate details of this magical attraction.
You can book your entrance ticket to Miniatur Wunderland ahead of time, the fact alone that you get to skip the queue definitely makes it worth doing!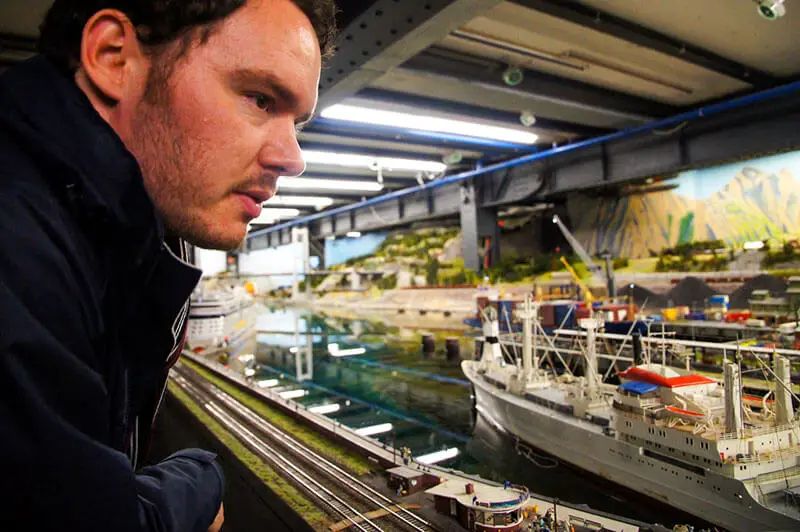 WHAT TO DO ON DAY 2 IN HAMBURG
HAMBURG RATHAUS
Gary and I started our second day in Hamburg by visiting the Rathaus,
Hamburg's grand city town hall, and the seat of the city's government. This impressive neo-renaissance structure is one of the few completely preserved buildings of historicism in Hamburg. Built in a period of great prosperity, the look of the Hamburg Rathaus expresses the wealth and independence of the State of Hamburg.
Spot its majestic balcony surmounted by a mosaic of Hamburg's patron goddess Hammonia and an inscription of the city's Latin motto "Libertatem quam peperere maiores digne studeat servare posteritas". Then move on to the courtyard where you will find an elaborate fountain surmounted with a statue of the Greek Goddess Hygieia, built in remembrance of the victims of the cholera epidemic of 1892.
You might even come across a bachelor performing the strange ritual of shoveling coins in fancy dress, in penance for still being single. Daily English-language tours are offered at a quarter past every hour for just €4.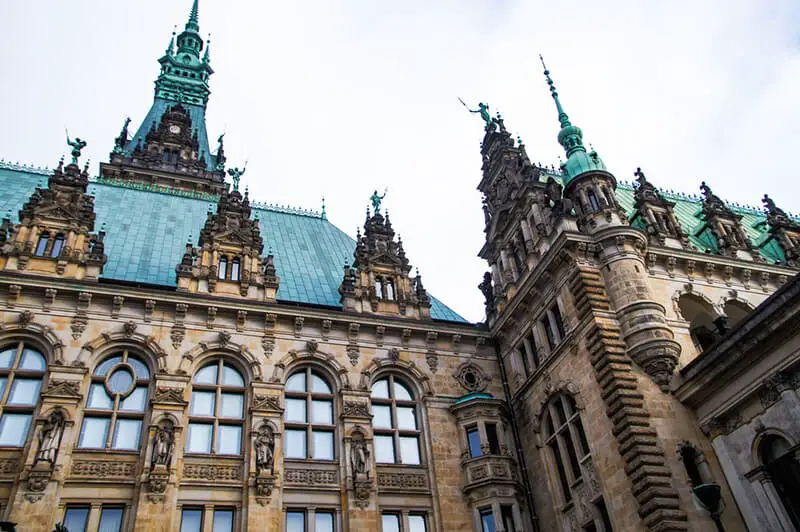 RATHAUS CHRISTMAS MARKET
If you are visiting Hamburg during the Christmas season then you are in luck. From November to December the square in front of the City Hall houses the Historischer Weihnachtsmarkt.
This is probably the most quintessential Christmas Market you can find in this part of Germany. Interestingly enough, however, this 15-year-old Christmas market is still in its adolescence if you compare it to the 300-year-old Nuremburg Markets, and the baffling 600-year-old Dresden Markets.
The individual lanes of this Christmas market are arranged thematically, which makes orientation relatively easy. Although you will probably still need to push through the crowds.
Make sure you do a full circuit of the large market to see the entire range of gastronomic delights it has on offer. Trust me your main issue is going to be picking something to eat. At this Christmas market, there is a serious choice overload when it comes to food, not that that is a bad thing. Then stop at a booth and order some Gluhwein to warm up your toes, which are probably freezing by this point. If you are looking for something less alcoholic, I would recommend the hot chocolate with whipped cream, which is almost as good as Gluhwein.
My favourite part of the Rathaus Christmas Market however has to be the Spielzeuggasse (Toy Lane) with its flying train. Here merchants from around the world offer toys that would make any child's heart beat faster. In fact, if this is a family trip, you might want to visit this Christmas Market at 4, 6, or 8 pm to see Santa soar over the market in his sled. Child or not, this is a magical experience at this most magical time of year.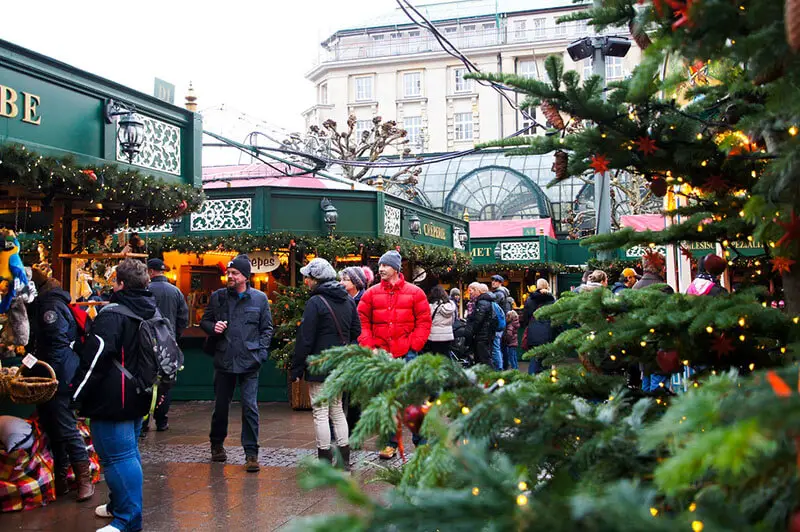 CHOCOVERSUM
If you are a chocolate addict, then you are going to want to pay a visit to the Chocoversum, a chocolate factory that allows visitors to take tours of its facility.
Tours are available every hour, but only one of them per hour is an English-speaking one. So make sure to check-out the timetable. The chocolate factory tour lasts for an hour and a half and is incredibly informative and exciting! Your tour guide will walk you through the lifecycle of chocolate, from the chocolate fruit to the cocoa bean, to the shipping process, then making chocolate, and to the packaging of chocolate. And the best part is that at each stage you get to taste it. You even get to design your own personalised chocolate bar!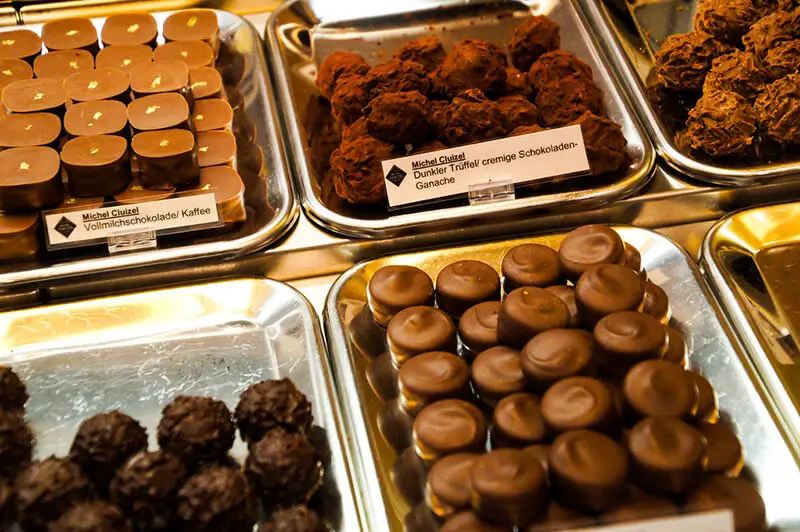 CHILEHAUS
Designed by German architect Fritz Höger and constructed between 1922 and 1924, Chilehaus, or the Chile House, is a ten-story office building in Hamburg, and an exceptional example of a type of architecture known as Brick Expressionism. It's a building famed for its roof, which is strongly reminiscent of a ship's prow and has structures that meet at a very sharp angle at the top.
The best view of the building is from the East, and because of the accentuated vertical elements of the venue, as well as the curved outer walls, despite its large size the building exudes a certain sense of lightness. The Chilehaus was designated as a UNESCO World Heritage Site in 2015.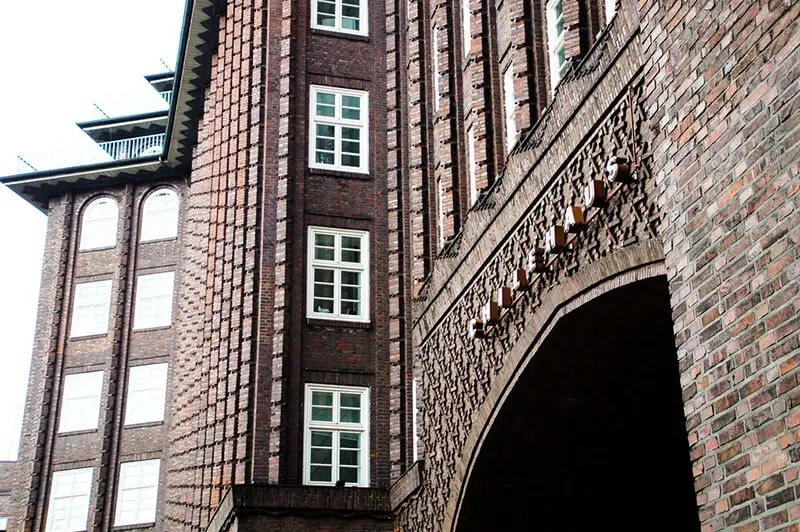 BINNENALSTER AND JUNGFERNSTIEG
From there head to the Binnenalster Lake, one of two artificial lakes in Hamburg which are formed by the river Alster.
Centuries ago the river was dammed to form two artificial lakes, the small Binnenalster (Inner Alster) and the much larger Aussenalster (Outer Alster). The 7.4 km-long walk that surrounds the two basins goes by the name of Alsterrunde and offers picture-like views over the city centre and the leafy recreational areas scattered around the bodies of water.
If you want a peaceful respite from hectic city life, then the 160-hectare Binnenalste lake is a must. Despite being situated in the heart of Hamburg, the pace of life is slower here, punctuated mainly by regular steamer boats, riverside eateries, and plenty of joggers.
This is a great place to grab a bite to eat. Pick up some hot pretzels from the many bakeries around the lake and enjoy them on one of the benches overlooking the water.
Then if you feel like cruising across the lake take a punt on one of the pedalo boats for around 14£ an hour.
WHITE CHRISTMAS MARKET
Once you have had your fill of nature, take a short stroll to the Jungfernstieg, a newly renovated area that features high-end shops such as Rolex and Tiffany & Co.
At this time of year, the Jungfernstieg plays host to the White Magic Christmas Market. Two lines of small white tents line the edge of the waterfront, within which you are treated to a vast array of toys, sweets, and hand-carved goods. Gone are the rustic wooden cabins and traditional German garbs, this is a market for the 21st century.
If you are still hungry, buy a bag of Schmalzgeback, similar to mini-doughnuts, for dessert.
BUS TOUR
From here jump on to one of the red double-decker buses of the city tour company Die Roten Doppeldecker.
This is an amazing and quick way to get to know the city. There are 28 stops in total and a full tour lasts for 90 minutes. The buses depart every 20 or 30 minutes, so you never have to wait for a long time. A day ticket costs 17.50 euros and with the Hamburg Card, you get a 2.50 euros discount.
As you pass the Town Hall then cross the HafenCity and the Speicherstadt, your charming bus guide will tell you all sorts of exciting and amusing details about the city. I swear you won't get bored and in fact, at least a couple of laughs are guaranteed.
Better yet, you can hop on and off the bus as much as you like. And this is why as we made our way towards St.Pauli, Gary and I made the impromptu decision to add St Michael Church to our itinerary.

ST MICHAEL CHURCH
St Michael Church is a 17th-century church and probably the most famous of its kind in the region. It also features Germany's largest clock tower. It is definitely one of the most beautiful churches I have ever seen.
Head into the church and admire the stunning baroque interiors. Entrance is free although a €2 donation is recommended. The Michel holds a short prayer service, followed by an organ concert, daily at noon.
If you have enough time and the queue isn't too long make sure you climb the 453 steps to the top of the 132m high tower for spectacular views of the city and harbour. Because the tower also has an elevator, this is a fantastic option for those with limited mobility or traveling with children. The observation deck is particularly special at night time. You will need to pay for a ticket to climb Michel's tower, but it only costs an affordable €4.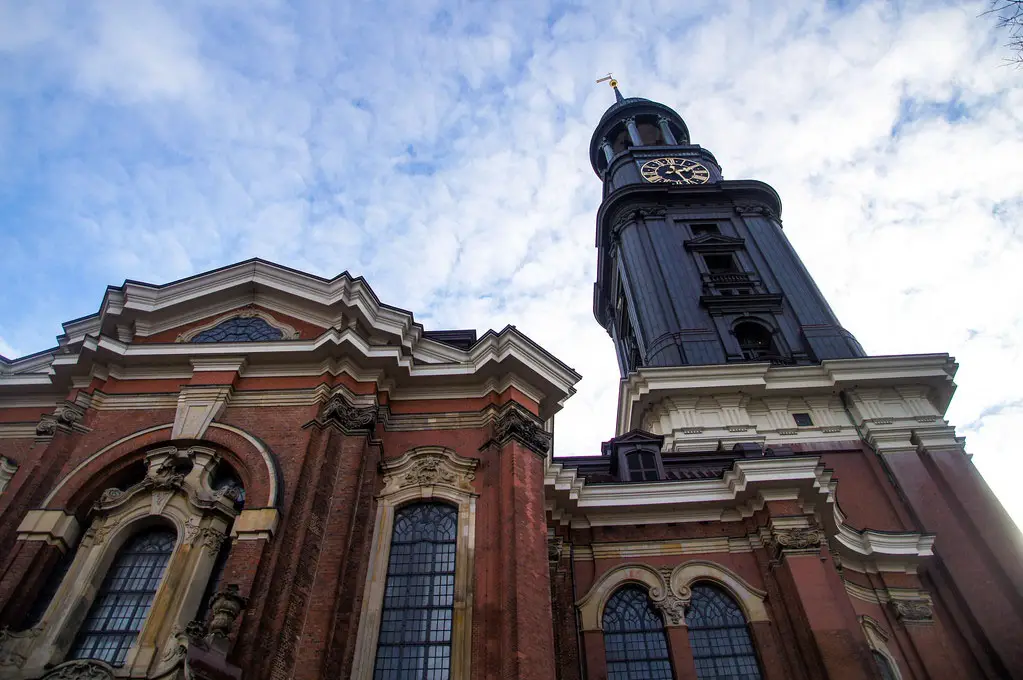 ST PAULI CHRISTMAS MARKET
Jump back onto the bus (the bus stop is right outside of the church) and head to St.Pauli, Hamburg's edgiest part of town, similar to Hackney or Shoreditch in London.
This neighbourhood is best known as Hamburg's Red Light District.  It is where The Beatles cut their teeth, what arguably the coolest football team St. Pauli FC call home, and where for years Sailors came for activities best described as bawdy and debaucherous. While the streets may be lined with sex shops, strip clubs, and some interesting characters, it's also home to many families, locally owned businesses, and Hamburg's nightlife. 
St Pauli embraces the Christmas Market like no other area could, or maybe would want to. You would be forgiven for thinking that an area like this would try to use the Christmas Market as a chance to cover over its somewhat sordid past, but instead, Hamburg does what Hamburg does best and embraces the rich St. Pauli history and spirit by hosting a strictly over 18s market. 
The Beatles obviously were fans of the area too since they played in St Pauli's clubs on numerous occasions. Personally, however, we loved this area for its fascinating architecture, friendly locals, and great cuisine.

WHERE AND WHAT TO EAT IN HAMBURG
FISHBROTCHEN AT NORDSEE
If you are looking for something quick to eat while you explore the harbour, then grab a Fischbrötchen at the Landungsbrücken. This is a Hamburg classic and only costs 2 Euros. Better yet the fish has been caught fresh on the day.
Watch the seagulls float above you, the sightseeing boats pass you by on the Elbe, the hearty bellow of the sightseeing tour operators drum up business while proceedings are punctuated by the ring of the clock tower bell every half an hour
CURRYWURST IN THE RATHAUSPASSAGE 
Currywurst is a quintessential German dish consisting of steamed pork sausage cut into slices and seasoned with warm curry ketchup.
The Rathaus metro station leads to a bustling passage known as 'Rathauspassage'. Here you will find many small eateries and cafes, all of them serving different varieties of currywurst.
Be sure to try the 'cheesewurst', which comes with sliced sausages and smoked German cheese.
BURGER AT BETTER BURGER 
On our second day in Hamburg, it started raining around lunchtime. So Gary and I decided to pop into the Better Burger Company. Although the exact origin of burgers may never be known with any certainty, Hamburg certainly knows how to make delicious ones.
The staff at the better Burger Company are very friendly and more than happy to explain the menu. With each burger, you get to choose up to five toppings including the sauce. I went for a beef burger with tomato, lettuce, onions, and BBQ sauce. The burger patties are prepared fresh every day from royal Danish cattle. The buns are provided by a well-established Hamburg bakery and are perfectly crunchy on the outside and soft on the inside. We ordered some scrumptious chips on the side and lemonades from a soda company based in Hamburg.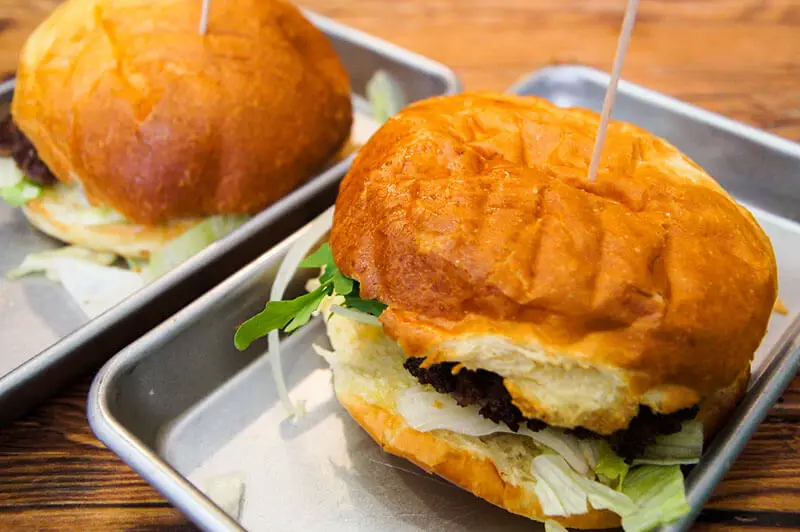 SUMMARY OF ITINERARY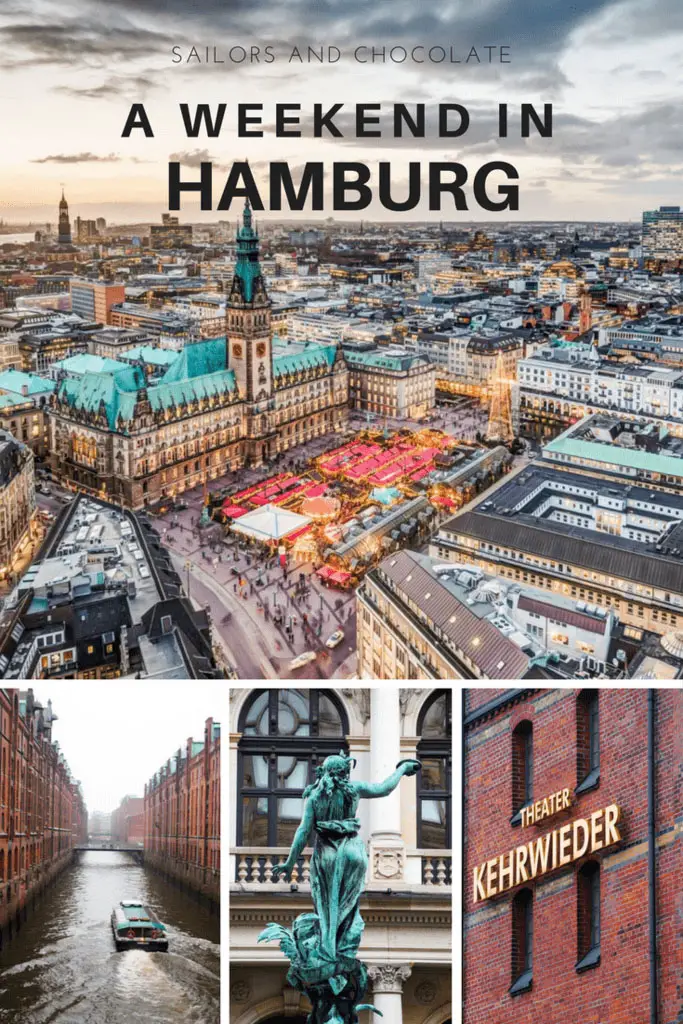 DAY 1
11am Land into Hamburg and Check-In to Hotel
12am Take Ferry to Landungsbrucken (£5) and grab a Fischbrotchen (£5)
1pm Explore the Speicherhafen
2pm Visit the Elphilharmonie and eat some cake (7£)
4pm  Visit the Maritime Museum (12£)
6pm Visit the Miniatur Wunderland (12£)
8pm Have Dinner (20£)
10pm Return to the Hotel
DAY 2
10am  Visit the Rathaus
11am Drink Gluhwein on the Christmas Market (7£)
12am Visit the Chocoversum (14£)
1.30pm Chilehaus
2pm Have Lunch at BetterBurger (10£)
3pm Visit the Jungfernstieg and the White Christmas Market
4pm Jump on a Double Decker Bus tour
4.30pm Visit St Michael Church (6£)
5.30pm Visit the St Pauli Christmas Market
7pm Catch your flight back
Note that I tend to pack our itineraries full activities.
The total cost of this trip was 577£ or 288.5£ per person
You can find more guides for Germany here. Or if you haven't fully decided where to go yet, you can find other great destinations in Europe here.
What is your favourite thing to do in Hamburg?
Let us know, in the comments below!
Did you Enjoy this article?
Share it with your friends and family on FACEBOOK, TWITTER AND PINTEREST