I love Wimbledon. In fact, Gary and I seriously considered moving here three years ago. And if the transport connections had been a tiny bit better, then we probably would have.
Wimbledon Village is charming and located in probably one of the prettiest boroughs of London. It retains a countryside feel although it is technically located in central London.
Wimbledon is of course well known for its tennis tournament, a summery cup of Pimms and Strawberries with cream. It is less famous however for its dining scene. When in fact some really great restaurants can be found in this southern part of London.
One of these fancy restaurants is the newly renovated Fire Stables. Once a favourite local pub, Fire Stables now specialises in serving up fresh fish.
So on a sunny weekend, Gary and I popped down South to visit the newly refurbished restaurant and to see just what has changed.
ABOUT THE NEWLY RE-OPENED FIREST WIMBLEDON
Fire Stables is actually a Young's Pub, although you probably wouldn't be able to tell from the outside. Young's has been running some of the best neighbourhood pubs in London since 1831. And none of their pubs is the same. Each pub reflects the village, suburb and streets that surround it.
Fire Stables has always been a popular pub in Wimbledon Village, but recently this old favourite has undergone a remarkable and extensive renovation. Not only did Fire Stables revamp its look, the owners also decided to review its menu.
The restaurant's new look is timelessly classic with a touch of Parisian cafe charm, in keeping the easy-going sophistication synonymous with the Wimbledon Village area. The menu reflects this sentiment, championing the very best of seasonally-sourced ingredients with an emphasis on fresh fish.
The restaurant is open all day, every day for everything from a light lunch to three-course dinners, and of course brunch at the weekend.
LOCATION OF FIRESTABLES – WIMBLEDON VILLAGE
Fire Stables is located on Church Road in the very popular Wimbledon Village, only a couple of court lengths from the All England Lawn Tennis Club. So don't be surprised if you bump into players or their coaches enjoying a meal during the famous Wimbledon Tournament.
Wimbledon Village's High Street is full of beautiful old buildings housing small shops, cafes and pubs with a wonderful country feel for somewhere still connected to central London by the tube.
It's a very horsey place too! A group of riders clip clopped past as we were visiting. They are actually such a common occurrence that the crossing lights have horses on them instead of pedestrians!
At Wimbledon Village, you can browse around a proper old book shop or shop to your heart's content. Walking up the High Street there are plenty of places you can go treat yourself. The high-end High Street giants all have a home here – Reiss, Whistles and Jigsaw, Space NK and Neal's Yard Remedies to name a few.
And café culture is at large in this part of SW19. If you are visiting and haven't had your morning cuppa yet, don't fret, in Wimbledon Village, you will be spoilt for choice.
Wimbledon and especially Wimbledon Village is a very residential area, featuring beautiful traditional British mansions.  It's all in the detail – the doors, the windows, the flora. If we hadn't been on a time limit, we could have strolled around for hours cooing over a letterbox, or ornate door knocker.
Besides the architecture overload, Wimbledon is surrounded by some lush greenery – Wimbledon Common and the grade II listed Cannizaro Park. All you need is a little sunshine and a picnic for the makings of a perfect day.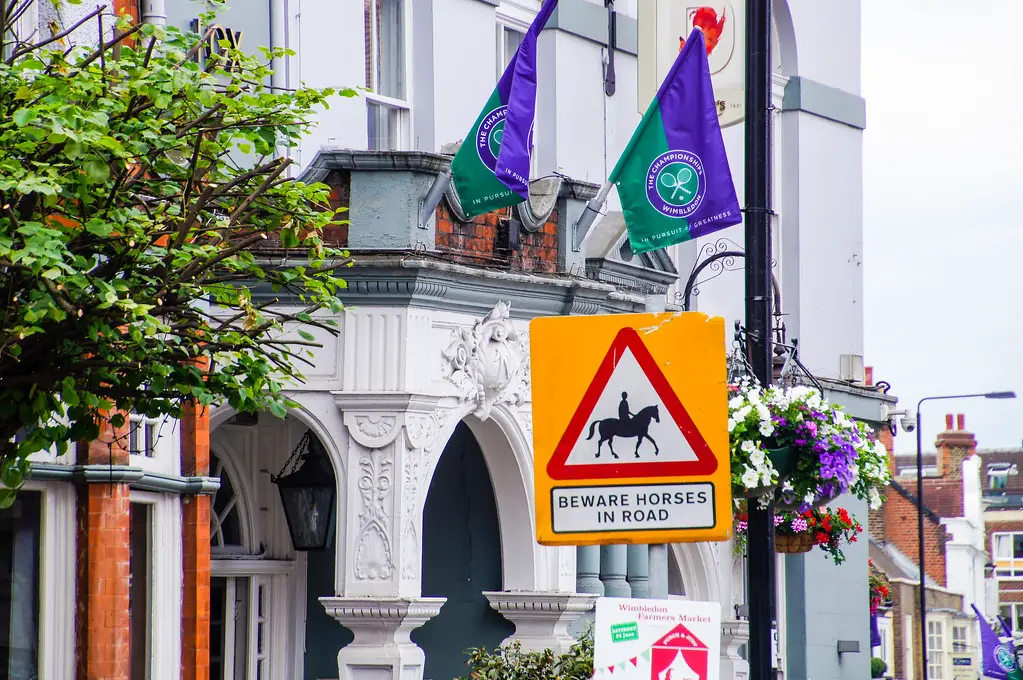 INTERIOR AND ATMOSPHERE AT FIRE STABLES
Fire Stables looks very sophisticated both from outside as well as inside. While the décor is clearly modern, it still feels very inviting.
The relatively large space is decorated and partitioned with book cases, large sofas and booths creating little private nooks that are perfect if you are having dinner for two. There is something quirky to see in every corner, from odd books to Knick Knacks, and the big fire place gives the restaurant homely feel. And the walls are covered in unique Victorian drawings and artefacts, interspersed with vintage mirrors and low-lighting.
The space has been divided into three distinct areas. The front of the dining room, near the floor to ceiling height windows, is light and airy with high ceilings. This part of the restaurant is dominated by a magnificent statement glass chandelier and 1920s-style lights. The bar area and wine cabinet continue the restaurant's rich colour palette of British racing green, black and tobacco. High bar chairs, couple's booths and brown leather sofas in front of the working fireplace provide the idyllic spot for an aperitif or a relaxing post-dinner cocktail. At the rear, stone floors, exposed brick walls and leather banquette seating create a more low-key and comfortable atmosphere.
Overall, Fire Stables is a place you could happily spend a couple of hours in, drinking and enjoying the atmosphere with your friends and family. Indeed Fire Stables is very family friendly. The day we were visiting two young couples with their new born babies were having a catch-up at the table beside us.
DRINK CHOICE AT FIRE STABLES WIMBLEDON
Whether you are a wine lover or a beer fanatic, Fire Stables has got you covered. Order a local craft beer from the rotating collection behind the bar or take your pick from a global collection of wines, organised by flavour rather than region, each perfectly paired with dishes on the menu. If bubbles are more your taste, choose from a carefully selected range of vintage and non-vintage champagnes.
Gary and I actually ended up sharing a bottle of house white wine. It was refreshingly dry, perfect for a summer afternoon and paired wonderfully with my sea trout and fennel salad.
THE WIMBLEDON CHAMPIONSHIP MENU AT FIRE STABLES
The menu at Fire Stables is very comprehensive, offering a wide range of dishes from fish to beef and pork. Standout dishes from Britain's fields include corn-fed chicken breast with leg croquette, truffled sweetcorn puree, smoked bacon and a watercress jus; and lamb rump with belly croutons, gem lettuce and Montgomery cheddar with a Caesar dressing. The restaurant also offers roast dinners on Sundays -serving up sizeable portions of either aged beef sirloin, corn-fed chicken with wild boar stuffing or roasted cauliflower with spiced tempura and apple caramel – and we will definitely be back for one of those.
Fire Stables is particularly well known however for its fresh fish. Whilst IPA beer battered cod and chips make an appearance on the menu, I would suggest you keep your eye out for the list of fish and shellfish prominently displayed on the blackboard. This list changes every day and includes crab, sea bass, sea bream, trout and salmon. If you are looking for that extra touch of opulence, pre-order lobster or crab – the restaurant will source them directly from the boat that morning especially for you. The daily catch is usually attractively displayed in a fish counter at the front of the restaurant. So you really cannot miss it.
The menu's modern twist on classic desserts includes chocolate brownie, griottine cherries and peanut butter ice cream, as well as vanilla cheesecake with rhubarb doughnuts and Earl Grey gel.
In general, Fire Stables champions seasonally sourced ingredients and the menu will vary depending on the month you visit. The kitchen's guiding principle is to source the best ingredients and to treat them with the utmost respect, supporting the UK's fishermen and farmers. I don't know about you, but I always like to see this type of ethic in restaurants that I chose to patron.
STARTERS AT FIRE STABLES WIMBLEDON
SCALLOPS WITH PEAS, BROADBEANS AND SCRAPS
As a starter, I chose a classic and one of my all-time favourites: pan seared scallops with pea puree.
Fire Stables has modified the well-known recipe however and added broad beans and scraps (the bits that are left over from battering fish) to the mix. I definitely approved of these additions. The broad beans added a certain amount of umami whilst the scraps varied up the texture, adding some needed crunchiness to the dish.
The dish was also slightly spicy, although I couldn't quite make out what exactly added said heat.
The scallops were beautifully cooked (not overdone at all), delightfully plump and full of flavour. And the puree type dressing and scattered micro herbs finished off the starter perfectly.
CHICKEN TERRINE WITH CONFIT YOLK AND SAVOURY GRANOLA
For his starter, Gary ordered the Chicken Terrine and I must say neither one of us were particularly impressed. Having tasted it, this was the only dish at Fire Stables I didn't really enjoy.
Sadly the pate was very dry, and even the fresh runny yolk served on the side didn't help much in moistening my palette.
On the positive side, I enjoyed the mustard powder that was added to the terrine mix and had the terrine been slightly moister the roasted kernels would have been a brilliant crunchy addition.
MAINS AT FIRE STABLES WIMBLEDON
SEA TROUT WITH ROASTED POTATOES AND FENNEL SALAD
For the main course, I obviously ordered the daily catch from the fish board – in my case a lovely and generous fillet of sea trout. I could eat this day every day of the week, I loved it so much. The skin was crisp and the flesh itself so soft and flaky it literally slid away when touched by a fork. I believe the sea trout was baked or finished on the grill, giving it a light char.
My Sea Trout (as are any of the fish dishes) was accompanied by a freshly made fennel, apple, radish, chive and dill salad as well as crushed Cornish Mids with spring onions. This is the first time I have come across the term Cornish Mids, but they are basically crushed and roasted potatoes.
You can, of course, order a lemon and chive butter sauce or an absurdly creamy hollandaise. I opted to keep mine plain and let the Sea Trout shine. A good choice in my opinion.
Simply put, this is how great fish should be cooked, served and eaten.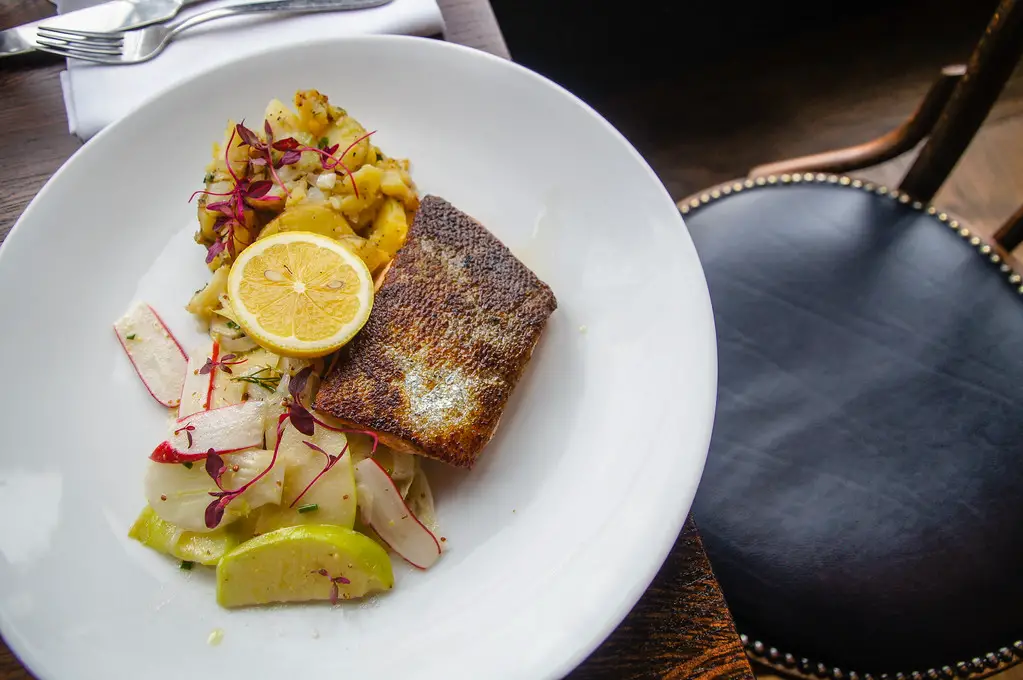 STICKY RIBS WITH GRATIN DAUPHINOIS
Gary, being a picker eater, never eats fish. Instead, he opted to order the slow cooked barbecue beef short ribs. The meat was well cooked and fell off the bone. The sauce was sticky in that barbecuey way, although it wasn't as sweet as some barbecue sauces can get. Which is definitely a good thing!
The ribs were served with fresh broccoli and dauphinoise potatoes. The dauphinoise potatoes were lovely, really cheesy and nicely grilled on top.
Definitely a moreish dish!
DESSERT AT FIRE STABLES WIMBLEDON
CHOCOLATE BROWNIE WITH SALTED CARAMEL ICE-CREAM AND CHERRIES
Dessert is always one of our favourite parts of a meal. So  we couldn't wait to get stuck into Fire Stables desserts menu.
Gary chose the Chocolate Brownie. It was heavy, gooey, rich and served with a crisscross chocolate design. Even better yet the brownie came with sweet macerated cherries and a salted caramel ice-cream.
It is a good thing there is a park near the restaurant, because this incredibly sweet desert definitely heaps on the pounds, in a good way.
STRAWBERRY AND CREAM ETON MESS
I don't think anyone should eat out in Wimbledon without having Eton Mess for dessert, so I chose this classic to finish off my meal.
And I'm glad I did – the crispy, chewy crushed meringue with mascarpone and lashings of whipped cream was perfectly complimented by sweet fresh strawberries and a strawberry coulis.
There was nothing really different about this dessert, but then there was no need for there to be either. Eton Mess, in all its forms, is a firm favourite of mine.
FINAL THOUGHTS ABOUT THE NEWLY RE-OPENED FIRE STABLES IN WIMBLEDON

Overall, we both really enjoyed our visit to Fire Stables in Wimbledon. It took us about an hour and a half to get there with public transport from North East London, but it was definitely worth the trek.
My favourite dish was the Sea Trout. The kitchen kept this main course relatively simple but it is all I needed on a hot sunny summer day. Paired with a glass of white whine, I was in foodie heaven.
Whether you're seeking shade following an afternoon at the tennis, a romantic evening or a lazy Sunday, I would highly recommend spending it at Fire Stables in this cosy part of Wimbledon Village.
FIRE STABLES
27-29 Church Rd, Wimbledon, London SW19 5DQ
I would like to thank Fire Stables for hosting A Life Beautifully Travelled as part of this review. All views expressed here are my own.