Over the last two years vegetarian and vegan restaurants seem to have popped up all over London.
Whilst I am neither a vegetarian nor a vegan, I am generally open to all types of cuisines and relish anything that comes close to a new experience. I was therefore pretty excited when I was invited to pop into Bhuti, Richmond's newest wellbeing centre.
The last months have been extremely stressful and nerve-racking. Not only am I currently holding down a full-time job in an architectural practice, I am also completing the final part of my architectural education. This involves several exams, as well as a whole bunch of extra work.
 No need to say, I was in dire need of some relaxation. The invitation to Bhuti in Richmond could therefore not have come at a better time. So a couple of weeks ago, me and a friend spent our day off exploring Richmond Park before stopping by Bhuti's for a delicious, healthy, and energising lunch.
LOCATION OF BHUTI – RICHMOND
Home to royal parks, Michelin star restaurants and scenic views of the Thames, the borough of Richmond has long been a favourite destination with Londoners looking for a calmer way of life. If you are a yummy mummy or keen Instagrammer, Richmond is definitely your type of plank.
Bhuti is tucked away on Richmond Hill, a ten-minute walk from the main station. Blink and you might miss it. Don't let that put you off though, this place is well worth finding.
Located just a three-minute walk from the River Thames in green and leafy Richmond, it is the perfect place to find some inner peace and relaxation.
ABOUT BHUTI
Bhuti opened its doors at the beginning of 2016 and is a sister company to the Bingham Spa. This centre for wellbeing (both inner and outer) was the vision of Samantha Trinder, who has always had a passion for health and wellbeing. The centre's slogan fittingly is "Find your inner Bhuti" – Bhuti being a Sanskrit word, which refers to one's feeling of well-being and inner balance.  "There isn't really a direct translation. It's that feeling when you feel most like… you." Sanskrit is the language of Eastern spirituality and the ancient texts of Yoga and Ayurveda were written in it. Having originated in India more than 3,000 years ago, Ayurveda is one of the world's oldest medical systems. Focused around the body's constitution (prakriti), and life forces (dosha), which are often compared to the biologic humours of the ancient Greek system, an Ayurvedic consultant will assess your type, and then put together an individualised plan centred on diet and wellbeing. Yoga, meditation and other forms of relaxation therapy are a wonderful way to calm down and reduce stress in our hectic city lives. Their effect on our wellbeing is even more effective when it is topped off with a balanced and healthy diet. Bhuti combines these elements beautifully in a surrounding that makes it easy to relax in! The centre boasts a small shop, a wellbeing centre and the bit I was most interested in – a vegan tea room. Bhuti's wellbeing centre is home to regular yoga and pilates classes, as well as nutrition workshops. In its six treatment rooms, Bhuti offers holistic, natural spa treatments using eco-luxe brands such as Oskia, Ila, Neom, Live Native and Elemental Herbology.  Here you will also find a Mani/Pedi area and a lounge for deep relaxation.
INTERIOR AND ATMOSPHERE AT BHUTI
From outside, Bhuti appears deceivingly small. At street level all you can see is Bhuti's shop front. And perhaps (at a push) its café a little further behind. As you step through the glass doors of the entrance area, you find yourself in a little shop that sells gym clothing, natural cosmetics as well as jewellery. I could have spent all day here taking pictures of the exposed brick walls in the light-flooded room. From the shop, a few steps up lead to the Vegan Tea Room, whilst a stair leads down to the spa area. The treatment rooms are located upstairs just past Bhuti's café. Before we sat down for lunch, my friend and I were kindly invited to look around the facilities – the treatment rooms, different yoga and pilates studios and the special member's areas. Whilst walking around the deceivingly big building, a gentle incense smell lulled me into a relaxed mood. The combination of soothing sounds, earthy hues and the smell of aromatic oils immediately brought on a sense of calm.
Both my friend and I were impressed by the church like interior of the main yoga studio. The glass roof flooded the grandiose space with light, which then bounced of the white painted timber wall panels. Circles of colour, created random patterns on the wooden floor, where daylight shone through the stained glass. The space felt like a breath of fresh air, an oasis of calm in the busy city of London. It was truly the most relaxing yoga studio I had ever visited.
Another room that made us feel right at home was the member's lounge. Three very comfortable looking 'nests' hung from the ceiling above a seagrass carpet. Two sofas and a bed also populated the room. We were told that the space had been designed by an expert in Vastu Shastra, the Indian version of Feng Shui, using natural eco materials in earthy hues. And I can say it felt wonderfully peaceful. A couple of candles were lit, and hot tea, as well as some reading material on mindfulness, had been provided for.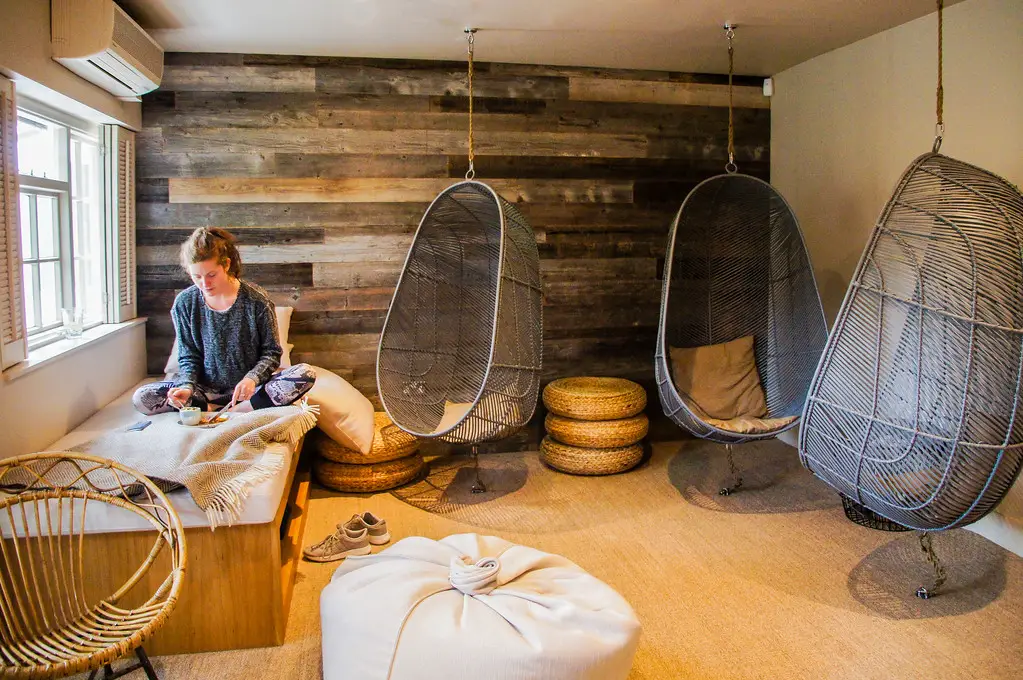 Back in the Vegan Café, I really enjoyed the fact that the kitchen and dining area were so small. This encouraged interaction between the various guests. I also loved the open plan set-up. We could watch Eli prepare our meal from scratch and I really felt her love and passion for the task at hand.
FOOD AT BHUTI VEGAN TEA ROOM
Bhuti's fully vegan, organic, gluten-free, refined sugar-free and mostly raw menu was designed by head chef Eli. Eli used to be the chef at RAW at La Suite West and has been vegan for year.  The menu includes a whole variety of snacks, drinks and dishes. Bhuti serves up raw cakes, millet porridge, buckwheat toast with toppings, chia pudding, raw brownies, breakfast smoothies, hot soup, nori rolls and tea infusions just to name a small selection.
ENERGY BOOSTING BEVERAGES
When it comes to hot drinks the focus is on different kinds of tea, of course. My friend orders a ginger, lemon and lemongrass tea. There is actually a wide variety of herbs and fruit on the menu and you can choose up to three of them. The fresh ingredients are added to a sieve and infused in a small pot of hot water to your own discretion. I on the other hand decide to give the matcha latte a go. Matcha Lattes have become incredibly popular, but this one is unique, it has been made with coconut milk. The hint of coconut pairs well with the matcha tea.
A SELECTION OF NUTRIENT RICH FOOD
Heading to the vegan tearoom, we scan the nutrient-rich organic menu and order the daily special, the rainbow salad and the carrot soup. You also have the option to have a main and cake for £10 which is unbelievably good value in my eyes. The selection of dishes is brought to our table and we both dig in. The carrot soup is rich, velvety and really fresh. There is a slight hint of spice to it too. The quinoa, roast aubergine, almond and squash Middle Eastern medley was absolutely delicious! I am not vegan but a big fan of cutting down on meat – it is therefore a pleasure to discover dishes that are tasty without the need for meat. The lemon zest and turmeric certainly help pump up the taste. Rainbow salad is fresh, crunchy and packed with vitamins. It comes with carrots, beetroot, lettuce and rocket. To my delight the salad is sprinkled with sunflower seeds and garnished with a mustard dressing.
FINGERLICKING DESSERTS
For dessert I order the raw chocolate and peanut cookie, while my friend gets a pistachio energy ball. It was actually really hard to believe that neither contained any refined sugar as they were so divine. The peanut and chocolate was packed full of nuts and peanut butter, then topped with a hard raw chocolate shell. It tasted so indulgent!
FINAL WORDS ABOUT BHUTI RICHMOND
All in all, I would wholeheartedly recommend Bhuti to anyone.
Whether you're looking for a full lunch or just a healthy latte and a sweet treat, pop into this vegan tearoom if you happen to be passing through Richmond.
The prices aren't too bad either considering how good the quality and how fresh the food is.
I can't wait to visit again soon.
I also wanted to mention that Bhuti offers a full well-being membership which includes unlimited access to all of their classes, workshops, and events.
If you are scared to commit, however, Bhuti also has drop-in rates for the individual classes.
Membership and classes are not inexpensive but a wonderful way to treat yourself.