Back in March, Gary (my boyfriend) and I decided to escape the city and head into the countryside to stay at Saint Pierre Marriott Hotel. It had been a while since we went on a proper holiday. So we spoilt ourselves with a weekend trip to Wales.
Because Wales is located a fair distance away from London, we spent the night near Cardiff. Gary was keen to visit the
Clifton Suspension Bridge
and suggested we stay in a hotel in nearby Bristol. I however just wanted to find a romantic location for the two of us to enjoy.
Since Cardiff is just around the corner from Bristol, I argued that we might as well make it a proper holiday and spend the right in a different country.
LOCATION OF SAINT PIERRE MARRIOTT HOTEL
 It takes approximately three hours by car from London to Cardiff. The shortest route there takes you across the River Severn, through a tollbooth. We paid 4.50£ for the privilege of driving across one of the two bridges.
Saint Pierre Marriott Hotel is set amidst the picturesque rolling hills of the Wye Valley and only 30 minutes away by car from Cardiff.
Driving down the half mile tree lined avenue was the perfect opening act to your stay and left an awe-inspiring impression.
Saint Pierre Marriott Hotel is built around a charming 14th century Manor and beautiful 11th century Church. It is also one of the most renowned golf country club destinations and a relaxing spa.
The Church of St Peter is the oldest building on the estate dating around 1065 but has been considerably restored from then.
Saint Pierre Marriott Hotel would probably be the perfect place to host your wedding. One could get married in the church and then have a reception in the main building of the hotel.
CHECK-IN AT SAINT PIERRE MARRIOTT HOTEL
The reception of the hotel is located in the old castle-like manor. Our check-in was extremely smooth and we decided to upgraded our stay to include breakfast for an additional ten pounds. We were allocated a double room in the modern extension, and in total payed 120£ for the night.
The hotel has a total of  148 bedrooms in the main building and extension and an additional 16 cottage style suites.
For an extra special stay, one can book a suite in one of these mews style cottage in the forecourt of the manor. These are dotted around the courtyard facing towards the hotel entrance. Each cottage is named after a flower, a very charming touch.
There is also an additional modern extension to the main century building. This is were we stayed. Whilst some rooms in the extension face the lake, others are face the golf course.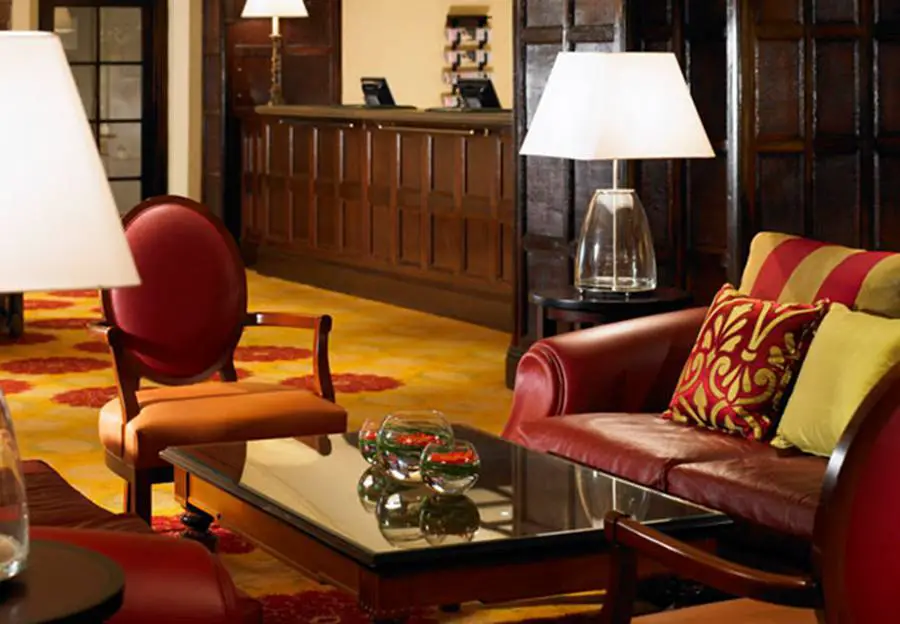 OUR ROOM AT SAINT PIERRE MARRIOTT HOTEL
 It's a shame that the modern addition to the hotel does not integrate as well with the 14th century manor and Norman Church, as I would have expected it to. Our room however was perfectly comfortable and faced the quiet golf course.
 Though our room was modern, it had a certain old-fashioned charm and it was always flooded with light coming through from the large window.
There was everything in the room that you could need for a romantic escape including a 40 inch flat screen TV and the softest of bed sheets.
The room at Saint Pierre Marriott Hotel also featured a separate lounge area with a very large desk.
 Tea and coffee facilities were provided in our room and we found a good selection of grooming products in the bathroom.
 FACILITIES AT SAINT PIERRE MARRIOTT HOTEL
The grounds are obviously well kept, being looked after by the friendly groundstaff daily, mowing the lawns and seeing to the plants with a smile on their faces.
Because our stay was very brief we unfortunately did not make use of the spa. The sauna, steam room and gym are open to the health club members as well as all the hotel guests.
Breakfast was served in the main restaurant. The gigantic buffet offered both full-english and continental options. Overall the buffet had a good selection of food, with all the basics covered (cereals, yogurt, fruit, bread and so forth). There was also a che on hand making fresh omelettes to order.
Key hotel information
Two 18-hole golf courses including Championship Old Course
Two restaurants
11 meetings rooms
14th century manor
Pool
Spa
Fitness Center
Extensive Parking
400 acres of beautiful parkland
Two floodlit tennis court
ACTIVITIES NEAR SAINT PIERRE MARRIOTT HOTEL
The drive to Wales was relatively long so we stayed on the property of the hotel. However for Dinner, Gary and I drove into Cardiff. It wasn't a long drive (about 30 minutes) and meant that we had a lot more options to choose from. 
Although we were originally hoping to spend the evening at The Potted Pig, we weren't able to get a table and instead had a lovely meal at Greenwood and Brown.
The next day, after a long luxurious breakfast, Gary and I bid our farewell to the Saint Pierre Marriott Hotel and headed back towards London. We did, however, stop in Bristol where we spent a fun-packed day before returning back home.