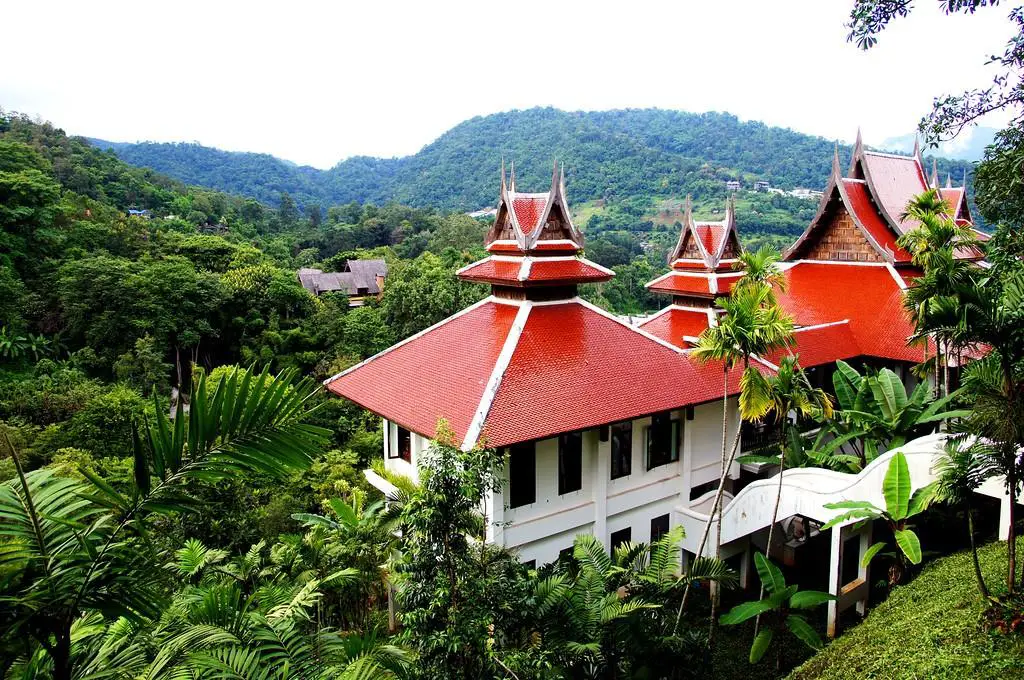 Perched high up in the mountains to the North of Chiang Mai, between jungle and clouds, and with sweeping views of the surrounding countryside, lies a true paradise, come to earth. A one hour's drive from the city of Chiang Mai,
Panviman Spa Resort
is a secluded four-star resort located high up in the Mae Rim Valley. Its name Panviman literally translates to "Paradise-like".
After a couple of days spent exploring the buzzing metropolis of Bangkok, and the riverside town of Chiang Rai, we couldn't wait to immerse ourselves in nature and experience Thailand's remote and wild mountainous region. This area of Thailand is unlike anything we experienced in Thailand.
If you are planning to spend several days in Chiang Mai, you might want to consider splitting your time between the city and the surrounding mountainous region. We certainly didn't regret making this decision. It allowed us to experiwnce and enjoy a little bit of both worlds.
ABOUT PANVIMAN CHIANG MAI SPA RESORT
Panviman Chiang Mai  Spa Resort  is a secluded mountain resort, surrounded by a tropical forest and several flower and vegetable farms.
It is the newest of a trio of worldwide  Panviman resorts and one of the finest hotels of its sort in this part of Thailand. Indeed it has won several awards, including the Thai Tourism Award for two consecutive years.
What's great about Panviman, in my opinion, is that although it's a luxurious property in a beautiful setting, the packages this branch offer are actually quite reasonable, making it accessible to a wide range of travellers – some of whom might not normally be able to stay in a place similar to this in other parts of the world.
Panviman Chiang Mai Resort offers a range of different styles of rooms and villas. We stayed in a Jacuzzi Villa, of which there are 7, which came with its own private jacuzzi tub on the back balcony overlooking the tree canopy. There are also seven Steam Villas, with their own private steam rooms, which I believe are slightly cheaper than the Jacuzzi Villas. Those that can afford a bigger splurge, might want to opt for one of the four Pool Villas or two-bedroom Family Villa. The prior have private infinity pools and the latter are perfect for families that would like to have multiple bedrooms. Finally, Panviman Resort also offers twenty-four king-sized bedrooms. These are the more budget friendly option and are located in the main building in a more conventional hotel set-up. Although a bit smaller than our villa, these rooms are still gorgeously decorated and have their own private balcony, overlooking the mountainous scenery. Thus Panviman Spa Resort cater to a variety of budgets for any luxury resort goer. With different price packages for all of these, there is something for everyone.
LOCATION OF PANVIMAN CHIANG MAI SPA RESORT
Panviman Resort is set in the breathtaking terrain of the Mae Rim Valley, a beautiful province North of Chiang Mai.
Although its location feels serene and entirely remote, it actually only takes an hour drive (approximately) 30 kilometres to get you to downtown of Chang Mai,  where millions of visitors escape to every year in search of temple ruins, responsible elephant walks, bustling markets and Thai culture.
The resort keeps itself purposefully slightly separate from busy city life, to offer its guests an extremely peaceful and relaxing experience.
However, for those who still want their slice of city life, Panviman Chiang Mai Resort actually offers a regular and complimentary shuttle service to and from town, which makes it the ideal base to unpack your bags, kick off your shoes and relax while you still get a chance to explore Chiang Mai.
ATMOSPHERE AND SERVICE AT PANVIMAN CHIANG MAI SPA RESORT
Let me start by saying that the name Panviman, ie heaven-like, entirely does this resort justice. We had a fabulous time here and only wish we could have stayed longer.
At Panviman Spa Resort no expense has been spared to create the perfect setting for your holiday. From the first moment you set foot on the property, it is clear that it's owner is a culture, nature, art and design enthusiast with high standards and impeccable taste. From the traditional Lanna Thai architecture, to the contemporary natural interior decor and the luscious landscape gardening, everything has been thought out in detail.
Surrounded by sublime botanics the grounds of the reaort are flooded with teak and palm trees, blooming with flowers, and buzzing with bees and butterflies. With peaceful waterfalls, three infinity pools, expert masseuses and even a peacock, guests will feel as if they've left the real world and entered heaven on earth.
If you're not bowled over by the Panviman's natural surroundings and impressive exterior wait until you get inside the buildings. The architecture and interior decoration of Panviman Spa resort takes inspiration from both Ayuthaya and Lanna  traditional northern Thai styles. However it does this in a modern way. The resulting combination is a clean, modern look with an inviting and luxurious feel. The intricate dark wood furniture stands out against clean crisp white linen and the rooms are bathed in warm and welcoming lighting.
You could easily spend a few weeks on Panviman Chiang Mai Resort's sprawling property without getting bored, and some actually do. IndeedPanviman is the perfect resort if you're looking to rest your mind and rejuvenate your body.
SERVICE AT PANVIMAN CHIANG MAI SPA RESORT
Anyone who has ever travelled to Thailand will understand what I mean by Thai hospitality.  Indeed the reputation this country has as the land of smiles is very well deserved.
However the staff at Panviman Spa Resort takes Thai hospitability to the next level. From the gracious driver that picked us up from our apartment, to being welcomed with warm tea and a cold towel at reception, we always felt like royalty.
Charles Sittichai, the hotel manager, even took the time out of his busy schedule to show us around the grounds and it quickly became apparent just how passionate and proud of his work he was.
The staff were courteous, from the gardeners always greeting us with a "saweedi ka" to the maids fulfilling any of our requests. In fact everyone we met, the front desk, the waiters, the cleaners, the gardeners, the drivers, made sure to honour us with a smile and greet us as we passed by.  We never felt dismissed or looked down upon because of our age or well-worn clothes. That's not only how a good establishment should ve run, it also greatly contributed in making us feel at home, comfortable and well looked after.
CHECK-IN AT PANVIMAN CHIANG MAI SPA RESORT
From the moment we arrived at Panviman Resort we were greeted and treated like a celebrated member of an executive club.
Our journey to Panviman Spa Resort started with a rather tiring four hour drive across North Thailand from Chiang Rai, where we we stayed at the Le Meridien. However as soon as we stepped onto the property we felt relaxed and all our travel woes were quick forgotten.
As our taxi driver pulled up outside the resort following a scenic 40 minute drive around the Samoeng loop, we were met by a friendly security guard who assisted us with our luggage and camera equipment, loading them carefully into the back of a golf buggy which then transported us up a steep incline to the hotel lobby.
The lobby itself is at the heart of the resort and makes rhe mist of its stunning setting. You are immediately hit by the breathtaking view across the Mae Rim Valley, and then gradually take-in the tradtional Thai furniture of the lobbby. A beautiful four posted seating area draped with large white curtains carefully teeters over the cliff and starts your stay with the perfect photo opportunity.
After your eyes have taken in the views and your wonderful surroundings, you soon begin to notice just how kind and courteous all the staff are. This is a credit to the general manager Charles Sittichai, whose calm nature and life long experience working in the luxury hotel industry has left him with a wealth of knowledge and some interesting stories to tell. He has literally been there and fixed it all.
On arrival in the lobby, we were presented with a delicious Blue Bean drink, refreshing towels and a token for the gift shop! The token can be swapped for a keyring, soap or a pencil, which is a lovely way to be welcomed.
Set on a mountain, the walk to the rooms is pretty steep, but golf buggies are always available to ferry you and your luggage up to your villa. Gary and I actually enjoyed the brisk work and gentle cardio exercise every morning after breakfast, but did hop on one of the buggies the first time round.
Arriving at our Jacuzzi Villa we were kindly welcomed with a fruit basket and a couple of delicious cookies.
OUR ROOM AT PANVIMAN CHIANG MAI SPA RESORT
Each Villa is self-contained, surrounded by luxuriant nature, with sublime palm trees everywhere, exotic birds and plenty of butterflies.
As soon as we walked in to the Jacuzzi Villa, that we were lucky to call home for the next two nights, we were more than impressed. In fact it took a lot of effort to restrain ourselves and contain our excitement until our luggage had been brought inside and we were left to our own devices. Let me tell you now, the Jacuzzi villa is not only generous on size but also in amenities.
To the left of the entrance sits a large bathroom and to the right is the huge airy living space with contains a very large bed, positioned in line with a private balcony that drops out onto a picture perfect scene of North Thailand's tropical jungle.
The Villa is decorated in the traditional Northern Thai way in warm and gentle earth tones, with a high ceiling, lots of beautiful wood furniture and wonderful art work.  I was especially impressed by the attention paid to details, such as the door and window handles, all carved put of wood to represent  flowers on branches.
A flickering aromatic candle welcomed us to the room and immediately made us feel relaxed.
In the morning, rays of sunlight escaped into our room through the light curtains and woke us up in the most gentle way possible. As we came to ourselves we were struck by the spectacular view of the forest.
After finally convincing myself to rise from the comfort of our plush king-sized bed, I slipped on the complimentary dressing gown and soft padded slippers, made myself a cup of coffee and enjoyed the first moment of the day outside on our private terrace.
Most of the Jacuzzi Villa is taken over by the main living space, which also serves as the bedroom. The space itself is massive, covered by a traditional Thai roof. And I fell in love with the wooden fanlight that crowned th top of it.
This room contains probably the biggest bed, I have ever had the pleasure to sleep in. The mattress is set-up on a large wooden base. And I must admit, it's low height, took some getting used to.
The living space, also contains a TV console, two desks and a beautiful sofa nook, to read or simply relax in.
Two enormous sliding doors open the room up to nature and lead onto the generous private balcony.
It was the most romantic place we have ever spent the night so far. We fell asleep on the comfortable bed with the curtains wide open knowing full well that the next morning, when the sunlight emerged once again we would be treated to another spectacular view of the country we have come to love so dearly.
I love the look and feel of the bathroom. Again everything has been kept quite traditional.
The large sink is made of timber and there is plenty of space on the wooden shelving to store your make-up and beauty products.
The shower is enormous, tiled with blue ceramic and even has a little ledge to sit-on. A glass door opens from the bathroom onto the balcony, immersing you in nature, even whilst you are getting ready.
The best part of the Jacuzzi Villa , has to be the large private balcony and Jacuzzi located on the deck. If anything says romantic weekend, it's a private Jacuzzi looking out into the Thai jungle. And we certainly made the most of it.
The terrace has also been furnished with a swinging settee, two deck chairs and a small table. The perfect spot to enjoy your morning coffee.
The Villa is surrounded by woodland, so whilst out there, it's impossible not to relax to the sounds of nature: birds, crickets and even a peacock!
I was impressed with the personal touches shown by the resort.  We were given a fruit basket when we arrived in our room, which was a perfect snack after soaking in the tub. Also every night a staff member dropped off crispy cookies on a cute white platter!  All of these extras made us feel rather special and well looked after.
RESTAURANT AT PANVIMAN CHIANG MAI SPA RESORT
Panviman gorgeous Panorama Restaurant is open from 10am – 10pm both for both guests and visitors. In fact we were told that many tourist visit just to enjoy dinner with a panoramic view.
Unfortunately, the basic decor in the restaurant is slightly disappointing and doesn't meet the design standards of the rest of the resort. The panoramic view across the resorts swimming pools and the gree Mae Rim Valley, however, more than makeup for it.
We ate at Panviman's restaurant, twice over the course of our stay. Once for lunch and once for dinner.
The restaurant offers both Thai and Western choices. As usually when in a new country I opted for the local food on both occasions – a very spicy Thai salmon salad for lunch and a cashew chicken stir-fry for dinner. Gary, on the other hand, was missing Western fair and thus ordered a delicious burger as soon as we arrived.      In the evening however, he chose a Lana-style beef dish. To our surprise and delight, the rice was served in a bamboo leaf.
It seems the Panviman restaurant is expert in the local cuisine. Everything tasted healthy and fresh, not surprising since much of the produces comes from an organic garden within the resort.
BREAKFAST AT PANVIMAN CHIANG MAI SPA RESORT
Breakfast was delicious and coupled with panoramic views. The location of Panviman Spa Resort is simply breathtaking. It is perched high up in the mountains and the view looking out over the valley from the dining hall is incredible.
Like most Thai hotels, Panviman Spa Resort offers cooked breakfasts, as well as a buffet of cold oprions including yoghurt, fruits, Thai options, cereals and toast. But unlike most Thai hotels, Panviman Chiang Mai goes a step further: lots of their fresh fruit and veg is grown organically in their own plots.
Panviman also make their own jams and juices! I'm not much of a jam person, but even I couldn't resist trying some of the more exotic options.
Breakfast is one of my favourite things – and Panviman certainly did not disappoint with theirs!  The fruits were organic and grown on-site, the omelets were light and fluffy and the cappuccinos were smooth and frothy.
AMENITIES AT PANVIMAN CHIANG MAI SPA RESORT
Panviman Spa Resort is huge; a sprawling complex that includes a pool and fitness area, the main hotel, the spa and the villas. The property is so large, that instead of walking around, you can call and have a golf cart bring you anywhere you'd like to go on the property.
Unsurprisingly the resort grounds have a plethora of indulgences to lose yourself amongst – that is if you manage to tear yourself away from your beautiful room, patio and private  jacuzzi.
I simply have to start by talking about the grounds of the resort.
There can be nothing more relaxing than a brisk walk through Panviman's grounds. Butterflies flitter by, crickets chirp in the bushes and the sun beams down softly. ven when the resort is filled to it's maximum capacity, it's possible to explore the grounds and feel alone.
The villas that are inspired by traditional Thai Architecture and are dotted around the resort, are incredibly photogenic. Here at Panviman Resort my photographer's heart rejoiced.
Even better the resort is high enough in the mountains that it doesn't experience the intense heat you sometimes feel in the city of Chiang Mai.
Panviman Chiang Mai has three beautiful infinity pools: one for children, one with jacuzzi jets, and a deeper one with an amazing elephant statue.
As we walked down to this part of the resort, we were immediately struck by the beauty of the tumbling waterfalls. The crystal-clear water gushed down rocky crevices, giving way to a calm turquoise pool below. In one corner, at a slight distance from the main pool, sits a Jacuzzi with views across the valley. The perfect place to soothe your body in the bubbles while taking in the breathtaking landscape of the green hills beyond that stretch all the way to Myanmar. In fact, all three pools, give way to panoramic views across to the main building.
Not for the first time, you feel immersed in nature. And yet there is wifi and you can even order food from the restaurant and have it delivered right to your chair. There are definitely worse ways to spend an afternoon!
The well-equipped gym  overlooks the gorgeous 2-story pool if you're looking
The very first thing we saw, as our taxi driver drove past the resort was the wooden structure of the gym. It is well-equipped and overlooks the stepped pool area. In fact it is perfectly located to get your sweat on before taking a cooling dip.
Even I (an avid gym avoider) was tempted to make use of it. If only I had had enough time 😉
Another thing that we loved about Panviman Chiang Mai Spa Resort was their meditation cave and yoga studio.
It was the perfect place to relax and, well, meditate!
This part of the resort overlooks a large lily pond. Bright orange koi swam slowly, heading towards us as we approached, thinking they're going to be fed. We walked around the water's edge and admire the stillness. The quiet and soft sounds of nature.
Carefully stepping over some large stones that had been laid as a pathway across the water, we came to a manmade meditation cave that had boulders jutting out over a ledge overlooking the pond. As we sat down and took a moment to ourselves, I admires the Gaudi-esque design of the space that brought back memories of a long and distant time spent wandering the streets of Barcelona.
Here we sat in comfortable silence for a while as we relaxed and let the stresses of the past week of intense travel seep away.
The Panviman is a place for relaxing, healing and pampering yourself. And how better to do that than get a spa treatment?  Panviman Chiang Mai is not just a hotel, it's also a spa, and a very fine one at that. Indeed it is one of the most serene, peaceful and beautiful Spa Resorts we ever visited.
The spa offers a lots of different treatments from facials to massages. We were treated to a 90 minute detoxifying aroma oil massage in the executive spa room and it was incredible!!
The treatment started in the spa's gorgeous lobby. First we were given a choice of different aromas to choose from, we were also asked our preference regarding soft, medium or hard treatment, and then we were asked which areas we wanted working on and which (if any) we would prefer to avoid.
We were then met by our masseuses who led and sat us down in two reclining chairs overlooking the beautiful lake. Our feet were gently dipped into a wooden bowl filled with warm water and floating flowers. We had a relaxing foot massage before we were taken to our massage room
The massage itself was one of the best we had throughout our trip in Thailand! There is an obvious attention to detail as everything from the music, to the decoration, to the bed was perfectly organized for a relaxing treatment.
After our treatment we were served more home grown flower tea and then picked up with a golf car that drove us back to our bungalow.
On our very first evening at Panviman Spa Resort, we decided to explore the grounds of the hotel and discovered all sorts of activities, for adults and kids alike.
Guests with children will enjoy that the resort has plenty to offer. Indeed we found a life sized outdoor chess board, an area to play mini golf and one for archery an education and conference center, a health track circuit complete with steep hills, as well as various pull up bars and monkey bars
Then, looking down from the games area, spread out before us we discovered the vegetable patch. Many of herbs and spices used in the Panviman's Restaurant come from here, grown fresh and organically. They also produce berries to make delicious homemade jams that can be enjoyed at breakfast.
This is without a doubt one of our favourite hotels in the whole world. The pools, the jacuzzi, the massage, the food, the views, the activities, the staff, everything was better than we could possibly have even imagined!
To be fair by Thailand's standards Panviman Spa Resort isn't a cheap place to stay. But by western standards, for the amount of amazing features, the view and the quality of the service from the staff, the value for money at the Panviman Spa Resort is actually pretty amazing.
I can't think of anywhere in the west where we could get a Jacuzzi Bath overlooking the mountains, along with a large powerful stand up shower, a Private Infinity Pool and private terrace with sun loungers plus an outdoor table and chairs by the same view, posh bath robes, TV, Fridge and more and such a large space to enjoy it all in for the same price.
We came to Panviman still slightly stressed out from nearly missing our flight, dirty from traveling, and very much in need of decompression.
After two nights at Panviman with our private jacuzzi, a 90-minute aromatherapy massage in their incredible spa, delicious Thai food in the restaurant that overlooks the valley, singing birds off my back balcony, sunshine, and just the right amount of solitude, we truly felt refreshed.
As the sun went down we sat in the Jacuzzi holding hands. Within a week we'd be back in the UK. But now, as the sky turned orange above us and the waterfall tumbled below, we relaxed and lapped up the moment of calm together before the storm.
Cost: Prices start from around 3,500 baht (US$97) a night, for a room in the hotel complex.
How to get there: Panviman is located around an hour from Chiang Mai's airport. A transfer with the hotel costs about 1,500 baht (US$42) one way. Booking: You can book through the hotel's website here.
Special thanks to the Panviman Chiang Mai for hosting us and letting us enjoy some alone time. As always, our opinions are our own.
PLANNING A TRIP TO THAILAND?
This post contains affiliate links, which means that if you click on some of the links in this post and purchase something, I might receive a commission. This is a good thing! There is no additional cost to you and I make a tiny bit of money to help fund this website!