At the end of this month, the New Forest will hold it's very first Autumn Food and Drink Festival.
The National Park is a foodie paradise with world class hotels sitting alongside quaint country inns. Until now it's been one of the UK's best-kept foodie secrets. But that's about to change…
There is not much that I love more than combining Travel and Food. And having spent a long weekend in the New Forest very recently, I cannot imagine a better place to celebrate Britain's best local food and drink. In fact, it wouldn't be difficult to spend an entire week here, exploring  the New Forests eateries and meeting the areas local honey, cheese, meat, cider, wine, bread, chocolate and ice cream producers.
Well in less than two weeks' time, food lovers all around the UK will get the opportunity to do just that. From 31 October until 6 November, Hampshire's top chefs, restaurateurs and artisan food and drink producers will be uniting their talents for a programme of mouth-watering gastronomic events set against the backdrop of the stunning New Forest National Park.
If you fancy a culinary adventure, here is a glance at what you can expect:
WHAT IS ON THE MENU AT THE NEW FOREST FOOD AND DRINK FESTIVAL?
Everything! From local pork and glorious game to the very English afternoon tea and vegetarian feasts – not to mention the best of beer, wine, cider and juices.
The New Forest Food and Drink Festival has been neatly organised into 15 themes to showcase the diverse nature of the area and the vast variety of local produce on offer. Every theme features a headline event, the "main course" as well as a host of "sensational sides".
Below are just a few of the themes of the Festival: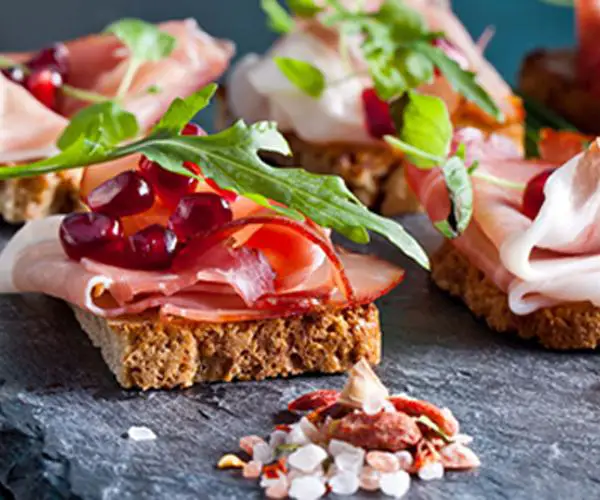 HERITAGE & ARTISAN CHARCUTERIE
Curing, Smoking and Cooking. The New Forest producers do it all and have thus quickly become renowned for their heritage and artisan produce. 
The Charcuterie produced by the artisans of New Forest is absolutely delicious, and can easily rival the best in the world.
MAIN COURSE: Smoking Hot – A Smoke House Dinner at Limewood, 31st October, 7.30pm (£65), more information here
The massive ancient woodlands of the New Forest are home to the most delicious wild produce – fruits, 2,700 species of fungi, and nuts – to turn into all manner of delicious foods; from blackberry jam to sloe gin, to healthy little nibbles.
MAIN COURSE: A Taste of the New Forest Foraging and Game at the Bell Inn, 3rd November, 7pm (£33), more information here
Pannage is the custom of releasing domestic pigs into a forest so they can feast on beechmast, acorns and chestnuts. In ancient times this took place throughout England, with mention in the Domesday Book. 
But now the New Forest is understood to be the last remaining place in the British Isles which still practices Pannaging. 
FOREST FISH & FRUITS OF OUR SEA
The New Forest is one of the few National Parks which can boast both coast and countryside to explore and enjoy. 
Its stunning but little-known, 40-mile coastline, stretching from Calshot at its eastern end, to Christchurch in the west, is where some of the best British seafood and fish are landed after being sustainably caught.
MAIN COURSE: A Celebration of Fish at Mater Builder's House Hotel, 4th November,  12noon (£35), more information here
Other New Forest Food & Drink Festival themes include: Heritage, Artisan & Charcuterie; New Forest Breakfasts & Brunch; Sizzling Steaks & Perfect Pies; Glorious Game & Roaring Fires; The Vegetarian Forest Feast; The Very English Afternoon Tea; The Great Forest Banger; Sip & Savour; Cheese & the Forest Larder; For the Kids, Our Future Foodies; and Sweet Forest Somethings
WHAT ARE THE BEST EVENTS AT THE NEW FOREST FOOD AND DRINK FESTIVAL?
This really depends on your personal taste.
The New Forest Food and Drinks festival offers a whole range of events. Some will need to be booked in advance and others are completely free.
Whilst some of the leading restaurants of the New Forest, including Chewton Glen, Lime Wood, Careys Manor, the Michelin-starred Montagu Arms and the newly launched Burley Manor are  involved in the festival, the calendar of events also features local pubs, market stalls, artisan producers, bakeries and farmers.
In essence, there is something for everyone, but below our some of my personal favorites.
A CELEBRATION OF VEGETARIAN FOOD WITH CHEF AND TV PRESENTER SIMON RIMMER AT BURLEY MANOR
If you're one of those people who believe that the words 'vegetarian' and 'banquet' are incompatible, then let Burley Manor, and celebrity chef Simon Rimmer, prove you wrong…in style!
Arrive at Burley Manor to a glass of Perrier-Jouët champagne, then indulge in Simon's four-course vegetarian feast before settling down to a lively, 30-minute talk on his adventures in cookery. 
GAME AND WINE NIGHT AT BERESFORD'S RESTAURANT
Locally sourced meats from the rich wildlife of the New Forest will be a focal point at Beresford's game and wine night.
Balmer Lawn, a former hunting lodge,invites guests to sample the very best the area has to offer, with wines selected to complement each of the six courses and a live piano accompaniment.
Choice cuts on the menu will include venison from three kinds of deer, pheasant, partridge, pigeon, rabbit and hare.
MAD HATTERS AFTERNOON TEA PARTY AT BEAULIEU HOTEL
The Beaulieu Hotel invites the young-at-heart to tumble down the rabbit hole into Wonderland and the wonderful world of tea with the Mad Hatter.
Children will be entertained by characters from the famous story whilst indulging in an eclectic and colourful selection of cakes, pastries and drink-me potions. The fantastical feast of  includes strawberries and cream, homemade marshmallow mushrooms, a Tick Tock Victoria sponge clock and a trip to Jelly Wonderland.
Information about the Festival events as well as special accommodation offers which will be available across the New Forest can be found at thenewforest.co.uk